UK100: From declaration to delivery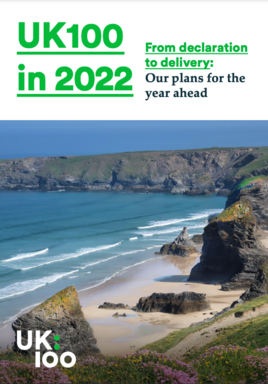 UK100, the network of local government leaders, has launched a new report setting out its objectives for 2022.
The UK's largest two-day conference for senior private and public sector transport leaders and policymakers to work together to transform the UK's transport network and achieve net zero will take place on 21 & 22 November 2023, The Eastside Rooms, Birmingham.
The high-level conference will bring together senior transport leaders who help shape transport policy and deliver its infrastructure.

It aims to promote best in class initiatives from the private and public sector and bring people together through networking, knowledge transfer and discussion and is seen as UK's largest, trusted and most credible transport conference to facilitate public and private sector collaboration.
The agenda will deliver a speaker faculty of 80+ expert speakers, including senior transport politicians, from the UK and beyond. And we expect an audience of 300+ delegates to attend.
Speakers come from authorities and organisations such as: The Department for Transport, England's Economic Heartland, Birmingham City Council, Transport for West Midlands, Midlands Connect, TIER Mobility, CoMoUK, Lambeth Council, Cambridgeshire and Peterborough Combined Authority, Enterprise Holdings, FedEx, Worldline and Cornwall Council.
Find out more and book tickets
November 2022 conference video highlights
---
---