New car registrations in May reached 156,737 units, a 'significant' increase from 2020, according to new figures from the Society of Motor Manufacturers and Traders (SMMT).
The total number of new cars registered represents an almost eightfold increase on the same month last year, but is down 14.7% on pre-pandemic May 2019, and 13.2% on the 10-year May average.
Plug-in vehicles comprise 13.8% of new car registrations (35,975), up from 7.2% a year earlier, with the most rapid growth seen in plug-in hybrid (PHEV) derivatives.
Pure petrol and mild hybrid petrol cars so far account for 60.4% of registrations, while pure diesel and mild hybrid diesels took a 18.0% share year to date, compared to 64.6% and 22.4% last year.
Mike Hawes, chief executive of the Society of Motor Manufacturers and Traders (SMMT), said: "With dealerships back open and a brighter, sunnier, economic outlook, May's registrations are as good as could reasonably be expected.
"Increased business confidence is driving the recovery, something that needs to be maintained and translated in private consumer demand as the economy emerges from pandemic support measures.
"Demand for electrified vehicles is helping encourage people into showrooms, but for these technologies to surpass their fossil-fuelled equivalents, a long-term strategy for market transition and infrastructure investment is required."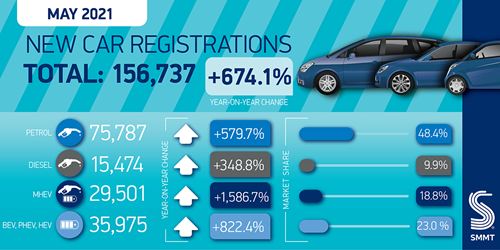 Battery electric vehicle (BEV) market share declined from 12% a year ago to 8.4% in the past month, although the May 2020 performance was distorted by lockdowns when new cars could only be purchased through click and collect or delivery, giving rise to variable purchasing patterns.
The SMMT said uptake was in line with the most recent industry outlook, published in April, which sees the sector anticipating around 1.86 million registrations by the end of the year – with 723,845 achieved so far.
New car sales rose by 674.1% in May compared to the same month last year when showrooms were closed due to the coronavirus lockdown.
In the first five months of the year, 723,845 new cars have been registered.
Registrations of petrol and diesel vehicles rose by 579.7% and 348.8% respectively in May.
Battery electric vehicles rose 441.3% and plug-in hybrids grew by 1,091.7% with 13,120 and 9,855 units registered respectively.
Overall, new car sales remain down by 14.7% from May 2019's, pre-pandemic levels.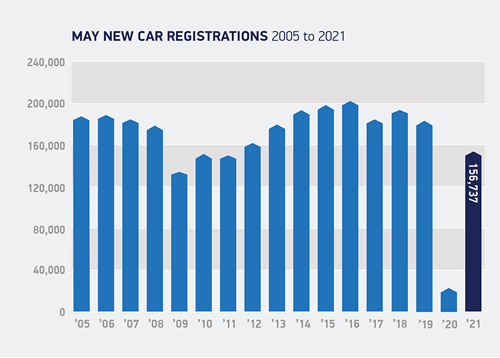 Sue Robinson, chief executive of the National Franchised Dealers Association (NFDA), said: "The 674.1% increase in new car sales in May reflects continued consumer demand in the UK.
"In May, vehicle sales continued to benefit from the pent-up demand accumulated when showrooms were closed; footfall levels and volumes of enquiries alike are now beginning to increase following the reopening of dealerships.
"Sales of new electric vehicles performed well and it is encouraging to see that plug-in vehicles now account for 13.8% of all new car sales; demand for used and nearly new cars remains buoyant too.
"The outlook for the industry remains positive, consumer confidence is rising and with the economy performing better than expected, dealers are optimistic about the months ahead although tightness in supply may affect registrations of new cars over the summer."
Andrew Hurdle, head of EV at British Gas Business, said that the figures "reaffirm that zero-emission vehicles are fast becoming the top choice for businesses and individuals, but there remains a great deal of work to do to get the UK ready for the 2030 ban on new ICE vehicle sales".
He said: "Our latest research found that businesses are set to invest £16 billion in EVs over the next 12 months and, while this planned investment is encouraging, some significant barriers to widespread adoption remain, including a lack of public charging infrastructure across large parts of the country.
"It's crucial that we continue to accelerate the roll out of charge points across the UK, both on streets, in homes and at businesses.
"It's equally vital that we ensure that these systems are smart and flexible to minimise the amount of upgrading works necessary to manage growing demand.
"The £300m charging infrastructure boost from Ofgem will be welcomed by many, but much higher levels of investment will be needed to accelerate EV adoption as the 2030 deadline approaches."