The transport industry is divided in its opinion over whether the Covid-19 pandemic will have a lasting positive impact on air quality in the UK.
In Smart Transport's latest polls a majority of 41.7% said they are skeptical that improvements in air quality will last and pollution levels are likely to return back to pre-lockdown levels.
However, 38.5% of respondents are more positive, saying cities across the UK will be less polluted than before due to continued reductions in commuting and positive travel initiatives.
In a separate Smart Transport poll an overwhelming majority (89.8%) think there will be a mix of working from home and being in the office post-coronavirus.
Just 2.0% said they think people will return to working in the office the majority of the time and 8.2% said they expect to work from home all the time.
Data from the University of York estimates that particulate matter pollution has dropped by between a third to as much as 50% in London, Birmingham, Bristol and Cardiff.
There have also been falls of around 25% in Manchester, York and Belfast, with smaller declines in Glasgow and Newcastle.
For nitrogen dioxide (NO2) pollution, the data also shows declines of a third to a half in London, Birmingham, Bristol and Cardiff, and drops of 10-20% in the other cities.
Statistics in April this year from the Centre for Research and Energy and Clean Air analysed air pollution data from the UK and Europe to estimate how improved air quality has impacted on people suffering from pre-existing conditions, such as asthma, diabetes and heart disease.
For the UK, they believe between 1069 and 3,425 lives have been avoided due to improved air quality. For Europe as a whole, it could be as many as 11,000.
Just 5.2% believe that cities will be much less polluted than before and a further 13.5% believe pollution will actually be even worse after lockdown.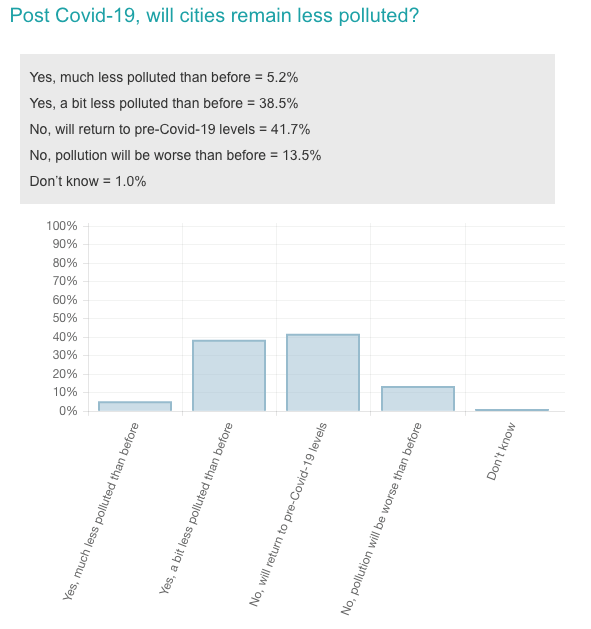 This view may be informed by the fact people may avoid public transport in the future after Prime Minister Boris Johnson encouraged people to drive in their own personal vehicles, rather than take the bus or train during lockdown.
The Air Quality Expert group, acting on a request from Defra, is currently collating evidence from the research and air quality management user communities to quantify the air quality changes in the UK due to Covid-19.
The call for data closed on April 30, but at the time, John Newington, head of evidence, Air Quality and Industrial Emissions, Defra, said: "Evidence and insight into possible changes to the factors that control air pollution will help us to refine and improve how we deliver the best possible air quality for the UK."