Road deaths in the UK dropped for the first time in eight years during 2020 amid the coronavirus pandemic, which saw a reduction in traffic levels.
New data from the Department for Transport (DfT) has shown there were 1,472 reported road deaths in 2020, compared to 1,748 in 2019.
Road safety charity IAM RoadSmart is campaigning for the Government to demonstrate "real leadership" to build on the lockdown reductions in death and injury on UK roads.
Neil Greig, director of policy and research at IAM RoadSmart, said: "These results are not unexpected.
"The reductions in deaths and serious injuries on roads are obviously related to the global pandemic and resulting lockdowns.
"We need UK Government to show real leadership and push road safety up the political agenda if we are to see real, sustainable return of year-on-year improvements.
"While the reduction in deaths comes after eight years of flat lining with no improvement in Britain's road safety performance it means we are now bottom of the international league for rate of improvement.
"However, 2020 presents an opportunity for the Government to get its new road safety strategy in place and 'build back safer' for all road users."
The Government report, 'The impact of lockdown on reported road casualties Great Britain, provisional results: 2020', highlights an estimated 23,486 killed or seriously injured (KSI) casualties in 2020, a decrease of 22% compared to the same period in 2019.
Total casualties fell by 25% to 115,333, when compared to 2019. The drops broadly align with total road traffic during the period decreasing by 21%.
According to the report, pedal cyclist casualty rates saw the greatest percentage decrease (34%) compared to all other road user types, but this was due to disproportionate increase in the number of people cycling.
The actual numbers of cyclists killed went up by 40% (100 were killed in 2019 and 140 in 2020).
TfL data shows decline in deaths and serious injuries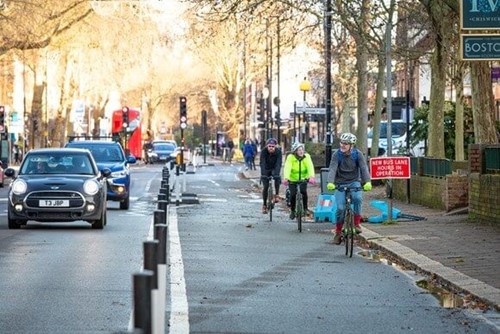 Transport for London (TfL) has published its own data, showing the number of people killed or seriously injured on London's roads fell by 21% over the year compared to 2019 data.
Despite the decreases, 96 people were killed and 2,974 suffered serious injuries on London's roads during 2020.
There was a 12% increase in the number of people killed or seriously injured cycling, but the estimated overall risk to people cycling decreased, with six deaths recorded per billion kilometres cycled, compared to eight in 2019.
The estimated risk of being killed or seriously injured while cycling fell by 24% over the year.
The data also showed that cars continued to be the main vehicle type involved with collisions in 2020 - cars were involved with 66% of all collisions resulting in death or injury, up from 62% in 2019.
Speeding remains the biggest risk to road users and the Met Police recorded increases in traffic speeds during lockdowns in 2020, dealing with 270,000 speeding drivers over the year with 160mph detected as the highest speed.
TfL said 'continued action' is needed to achieve the Mayor's Vision Zero goal of eliminating death and serious injury from the transport network.
Will Norman, London's walking and cycling commissioner, said: "Walking and cycling has boomed during the pandemic, and the work we're doing to make London's roads safer is having an effect, with the lowest number of road deaths in London on record last year.
"However, any tragic death from a collision is one too many, and there is still an unacceptable risk for many road users, particularly from cars.
"This highlights the importance of a green, sustainable recovery from the pandemic.
"We will continue to work with TfL, the police and the boroughs to better embed our Vision Zero strategy into every decision we make, making it easier and safer for people to walk and cycle around our city."