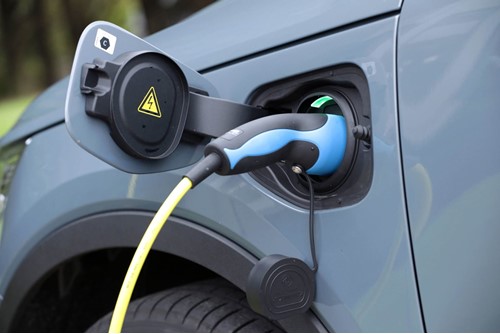 Image source: SMMT
Plug-in vehicles continued to increase market share in June, according to the latest figures from the Society of Motor Manufacturers and Traders (SMMT).
Combined, battery electric (BEVs) and plug-in hybrid vehicles (PHEVs) accounted for 17.2% of new vehicles hitting the road (31,981 units).
BEVs accounted for more than one in 10 registrations (10.7%). PHEV uptake, however, continued to grow faster than BEV uptake for the third consecutive month, following reductions to the plug-in car grant in March, 2021.
New car registrations in June grew 28.0% year-on-year (YoY) to 186,128.
The SMMT said the monthly performance was again 'artificially lifted' through comparison with June 2020, when the UK began to emerge from the first Covid-19 lockdown and showrooms in England opened at the beginning of the month.
Compared with the previous decade average, monthly registrations were down 16.4%, while total registrations for Q2 2021 'fell short' of industry expectations by around 9,000 units partly as the ongoing global semiconductor shortage acted as a limiting factor on supply.
As a result, overall registrations for the first half of the year are down 26.8%.
Mike Hawes, SMMT chief executive, said: "With the final phases of the UK's vaccine rollout well underway and confidence increasing, the automotive sector is now battling against a 'long Covid' of vehicle supply challenges.
"The semiconductor shortages arising from Covid-constrained output globally are affecting vehicle production, disrupting supply on certain models and restricting the automotive recovery.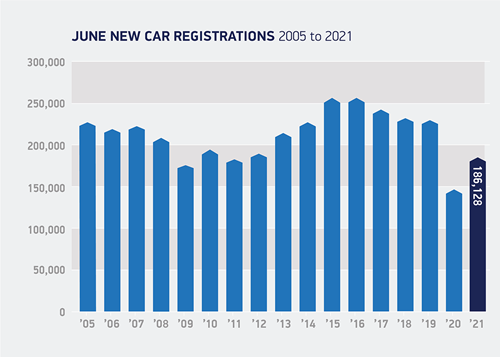 "However, rebuilding for the next decade is now well underway with investment in local battery production beginning and a raft of new electrified models in showrooms.
"With the end of domestic restrictions later this month looking more likely, business and consumer optimism should improve further, fuelling increased spending, especially as the industry looks towards September and advanced orders for the next plate change."
While economic confidence continues to strengthen, new registrations still remain adrift of pre-pandemic levels, said the SMMT.
Returning to the previous decade average of 2.3 million new car registrations per annum, and for that total to be electrically-driven, consumers need certainty about the future with long term government commitments to incentives, and confidence in the rollout of charging infrastructure nationwide, SMMT said.
Accelerate EV adoption 'further'
Lucy Simpson, head of EV enablement at Centrica Business Solutions, said: "Today's figures prove that trend shows no signs of slowing down, with registrations up 138% compared to the same period last year.
"The next step will be accelerating the rate of EV adoption even further, which is essential if the UK is to meet its net zero targets.
"Looking ahead, all eyes will now be on the Government's eagerly awaited Transport Decarbonisation Plan and how it will incentivise greater EV uptake ahead of the 2030 ban on ICE vehicle sales.
"Our research into business attitudes towards EVs revealed that range anxiety is still the chief concern for a third of UK firms.
"So, investment in a network of accessible charging infrastructure and guaranteeing the 'right to plug' for all those using electric vehicles will be key to promoting the mass adoption of low carbon transport."