Plans to build 80 new electric vehicle (EV) battery factories globally will not be sufficient to meet future demand, according to a new report.
The number of electric cars on UK roads is expected to exceed that of diesel-powered models by 2030, but the 'Electric vehicle battery supply chain analysis' report from ABB Robotics and Ultima Media suggests that battery supply may pose a "serious risk" to the growth of electricity as a clean propulsion fuel.
The Society of Motor Manufacturers and Traders (SMMT) revealed that UK car new registrations grew for the first time in March 2021, since August 2020, with plug-in vehicle demand reaching its highest ever volume.
In 2020, battery electric vehicles (BEVs) and plug-in hybrid electric vehicle (PHEVs) together accounted for more than one in 10 registrations in 2020 - up from around one in 30 in 2019, amid a turbulent year for the new car market.
The report outlines that although Asia leads EV battery production, Europe will make up vital ground over the next few years while US manufacturers are also planning increases in capacity. Researchers also outline the importance of battery pack assembly being located close to or within car assembly facilities.
Tanja Vainio, managing director of ABB Robotics Auto Tier 1 Business Line, said: "Co-locating battery pack assembly not only boosts sustainability by reducing transportation, it increases flexibility.
"A cellular approach to production is easily integrated alongside existing lines. If the demand curve moves, cells can be added or removed quickly to maintain accurate production scale."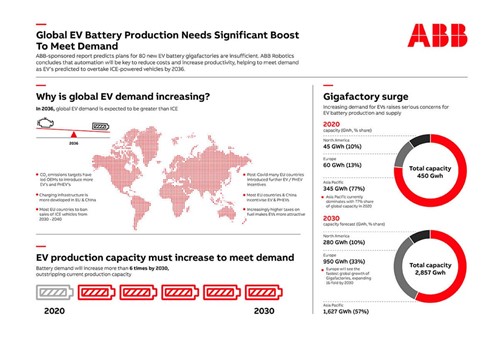 The UK has been ranked as the third best prepared country in Europe for EV adoption, behind Norway and the Netherlands, in a report by Smart Transport member LeasePlan.
Vainio said that building a robust battery supply chain will create a distinct competitive advantage for OEMs, setting a trend towards maximum production flexibility, whether battery pack production is insourced or outsourced, to further reduce costs and boost productivity.
He added: "Increasingly we see that higher productivity and lower costs are driven by assembling battery cells straight into packs."
ABB said it is working in partnership with manufacturers, to increase productivity, quality and safety levels, as well as reduce finished pack costs through automated assembly – which Vainio describes as "vital if EVs are to meet their required cost and adoption targets".