There is an uneven geographical distribution of domestic charge points funded by the Office for Zero Emission Vehicles (OZEV), according to new government data.
The first quarterly summary of the number of grants awarded for the installation of electric vehicle (EV) charging devices, shows the South East and East of England have the highest number of installations under the Electric Vehicle Homecharge Scheme (EVHS), accounting for 31% of total devices installed.
Meanwhile, Northern Ireland has the lowest number of installations with 2,394 EVHS funded charging devices, accounting for just 1.8% of total EVHS funded devices.
The EVHS provides grant funding for up to 75% of the cost of installing electric vehicle charging devices at domestic properties across the UK.
The latest data shows OZEV grant funding has helped to install over 175,000 domestic charge points and over 13,500 workplace charging solutions since 2013.
Since September 2014, a total of 136,730 domestic charging devices have been installed under the scheme, with a total grant value of over £69,000,000 as of April 1, 2021.
In the last year alone, EVHS funded charging devices have increased by nearly a third. In 2020, 42,425 more charging devices were installed with a grant value of £16,971,333.
These statistics are taken from a database held by the DVLA which records grant applications for administrative purposes.
Grants can take several months to process and the most recent quarters are likely to be undercounted, especially the first quarter of 2021 (January to March). The Department for Transport said the statistics should therefore be treated as provisional.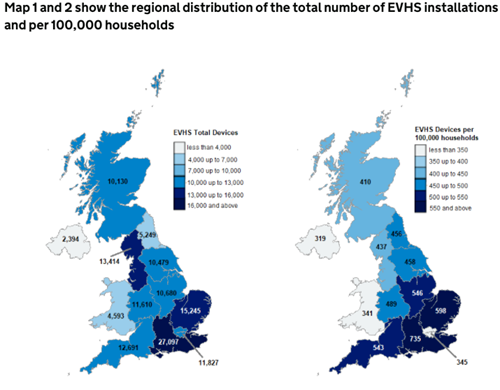 The geographical distribution of charge points remains when comparing EVHS charging devices per 100,000 households, with the largest number of devices per 100,000 households concentrated in the South of England.
However, London is comparable with Northern Ireland and Wales with just 345 charging devices per 100,000 households.
This could reflect lower car ownership levels and less access to off-road parking in this region.
Workplace Charging Scheme (WCS)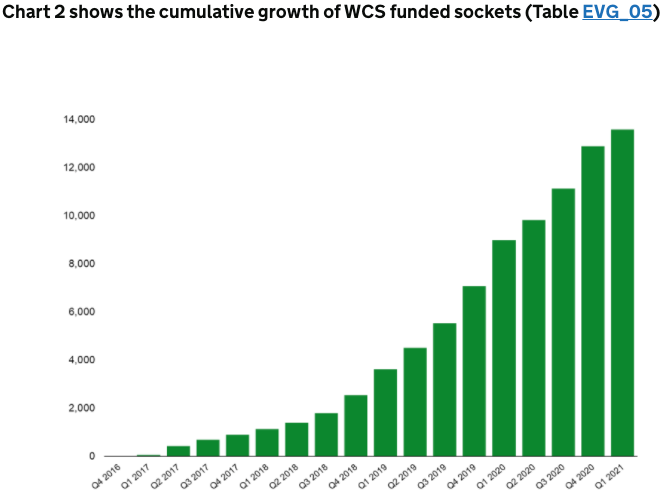 Since the scheme started in late 2016, a total of 4,853 vouchers have been redeemed accounting for 13,586 sockets installed under the WCS grant as of 1 April 2021.
This equated to a total grant value of over £6,000,000.
In 2020 alone, a total of 2,101 vouchers were redeemed with a total of 5,821 sockets installed, which represents a 43% increase in the total WCS sockets across the UK.
This had a total grant value of £2,561,197.
A further 688 sockets have been installed in the first three months of 2021.
In terms of regional distribution of WCS sockets, the South East has the highest uptake with 2,083 sockets installed while Scotland, Wales and Northern Ireland have the lowest. Combined they account for around a tenth of total sockets installed under the WCS in the UK.
Scotland, Wales and Northern Ireland also have the smallest number of installations when comparing the regional distribution per 100,000 of the population.
However, in England, the regional distribution is much more uniform with 20 to 28 sockets per 100,000 of the population apart from London which has nine WCS sockets per 100,000.
The next set of quarterly electric vehicle charging device grant scheme statistics will be released in August 2021.