Over half (57%) of all councils across the UK received no funding for EV charging infrastructure this year, according to a Freedom of Information request.
Devicepilot, the company that helps charging suppliers monitor their connected devices, put together a report after the FOI request to find out how much support government is giving to local councils to install EV charging points.
Almost two thirds (62%) of English councils haven't received any government funding for EV charging points, compared to just 6% of Scottish councils and 38% of Welsh councils.
Only a quarter (23%) of London councils haven't recieved any funding in the same period, meaning that England without London shoots up to 67%.
A statement from the report said: "We would urge the government to do more to support councils looking to install charging points.
"We understand that budgets are tight, particularly in the wake of COVID-19, but for electric vehicles to really "cross the chasm" and become the new normal – as the government claims it wants to happen – councils must be given the power and budget to install more charging points."
For funding that was given this year, the figures show EV infrastructure investment for the devolved nations of Scotland and Wales far outstrip England (figures for Northern Ireland were not included due to insufficient data).
Scottish councils received £1.91 per capita to be spent on EV charging, while Welsh councils are given £0.91 per capita.
Meanwhile English councils received just £0.45 per capita – less than a quarter of their Scottish counterparts and half the Welsh figure.
London was seperated from the English figures as its own region and it received £0.49 per capita.
The national average for funding for EV charging points per capita sits at £0.58 per person.
UK EV infrastructure funding per capita 2020: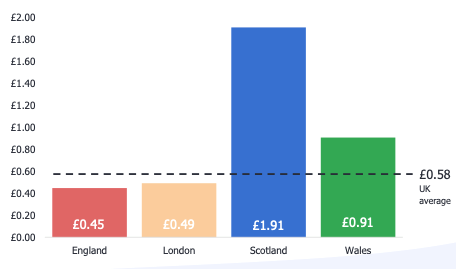 The respondents collectively received £27.8 million in 2020.
England secured close to £19m, of which more than £3.5m was allocated to London. Scotland was allocated £7m and Wales just over £2m.
Devicepilot's report said the figures for England are "skewed significantly due to it having by far the largest population and a fairer method of judging which locations and councils are best supported is to calculate the level of government funding per capita".
Pilgrim Beart, Devicepilot chief executive and co-founder, said: "As a small, rich and densely populated country, the UK should be in a prime position to embrace EVs.
"However, we do not yet have the infrastructure required to take the lead in the EV revolution.
"Many parts of the UK are without the fast, functional EV charging points needed to make electric vehicles viable for everyday use.
"Intervention and investment is sorely needed, yet many local authorities have no government funding for installing and maintaining charging points.
"Until these pain points are addressed, EVs will struggle to become mainstream, and the UK will not be considered a leading EV nation, which should be a high priority, long-term objective for any government."
Ministers have announced more than half a billion pounds of investment in green technologies back in September, with EV charging infrastructure receiving the lion's share.
The first £70m has been earmarked for 3,000 charge points – more than doubling the number across the UK to 5,000, says the Treasury.
The Charging Infrastructure Investment Fund will be managed and invested on a commercial basis by the private sector, and Government will invest up to £200m to be matched by private investors.
The full Devicepilot report Pain Points - EV charging in the UK from 2021 and beyond is available to download here.