The Department for Transport (DfT) and Energy Saving Trust have launched a new £400,000 funding round to help small businesses invest in electric cargo bikes.
The eCargo Bike Grant Fund will give businesses an opportunity to introduce e-cargo bikes into their everyday transport operations and will cover up to 40% of the total cost, with a maximum of £2,500 for two-wheel models and £4,500 for three-wheel models.
Tim Anderson, group head of transport, Energy Saving Trust, said: "E-cargo bikes are an attractive low carbon transport option and are growing in popularity for local deliveries and business operations.
"The eCargo Bike Grant Fund will provide businesses with an excellent opportunity to make lasting changes to how they transport goods.
"They offer significant benefits, most impressively fuel cost savings and contributing to improved local air quality, both of which are particularly appealing as we work towards a green recovery following the Covid-19 pandemic.
"With more deliveries being made to our homes than ever before, last mile delivery is an important area for consideration in our journey to reduce transport emissions to net zero by 2050.
"We expect the eCargo Bike Grant Fund to support longer-term and wider uptake of these light vehicles as they become more widely adopted."
Chris Heaton-Harris, cycling minister, said: "E-cargo bikes are a great way for businesses to transport goods and make deliveries on time while cutting congestion on our roads and benefitting the environment.
"As we build back greener from the pandemic, this new funding will help businesses enable a cleaner, healthier and more sustainable way to operate in local communities across the country."
All eCargo Bike Grant Fund support is conditional on recipients signing up to a code of practice, which includes cycle safety best practice, developed in association with the UK Cycle Logistics Federation and the Bicycle Association.
Applicants are invited to submit up until December 14, 2021, with the option of joint 'high-street' applications, giving SMEs the option to pool their resources into one application.
Grant funding must be claimed by February 14, 2022. The eCargo bikes do not need to have been delivered for funding to be claimed.
Businesses can find out more about the scheme and apply here.
Leeds city council and partners secure grant for more e-cargo bikes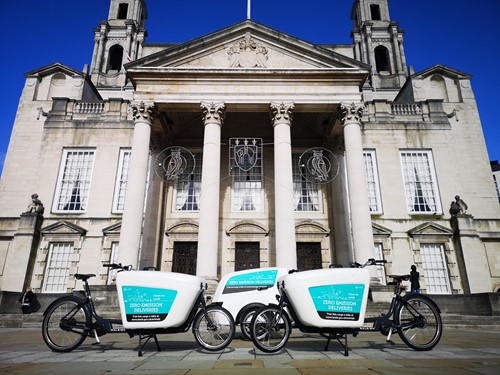 Leeds city council, West Yorkshire Combined Authority and Bradford council have secured funding from the DfT and Energy Saving Trust for 32 new e-cargo bikes, to tthe value of £160,000.
Leeds city council and Bradford council first adopted the e-cargo bike loan scheme in March 2021 and have since provided many local businesses with the opportunity to trial the new delivery method, which they suggest could deliver financial savings of up to 90% compared to the cost of a running an equivalent commercial vehicle with businesses benefiting from not paying for fuel, fuel tax, MOT or parking costs.
Leeds University was the first organisation to adopt the scheme and were loaned three e-cargo bikes, a trike and two long wheel base for deliveries. Each bike allows for up to 40 miles assisted cycling and has a load capacity of up to 100kg or 900 litres.
Councillor Helen Hayden, Leeds City Council's executive member for climate change, transport and sustainable development, said: "This offer to businesses to trial e-cargo bikes for local delivery solutions could be revolutionary.
"In March I was fortunate enough to try riding a e-cargo trike. I found it to be easy to do in everyday clothes and, despite a heavy load in the bike box, a really easy ride.
"The additional 32 e-cargo bikes funded by the grant scheme will allow more businesses in West Yorkshire to 'try-before-you-buy'.
"With so many employees continuing to work from home following the pandemic, investing in a e-cargo bike could be far more cost-effective for businesses who operate in and around the city centre without needing to pay for vehicle related costs and benefit from very little maintenance costs.

"Its projects like this that will help us achieve our ambitions to be carbon neutral by 2030 as well as our vision of Leeds being a city where you don't need a car."
Tracy Brabin, mayor of West Yorkshire, said: "In my manifesto, I committed to tackling the climate emergency.
"I am delighted that businesses in West Yorkshire will benefit from the opportunity to be even more sustainable through innovative technology such as e-cargo bikes and be part of our aim of becoming a net zero carbon economy by 2038."
Councillor Alex Ross Shaw, Bradford Council's portfolio holder for regeneration, planning and transport, added: "With our plans to achieve net zero carbon emissions by 2038, we must explore and adapt to effective alternative modes of transport.
"E-cargo bikes are proof that deliveries can be carried out without the use of a van and are so much cheaper to run. So, we are delighted to have received this funding, as it will enable us to further develop the role of e-cargo bikes for local business. We will also be using some of the e-cargo bikes within our own fleet, for example, our outdoor education centres plan to use an e-cargo bike instead of a van to move equipment around for outdoor education sessions."