Parliamentarians from across the political spectrum confirmed their support for tackling the under-representation of women in the sector workforce at the Annual General Meeting for the All-Party Parliamentary Group (APPG) for Women in Transport last week.
Labour MP Ruth Cadbury (pictured, left) was re-appointed as chair of the APPG and the officers discussed and agreed a programme of events to support women in transport.
Cadbury said: "Our cross-party group will continue to work with transport leaders to highlight best practice and improve gender diversity of those recruited to and working in the transport sector.
"After a really successful launch of the APPG's white paper in March earlier this year, MPs and peers were keen to address issues in the sector such as barriers to women using e-mobility and the retention of women in the workforce."
Baroness Jenny Randerson (Liberal Democrats) was appointed vice-chair.
The officers are: Baroness Margaret Prosser, Labour; Lilian Greenwood MP, Labour; Sir Peter Bottomley MP, Conservative.
Members: Rupa Huq MP, Labour; Drew Hendry MP, SNP; Rachael Maskell, Labour; Lord Moylan, Conservative; Baroness Merron, Labour; Gavin Newlands, SNP
Professional network Women in Transport will continue to provide secretariat support to the APPG for Women in Transport.
Jo Field, president of Women in Transport and secretariat to the APPG for Women in Transport, said:"It's great to receive continued cross-party support to tackle women's under-representation at such a crucial time for the transport industry as it recovers from the pandemic.
"We look forward to working with parliamentarians to drive forward the recommendations from our recent research on gender perceptions and experiences working in transport, to ensure gender diversity is central to policymaking."
Pictured: Left to right: (top row) – Lillian Greenwood, Rupa Huq and Jo Field, (middle row) – Sir Peter Bottomley, Lord Moylan and Ruth Cadbury, (bottom row) – Baroness Randerson, Gavin Newlands and Baroness Merron.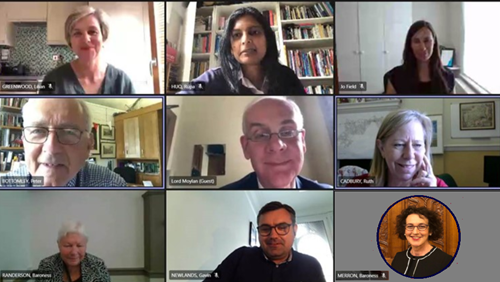 Best practice guidance on building an inclusive transport system
The recent Virtual Smart Transport Conference included a breakout session on how to build a transport system that is inclusive and accessible for all.
Women in Transport chief executive Sonya Byers presented on the importance of considering gender, race and ethnicity in transport provision with best practice examples while Martin Howell, Worldline UK & Ireland director, transport markets looked at the importance of considering wealth/economic factors and Meera Rambissoon, fundraising communications officer at Lancashire Mind, discussed mental health and how to the meet the needs of passengers with 'hidden illnesses'.
All three speakers also took part in a panel debate.
If you missed the session you can still catch up via the on-demand service.
Register to be emailed log-in details to view the content on the event platform.
Those who have already registered for the event simply need to log on to the Smart Transport Conference website to watch any of the sessions again.