Transport for London (TfL) has launched a new rental e-scooter trial in partnership with London Councils and three e-scooter operators.
The 12-month trial will see e-scooters offered at prices of £3.25-£3.40 for a 15-minute rental.
The trial is initially launching in Canary Wharf, Ealing, Hammersmith and Fulham, Kensington and Chelsea and Richmond, with Tower Hamlets acting as a 'ride through' area.
The trial will begin with this core group of boroughs, with more expected to join throughout the summer, said TfL.
Neil Peachey, TfL's senior business architect, will be discussing how TfL is using data from the e-scooter trials at this week's Virtual Smart Transport Conference, taking place on June 8 and 9. Register now for FREE entry.
Data shared by operators Dott, Lime and Tier, will play a vital role in helping to shape London and the UK's future policy on e-scooters, including whether they could form part of London's sustainable recovery from the coronavirus pandemic, said TfL.
Will Norman, London's walking and cycling commissioner, said: "As we look to our capital's future, we want to ensure a green and sustainable recovery from the pandemic.
"We know that a huge portion of car journeys in London are for very short distances, and we want to explore how e-scooters can act as an innovative alternative.
"E-scooters have been on our streets for some time now but with very little regulation.
"This trial will have safety at its heart, bringing in rigorous precautions and parking measures while taking the needs of all road users into account and seeing what role e-scooters can play in London's future."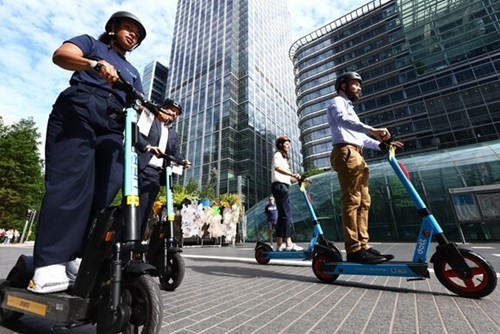 Following the Government's announcement last year to legalise rental trials of e-scooters run by local authorities, TfL and London Councils launched an open and competitive procurement process for the trial.
E-scooters are not currently legal to be used anywhere other than on private land. For the purposes of the trial, riders will be permitted to use e-scooters on London's roads.
The rental e-scooters feature GPS controlled parking and no-go zones - meaning they can only be parked in specified locations not obstructing the pavement and cannot be taken in certain areas, such as tunnels.
The safety standards required for the trial sees the scooters capped at 12.5mph and fitted with 'always-on' lights.
The operators will also have additional safety mechanisms in place, including 'first ride policies', meaning riders must take an e-learning safety course before they hire for the first time, and lower maximum speeds in place for their first ride.
TfL, London Councils and the operators have also launched a safety and awareness campaign to promote the importance of safety during the trial.
Helen Sharp, TfL's e-scooter trial lead, said: "Safety remains our number one priority for this trial and we will work closely with the e-scooter operators, London Councils and the boroughs to ensure rigorous standards are consistently met.
"We will also continue to work closely with all of our stakeholders, including TfL's Independent Disability Advisory Group, to ensure that the trial meets the needs of everybody living in, working in and visiting the trial areas.
"This new trial will provide the data and insights we need to determine the longer-term role e-scooters could play in our strategy for a greener and healthier future for London."