A YouGov poll of residents in Leeds reveals overwhelming support for measures to protect health by tackling air pollution emissions from cars.
Nearly four in five (79%) are in favour of measures to reduce car emissions and use, with just 11% rejecting action.
A similarly high level of support is observed between men and women, and among different age and income groups.
The survey was conducted online by YouGov, using a sample of 1,000 adults in five cities in the UK.
Fieldwork was undertaken between this year between May 14-19.
The survey, with supporting analysis by transport think-tank Transport & Environment, finds that reallocating road space (as one of the measure to control air pollution) to create more room for pedestrians is supported by 73% of respondents (just 10% opposed).
Additional cycle lanes are supported by 58% (23% against), with more support in younger age groups, and additional bus lanes are supported by 60% (20% against).
The introduction of Zero Emission Zones that ban polluting cars from cities receives support from 66% of respondents with opposition from just 17%.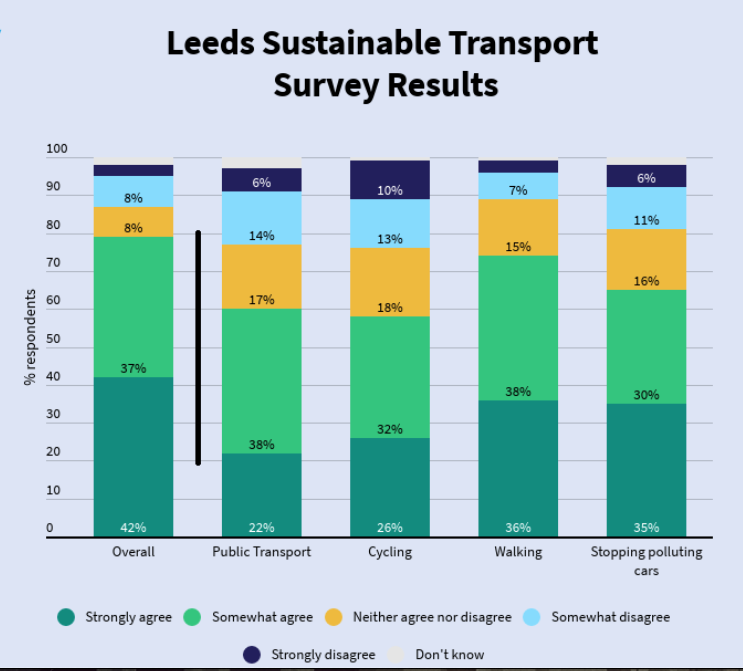 Greg Archer, UK director of Transport & Environment, said: "Leeds residents have appreciated the cleaner air and quieter streets during the lockdown and recognise Leeds with fewer cars is a better place to live.
"The survey shows strong support for cities to ban polluting cars, speed up bus trips and provide safe routes to walk and cycle."
The survey also finds that reluctance to use public transport, observed since the lockdown, will not persist if buses and trains are safe to use.
Hygiene measures key for return to public transport
Among those who say they used public transport in Leeds before the pandemic, 30% say they will continue to use it regardless of the risk and 50% say they will start using public transport again if sufficient hygiene measures are taken, while a further 13% say they will no longer use buses and trains due to the risk of contagion.
The survey also finds that, since lockdown began, there has been a surge in interest to buy battery electric cars. In total 29% say their interest has increased, 22% saying "increased a little", while a further 7% say "increased a lot".
Councillor Lisa Mulherin, Executive Member for Climate Change, Transport and Sustainable Development at Leeds City Council, said: "These findings support our plans to prioritise walking, cycling and, as public health advice allows, public transport for everyone as part of our city's ambition for transport.
"During the lockdown we have seen pollution levels fall due to the quieter roads and Leeds residents now breathe air that is significantly cleaner.
"As the Government begins to ease restrictions, it is vital that we preserve as much of these improvements as possible.
"Our Covid-19 transport response—with measures to widen pavements for social distancing, introducing active travel neighbourhoods, school streets and temporary 'pop' up cycle lanes—will help create a safer space for walking and cycling. The focus must now turn to locking in the benefits of people cycling and walking more often."