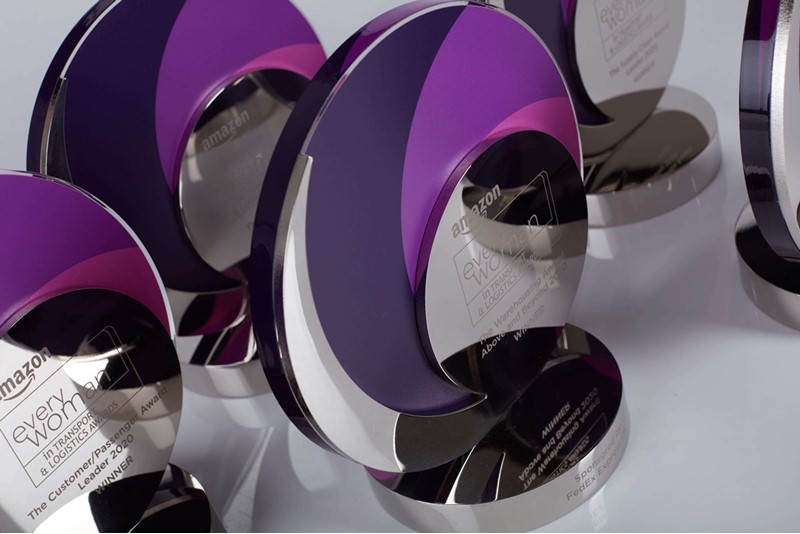 The finalists for the 2021 Amazon Everywoman in Transport & Logistics Awards have been announced.
After the Covid-19 crisis threw the critical role of transport and logistics into the spotlight, the finalists comprise of 66 of the most outstanding individuals working in the industry today, says event organisers.
This year's finalists showcase the crucial positions women hold in transport and logistics, demonstrating progression, accomplishments and increasing avenues of opportunity.
Everywoman said it is committed to celebrating the UK's brightest female talent, using the awards as a platform to applaud their success.
Since the awards launched 14 years ago, more woman have taken up senior roles in transport and logistics but still only account for 20% of workers, highlighting that more work could be done to attract women to careers in the industry, it said.
"Worked tirelessly to keep Britain moving"
Maxine Benson MBE, co-founder of Everywoman, said: "We are thrilled to announce the finalists for the 2021 Amazon Everywoman in Transport & Logistics Awards.
"The events of the past year provided the transport and logistics industry with myriad challenges, from skyrocketing demands for home deliveries and keeping staff safe, to coping with plummeting passenger numbers.
"It is an industry that has risen to the challenge thanks in no small part to the incredible talent of its female workers. In our finalists we see the passion, dedication, skills and leadership that has kept transport and logistics dynamic and resilient, and that kept the country moving in the most unprecedented of times."
The awards will recognise two winners per category; one successful industry 'Leader' and one individual at any stage in their career who is going 'Above and Beyond' for their business.
There are also awards for International Inspiration, for a stand-out Apprentice, an Industry Champion, a Male Agent of Change and, new for 2021, a Tech Innovator.
Jonatan Gal, Amazon's UK operations director, said "Amazon is proud to support the Everywoman in Transport and Logistics Awards and to recognise, highlight and celebrate the exceptional women who over the last year, have worked tirelessly to keep Britain moving at a time when customers have needed this industry more than ever.
"As a company it is important to us to inspire women to continue to drive innovation and new ways of thinking and to develop fulfilling careers by providing opportunities for all. I would like to congratulate all the worthy finalists and wish them good luck for the awards."
The winners will be announced at a virtual awards ceremony on July 8, 2021. For further information, or to book tickets visit the Everywoman in Transport & Logistics Awards website.
> Full list of 2021 awards finalists.
Research by the All-Party Parliamentary Group (APPG) for Women in Transport and industry group Women in Transport found that more than two-thirds (69%) of women feel the transport industry has a 'macho culture', while 70% of women perceive the industry to have an 'image problem'.
> Women in Transport has elected Jo Field as its new president, succeeding Katie Hulland.
> The Department for Transport (DfT), Enterprise Rent-A-Car and West Midlands Combined Authority (WMCA) are among those named in The Times Top 50 Employers for Women 2021.