As a recent Competition and Markets Authority (CMA) report makes clear, the UK's electric vehicle (EV) charging network is currently a 'postcode lottery' with huge inequalities of access to functioning charge points and a free-for-all when it comes to tariffs and payment mechanisms.
The uneven roll-out of charge points is in urgent need of 'levelling up' on at least three levels: the geographical spread of charging points, the cost for users and the infrastructure costs for would-be operators.
Grid capacity
There's plenty of power being generated in the UK – and an increasing proportion of this comes from renewables – requiring efficient storage so it can be released at times of peak demand. A steady migration to EVs will create precisely the kind of diffuse storage and balancing network that the pivot to renewables requires.
The majority of EVs will be charged at home or, in the case of commercial vehicles, at depots overnight when power is plentiful, cheap and clean. Instead of being a net drain on the national grid requiring extra generating capacity, EVs will allow an increasingly intelligent grid to balance itself, storing any excess power and making it quickly available at times of peak demand.
Dr Russell Fowler, senior project manager for transport decarbonisation at National Grid, says that, while the transition to EVs is accelerating, it is in line with National Grid projections which have incorporated a powershift to EVs for at least the past decade.
"We are generating plenty of energy to power EVs; the priority over the next decade is to get it to the places where it's needed to charge them: from workplaces, to supermarkets to cinemas to motorway service stations," he says.
"There's plenty of energy to charge millions of EVs at home; what's more important is – when you use it. By using smart charging systems, we can encourage EV drivers to recharge their cars overnight when the grid has plenty of spare capacity which is cheap and clean and this helps us manage grid capacity more effectively by balancing out peaks and troughs in demand.
"To deliver more rapid chargers at motorway services will require more expensive infrastructure upgrades, which will take a little longer and cost significant sums of money."
The big challenge for the National Grid is levelling up the distribution networks so EV drivers nationwide have easy access to the kind of charging they need, giving them the confidence to invest in an EV, safe in the knowledge that range anxiety is no longer an issue.
What this means, in practice, is upgrading the electrical infrastructure of cabling and substations to allow charging networks to build the estimated 400,000 public chargers the UK will need by 2030 – when new petrol and diesel cars will no longer be on sale in the UK.
The scale of the challenge
The CMA issued a comprehensive critique of the status quo in summer, highlighting the disparity in charge point provision. It said that the total number of charge points per head of population in Yorkshire and the Humber region is a quarter of those in London.
According to the CMA, the Government must focus on the following:
Accelerate infrastructure upgrades and charge point provision to avoid a virtual monopoly in rapid charging at motorway service areas.
Provide subsidies to build charge points in remote rural areas, where the commercial case for investment is very weak.
Redouble efforts to provide local authorities with the resources and incentives to accelerate the roll-out of on-street charging to avoid local monopolies developing.
Impose greater regulation to improve charge point reliability and connectivity and ensure charging speeds and fees are transparent.
Make payment mechanisms more coherent and easier to use.
"The scale of the shift to EVs – requiring the development of an entirely new network – should not be underestimated," says the CMA.
"While it is difficult to know precisely how much charging will be needed, forecasts suggest that at least 280,000 to 480,000 public charge points will be needed by 2030 – more than 10 times the current number (around 30,000)."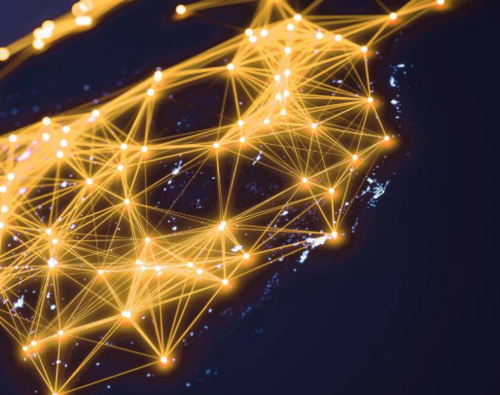 A twin track approach to charging infrastructure
It's critical to understand the distinction between the two forms of infrastructure required to deliver a comprehensive charging strategy.
Provision of slow chargers in urban areas will likely need relatively little new investment in grid capacity and should enhance the grid's ability to balance out peaks and troughs in demand with an increasing proportion of renewables in the mix.
But the provision of banks of rapid chargers at motorway service areas typically requires significant upgrades to the cabling and the building of new sub-stations by the regional Distribution Network Operators (DNOs). Fowler says: "Installing rapid chargers at motorway service areas requires a bit more planning and infrastructure upgrades.
Again, the grid can deliver on this, but it will take a little longer to build new sub stations and lay new cables to get the power to where it is needed – which is primarily at motorway service areas.
"This kind of work is very expensive and, while there are more and more commercial ventures moving into the charging space, their investment horizons can't accommodate the payback period required for this level of infrastructure investment."
Many of the obstacles to rapid scaling of the charging network hinge upon who should pick up the bill for building new charging infrastructure and how they secure a return on that investment.
Transport Scotland has identified that the pace and cost of EV charge point roll-out will be determined by the ability of the DNOs to respond to the demands for charging infrastructure, whether it be home, workplace, destination or public.
In its latest charging strategy update, Transport Scotland says: "At present DNOs are constrained from investing in advance of need. If this remains the position this may act as a brake on development, with DNOs reacting rather than anticipating demand."
In Scotland, the £5.3 million Project Pace has demonstrated the benefits and cost-savings available by taking a joinedup approach to building new charging infrastructure.
This strategic partnership between the Scottish Government and local DNO SP Energy Networks has indicated the potential for significant savings of between £1.3m to £2.6m in electricity grid connection costs through optimised site selection across 44 EV charging hub sites in the project area.
Public versus private sector investment
Should the taxpayer be expected to fund this huge investment in infrastructure that will be of no benefit to the millions of motorists who will continue to pay fuel duty and road tax on their internal combustion engine-powered (ICE) cars?
There is an emerging consensus that additional public investment and regulation is essential to build confidence in the UK charging network – and to give the private sector further encouragement to deliver down the line.
The UK Government has allocated £950m to the Rapid Charging Fund (RCF) that will fund upgraded electrical capacity at motorway and major A-road service areas which commercial operators can then utilise.
The CMA believes the RCF will play a critical role in increasing rapid charging capacity and choice at motorway service stations, delivering improved reliability, lower prices and continued innovation.
"But to achieve this, the RCF needs to be designed in the right way, otherwise there is a risk that if the funding primarily goes to the existing operators, it could further entrench competition problems," says the CMA.
National Infrastructure Commission assistant director Greg McClymont emphasises the need for different approaches to rapid and slow charging provision.
He says: "It will be important to incentivise charging companies to expand rapid charging across the country, instead of focusing on the most lucrative markets.
"The national charging strategy should provide more detail on how it will support any roll-out and give the market the clarity it needs on how and for how long any subsidy will operate. The earlier that happens, the sooner we should see a truly national rapid-charging network develop."
The CMA report says energy regulator the Office of Gas and Electricity Markets (Ofgem) must make changes to speed-up grid connections, invest strategically and lower connection costs, so the electricity system supports roll-out. Ofgem has already started some of the heavy lifting.
In May, as part of its RIIO-ED1 Green Recovery Scheme, the independent regulator announced funding to upgrade the cabling infrastructure to deliver 1,800 new ultra-rapid charge points at 39 motorway service areas plus a further 1,750 charge points in towns and cities stretching from Kirkwall in Orkney to Truro in Cornwall.
North of the border, the devolved administration in Scotland took responsibility for levelling up EV charging as far back as 2013. Publicly-funded ChargePlace Scotland's 1,800 public chargers now make it the fourth largest UK network.
The Scottish Government distributed 100% capital grants to all 32 of Scotland's local authorities and other charge point hosts, who retain responsibility for procuring, commissioning, operating and maintaining the charge points, which are managed through the ChargePlace Scotland back-office system.
Scotland now has the highest concentration of public and rapid charge points per head of population in the UK and Transport Scotland's latest update on the country's charging infrastructure underlines the role of ChargePlace Scotland's unified central payments system in driving confidence in EVs as a viable alternative to ICE vehicles – even in remote rural areas.
Transport Scotland's latest update also recognises that meeting a wider spectrum of charging needs is likely to make the finances of scaling the charging network more complex over the next few years.
It says: "In the future, rather than one funding model to support the provision of public charging infrastructure, consideration will now need to be given to potential delivery models and how these could be developed, dependent on the location and type of charging infrastructure required and the market being served."
Scottish Minister for Transport Graeme Dey says: "We've achieved much through the Local Authority Infrastructure Programme and more than £45m has been invested to deliver 1,800-plus charge points across Scotland through a single network operator. "It is clear we are now at a tipping point in terms of current demand and future requirements.
By retaining the best characteristics that Scotland enjoys through ChargePlace Scotland, the opportunities from inviting greater private sector involvement could be tremendous."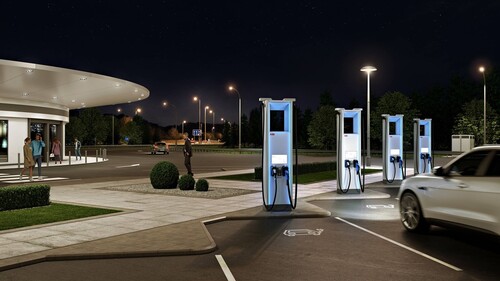 Boosting consumer confidence
Open and interoperable charging networks that can be used easily by all drivers and makes of EV is fundamental – but this is currently not the case across the UK.
The CMA report acknowledges that, while there have been some improvements, many EV drivers find charging to be complex, confusing and frustrating at times.
On top of a lack of charge points, reliability can be poor (on average one-in-25 charge points are out of service – though this has been improving). It can also be difficult to find and pay for charging (with multiple apps or cards needed) as well as comparing prices.
Live data and connectivity is often lacking and currently only 9% of public charge points have contactless bank card payment.
Richard Dilks, chief executive of shared mobility consultancy CoMoUK is scathing about the current 'free for all' in standards, tariffs and interoperability.
He says: "EVs get 81% satisfaction with members in terms of the driving experience, but when it comes to charging, that figure drops to 31%, with members citing poor charge point reliability and unfathomable charging and payment systems.
This would not be tolerated in many other sectors of the consumer economy and greater regulation is clearly needed here."
The EV Energy Taskforce (EVET), which brings together the auto and energy sectors, wants to see more support for the interoperability of charge points, so-called 'roaming', so drivers can recharge vehicles at any charge point regardless of its network, without having to carry multiple radio-frequency identification (RFID) cards or app subscriptions (only rapid chargers must have contactless payment and, even then, tariffs are higher than for network subscribers).
The National Infra structure Commission sees a more proactive role for Ofgem in this respect. McClymont says: "Ofgem must work with the energy networks to set minimum standards that support a network of interoperable, smart charging points across the country.
Ofgem can also help by encouraging energy suppliers and the network operator to work with charge point providers to identify the investments that are required now to accommodate future demand for public charging infrastructure, as part of their negotiations for the next price control period."
On-street charging
Roll-out of on-street charging remains slow and patchy according to the CMA report. The commercial case for on-street charging is weak and it is reliant on Government subsidies delivered through grant funding to local authorities.
"To deliver sufficient, competitive on-street charging which encourages EV take-up, a step change is needed," says the CMA. "Local authorities will need to play a much more active role in rolling-out charging and maximising competition by actively overseeing the market to ensure high quality, affordable charging for residents.
To do this effectively, local authorities need to be sufficiently equipped, supported and overseen at national level – ensuring that no areas lag behind." The CMA also cites concerns over the emergence of monopolies as local authorities sought a 'one-stop shop' solution to charging provision with a single supplier.
Shell's recent acquisition of Ubitricity – the UK's largest provider of on-street charge points, would seem to underpin this concern. In a report published this summer, the Local Government Association (LGA) said local authorities needed greater leadership from national Government, more predictable funding streams and more guidance on procurement and best practice.
Some councils are wary of being seen to encourage higher levels of vehicle ownership at the expense of public or active transport and also of taking on the financial risks of procuring nascent and rapidlyevolving technology which risks becoming obsolete within a short timeframe.
Most councils cited a lack of skills and expertise in managing the complex partnerships required to deliver on-street charging.
The LGA report concludes: "While a significant majority of local authorities we engaged with were actively deploying or planning for EV charge infrastructure, a significant minority had decided that in the absence of a mandated requirement from Government and in light of uncertainty and constrained resources that this is not a priority for them."
The situation is even more challenging in remote rural areas where lack of footfall makes the return on investment timescales much longer. The CMA is concerned this could lead to 'charging deserts', where owning an EV remains impractical due to lack of chargers.
One solution that could prevent remote rural areas being left behind is the installation of giant battery packs to power EV charge points with lower footfall in remote rural areas. These batteries can be slow charged from the grid overnight without the need for expensive infrastructure upgrades.
Oxford City Council has been trialling this technology in a partnership with Pivot Power – part of EDF Renewables – at the Energy Superhub Oxford (ESO) project.
A 50mW lithium-ion battery energy storage system will be linked to the UK's largest public charging hub at Redbridge Park & Ride, which will feature 38 fast- to ultra-rapid chargers.
Pivot Power plans to build 40 of these superhubs across the UK – and smaller versions could potentially help solve the challenge of extending the charging network into remote rural areas.
But after a decade of austerity and the financial aftershocks of the pandemic, there is concern that many local authorities simply don't have the resources or the skills in-house to assume responsibility for such complex new infrastructure projects, so the problem of providing on-street charging may persist.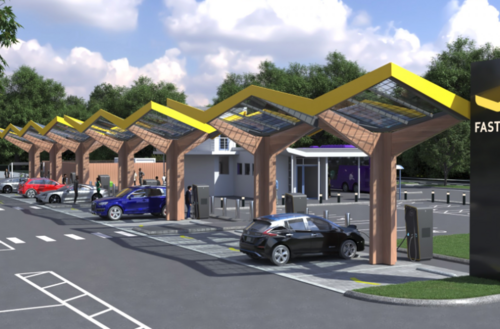 Rail electrification needed in tandem
Electricity infrastructure upgrades are not all about road transport.
They are also central to a parallel push to take diesel locomotives off the rail network and replace them with electric or hydrogen fuel cell. In 2018, the Department for Transport challenged the rail industry to remove all diesel-only trains from the network by 2040.
Network Rail subsequently published its Traction Decarbonisation Network Strategy (TDNS) in 2020 which identifies where overhead electrification, battery or hydrogen trains would be most effectively deployed.
Like the roll-out of a universal EV charging network, building this new infrastructure to support the transition to 100% electric railways will require a strategic approach from both public and private sectors together with substantial upgrades to the grid – especially at ports and inland freight hubs. More than 3,700 miles of railway are electrified, accounting for 38% of the network in the UK.
With the exception of the East and West Coast mainlines, electrified lines are overwhelmingly concentrated in the south-east of England.
Upgrading the grid to electrify rail services to ports throws up similar challenges to creating extra EV charging capacity on the motorway network in terms of capitalintensive infrastructure provision.
TDNS recommends an additional 8,000 miles of track be electrified, with hydrogen trains deployed on a further 800 miles and battery electric trains on 500 miles of track costing between £18-£26 billion in capital expenditure over 30 years.
New rolling stock would cost a further £18-£21bn.
From an economic perspective, rail contributes less than 1% of the CO2 emissions made by the UK economy as a whole and the TDNS points out that existing emissions data suggests that a 10% modal shift of HGV traffic to rail could reduce overall national emissions by almost as much as the whole rail industry contributes on an annual basis.
These reductions will be even greater if the transition to electric traction on the railways is accelerated.
Director of the Rail Freight Group Maggie Simpson says: "It's really hard to say that piecemeal electrification in one region can deliver change when the train service, and, hence, locomotive, needs to operate for the entire endto-end journey. Many of the goods that end up on our roads or railways arrive in the country at one of our seaports and even domestic supply chains tend to be pan-regional.
"Network Rail's TDNS outlines a long-term rolling programme of electrification nationwide to meet net zero.
But, in the shorter term, the industry is looking to make better use of the existing overhead network by infilling short sections to complete end-to-end trips such as from the docks at London Gateway, Felixstowe and Teesport to the electrified East and West Coast mainlines.
Case study: Scotland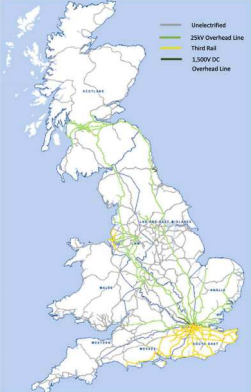 Scotland's devolved administration took responsibility for levelling up EV charging as far back as 2013.
ChargePlace Scotland's 1,800 public chargers make it the UK's fourth largest network.
The establishment of ChargePlace Scotland attempted to address many of the issues associated with a fragmented, largely unregulated provision of a national EV charging network.
Outside the country's central belt, it was seen as crucial to the roll-out of a charging network in remote, rural communities where the commercial opportunities would be less clearly defined.
The Scottish government has distributed 100% capital grants to all of Scotland's 32 local authorities and other charge point hosts, who retain responsibility for procuring, commissioning, operating and maintaining the charge points, which are managed through the ChargePlace back-office system.
To encourage utilisation, local authority charge points offered a period of free charging, although a growing number have now either introduced, or are in the process of introducing, tariffs.
As the network evolves, there is a growing consensus that much greater private sector involvement will be needed to respond to the demand for charge points.
Transport Scotland's latest update also recognises that meeting a wider spectrum of charging needs is likely to make the finances of scaling the charging network more complex over the next few years: "…there is an emerging acknowledgement that the non-home charging market characteristics are breaking down into a more granular basis: domestic off street; workplace destination; public sector destination; private leisure/retail destination; and en-route.
The potential delivery and commercial models and incentives as well as demand take-up could be quite distinct…"
Director of Infrastructure Finance and Programmes at the Scottish Futures Trust Kerry Alexander says: "To deliver at scale and pace, we need to adopt innovative and commercially viable funding models to supplement Scottish Government funding. We will be looking to develop models in the coming months, working with Transport Scotland, local authorities and private sector operators, to support future delivery."
Conclusion
By 2030, in an ideal world, Britain will have evolved a twin track approach to scaling the EV charging network, comprising a comprehensive network of readily accessible 'slow' chargers alongside a high-speed recharging network serving the primary arterial routes.
The complexity of the funding mechanisms and partnerships required to deliver this twin track approach vary significantly according the setting. On the motorways, the cost of installing new infrastructure and cabling make large-scale public sector investment unavoidable – but these funding streams must be carefully regulated to avoid subsidising what may look like cartels.
Subsidies will also be needed in rural areas to make charging provision viable to private sector partners and ensure a switch to an EV makes as much sense in the countryside as it does in the city.
The roll-out of on-street charging in urban areas could, in theory, be more commercially driven, but in practice, the complexities involved in aligning planning, procurement, competition and regulation policies across 300-plus local authorities is making the provision of on-street urban charging capacity challenging.
Throwing more public money at the problem is unlikely to solve it, but maybe there is an alternative solution for city dwellers – shared electric mobility.
"Very little consideration has been given to infrastructure planning for shared electric mobility," says CoMoUK's Dilks.
"It would be a fundamental error to work on the basis that we simply replace 33 million ICE vehicles with EVs.
To meet our net zero obligations, we also need to be reducing private car ownership and miles driven."
In its recently published Net Zero Strategy, the Government seems to agree, saying: "We cannot simply rely on the electrification of road transport or believe that zero emission cars and lorries will solve all our problems. As we build back better from the pandemic, it will be essential to avoid a car-led recovery."
Peer reviews
Mark Dickens, fleet director, Groupe Renault UK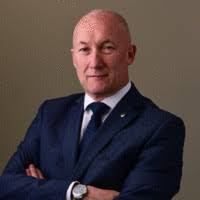 It is difficult to change people's behaviour and, therefore, levelling up should be focused on making it as easy as possible, so owning and driving an electric vehicle (EV) should be like an internal combustion engine (ICE) one.
The author says the charging network is currently a 'postcode lottery'.
Although I loathe to admit it, there are, indeed, challenges for EV drivers in not only finding a charging point, but also a functioning one.
What's more he is right about drivers being left in the dark on how much it is going to cost them and how can they pay for it.
We really need to invest more time, thought and money in implementing a functional and fair nationwide charging infrastructure that allows everyone to drive electric wherever they live or work.
Organisations like Gridserve are already geared up for electrifying the major highways and realise in the short- and medium-term, charging an EV is going to take longer than just a pump and go.
That is why they have incorporated eating, meeting and workplace facilities at these new charging stations, so you can make use of your re-charging time. However, for people travelling closer to home, not on motorways or in more rural areas, there does need to be more facilities at critical destination points.
The most common place for people to refuel currently is at the supermarket. This is not only because it is a destination site, but because pricing is clear and generally lower; they are easy to find and, together, the supermarkets have a comprehensive network of stations.
What's more you have an option of how to pay – through an app, a card or by cash - and, until recently, you were always guaranteed the pumps would work and you literally had fuel on tap.
This transparency in pricing, destination-based, guaranteed to work and easy-to-use and pay-for system needs to be reflected moving forward.
There also needs an education focus. Working within the EV charging industry, I am aware of how little people know about the technology, what the different types of charging units offer and even what their vehicle should be plugged into.
OEMs and charging solutions providers should take on the responsibility of informing EV drivers, so they are aware of efficiencies, best practice, and appropriate charging facilities.
I have often had to explain to a business that they don't need to invest in rapid charging facilities if vehicles are going to be left overnight to charge and even explaining to a driver who has plugged into a 350kw charger on the motorway that he could've saved time and effort (and even money) by using a different charger as his vehicle wouldn't charge any quicker as it wasn't compatible with the technology.
We are going in the right direction and the benefits of electric driving were certainly made more prominent when we had the chaotic fuel shortage. We just need to make sure we translate the way we traditionally fuel our vehicles to the way we charge our vehicles on the future.
Iain Macbeth, director of electric vehicle strategy, Enterprise Holdings Europe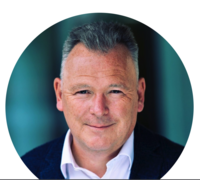 At the macro planning level, policy-makers want cost-effective solutions such as rental that can quickly scale uptake of electric vehicles (EVs).
Shared rental vehicles both deliver decarbonisation objectives and drive behaviour change, given shared car use reduces mileage and the number of vehicles on the road. Businesses and private motorists are keen to rent the electric fleet at Enterprise Holdings Europe, which gives us great insight into perceptions and challenges around charging.
This means we bring a 'micro' perspective to accessible recharging as we plan the best way to deploy growing numbers of EVs in every part of the country, urban, rural and in between, each with unique needs. Businesses already face energy challenges in their core operations.
In their desire to introduce EVs, they are often unaware of the need to consider the costs of installing charging infrastructure or power upgrades. The assertion that most EV charging will take place at home should be questioned as a third of UK homes do not have off-street parking.
While the cost of EVs has meant that today's more affluent early adopters have access to off-street charging, many employees offered an EV through their business may not be able to recharge it at home or be certain of access to charging at destinations.
Lower income city-based workers living in multi-occupancy buildings are especially affected.
Demographics is essential to levelling up. Will people on lower incomes switching to EVs be further disadvantaged by not having access to cheaper overnight charging?
The fast-growing use of EVs in our car club network in towns, cities, housing and retail developments shows the power of providing lowcost electric motoring where people live and work. When located in designated bays with a dedicated charger, ideally near to other transport types, such as train stations, EV car clubs encourage confidence, providing a practical and localised solution that supports real needs.
As so many journeys and parts of journeys are only possible with a vehicle, especially in areas within the levelling-up agenda, road vehicles will remain part of a multi-modal transport solution. Can transportation energy costs be separated from other commercial and domestic electricity accounts?
This may be difficult to resolve, but alternatives such as distance-based road user charging that could compensate for lost fuel tax revenue will be much more contentious in rural areas. The costs associated with high power charging may also be prohibitive in rural areas.
Even in suburban areas, is planning policy that mandates individual charge points delivering an effective solution given domestic charge points will most likely be under-utilised?
A shared hub approach can help to change behaviour and accelerate uptake of shared motoring with much higher utilisation as is the goal of the new EV hubs in Milton Keynes. Examining how to level up the current recharging infrastructure needs to be considered alongside energy requirements for heating and how local power networks are upgraded to replace gas.
Should a levelling up strategy automatically place these costs on consumers or on Government?
Paul Hodgins, CEO, Ginger
When considering levelling up, for me, the most important point is touched on in the conclusion of Mark Sutcliffe's article.
As Richard Dilks says, "very little consideration has been given to infrastructure planning for shared electric mobility… it would be a fundamental error to work on the basis that we simply replace 33 million ICE vehicles with EVs." In other words, we are not asking the question, what is transport really going to look like in fiveto-10 years?
Or at least, what might it look like and what are the implications?
I come from the telecoms industry, where fundamental technology disruption, denial, acceptance, and then proper focus has been the industry cycle for at least 30 years. Ten years ago, few industry leaders accepted that streaming services would come to dominate viewing. A decade earlier few accepted the dramatic decline of landline phone use.
Transport has not changed fundamentally in more than 100 years. That disruption is coming.
The disruption is twofold: micro-vehicles (i.e. small, low speed, low power, highly efficient two-, three-, and four-wheel EVs); and shared transport. It is not an either/or.
Just as landline telephony and broadcast television still exist, cars and vans will, too.
Just not 33 million of them. A major percentage of journeys will, or certainly could, be taken with entirely different vehicles. Why will it happen? There is the now unstoppable push on reducing carbon emissions – air quality, car-free zones, ultra-low emission zones. In a world of renewables, we must be efficient in our energy consumption.
Then there are the basic transport facts – 60% of car journeys involve one person; 25% two.
Cars sit idle 96% of the time; 60% of journeys cover less than five miles; 80% fewer than 10. The average household spend on travel is in excess of £4,500 per year, most of which is the cost of a car. Cars, whatever the engine type, are a highly inefficient use of energy, road space and money for most journeys.
Then, finally, users love these new vehicles. They will choose them because they are a better way to get around, especially if investment continues to make roads feel safer. What if I am right about vehicle type disruption? What are the implications for levelling up and charging infrastructure?
Do we wait and see, or do we proactively design for the transport we want to encourage? Either way, if disruption happens, how would levelling up look?
More focus on a stratified charging ecosystem. Rapid chargers adding 300 miles of charge have their place, but a system of distributed, very low power, very low cost charge points designed to top up micro-EVs with 20 miles of charge becomes a priority in the short term.
Much lower grid power requirements, and the ability to rely more on renewables, including localised generation.
Standardisation of micromobility charging infrastructure (there is no focus currently).
Accelerated legislative change and a focus on deployment of lower-cost micromobility across the country and encouragement of microvehicle innovation. Will the UK be leader or laggard? If we choose to be laggards, which we have until now, how much money and time will be wasted on the wrong investments, and will any of the micromobility industry value chain sit in the UK?
Will the UK be leader or laggard? If we choose to be laggards, which we have until now, how much money and time will be wasted on the wrong investments, and will any of the micromobility industry value chain sit in the UK?
Lucy Hayward Speight and Polyvios Polyviou, Transport strategy and planning managers, Transport for London
The article highlights the nationwide need to accelerate the delivery of electric vehicle (EV) charging points, to avoid uneven provision resulting in unequal support in the shift to zero emission transport. This is not just a national issue, but one we also see within a dense urban city like London – where some areas of the capital have much greater coverage than others.
At TfL, we are striving to address this uneven provision by focusing on supporting those boroughs which, to date, have not applied for or received funding for on-street charging. In our 2019 Delivery Plan, we set out the need for improved coverage of rapid charging points too, including hubs – setting out our aim to see one in each sub-region of London.
In our recent draft London 2030 EV infrastructure strategy, which built on the 2019 Delivery Plan, we recognise the importance of rapid charging in the future transition to zero emissions.
However, alongside the cost of energy upgrades, which is strongly emphasised in the article, there are a number of other issues which have acted as barriers to the roll-out of these to date, including planning permission, land access to carry cables across other property (wayleaves), site preparation and resource and/or expertise shortages.
Although hubs are now emerging, it has not been as fast a roll-out as we would have expected, and there is still much more to be learnt. Indeed, through developing our London strategy our thinking has evolved.
We would strongly encourage detailed planning for EV infrastructure across the country, in order to better understand the local needs and how infrastructure might be delivered.
Although there is a strong rationale to ensure adequate provision is available nationwide, at the same time, utilisation is key.
If a charge point is not commercially viable, it will become a stranded asset. Technology is advancing quickly and assessing the expected use and matching the type of infrastructure to the typical user is paramount in order to avoid wasting effort and resources.
CoMoUK set out that we must not assume all 33 million ICE vehicles should all become EVs and that reduction in car use more generally is needed for a sustainable future.
This is clear, and although they go a long way to address air pollution, EVs still contribute to traffic and congestion and do little to help people walk and cycle more, to support their health.
This is why London's strategy focuses on the needs of key users who make high mileage, essential trips which is where the greatest emissions savings per trip will be made.