The sub-national transport body (STB) England's Economic Heartland (EEH) has put a five-point plan of action in place to achieve net zero by 2040 for a region stretching from Wiltshire to Cambridgeshire and Northamptonshire to Hertfordshire.
But where does one start with a remit that wide?
Martin Tugwell (left), EEH programme director, told Smart Transport the process began in summer 2019 with an outline, then a draft in 2020 before publishing the final document earlier this year.
There were three start points, the first of which was understanding the work that had already been done that could be drawn on to inform the new strategy.
Tugwell says: "One of the challenges we have when we're developing strategies is we're in danger of repeating work that's already been done.
"You have to recognise and draw on work by partners and others like Highways England and Network Rail. The chances are, some of the key issues will be pretty well understood already."

Martin Tugwell, EEH
Tugwell also says Government agencies are open to working closely with STBs and it can help amplify the work being done on a technical level.
Network Rail is already resourced to do strategic planning. So, rather than commission consultants to talk with them, EEH could ask them some strategic questions directly.
Tugwell says: "Government agencies can commit resources to working with us and our partners.
"It means we get the best possible advice without the additional cost.
"The work the Government agencies can do amplifies the work we do as a technical team because we're getting it from the owners of the infrastructure itself."
Developing a regional evidence base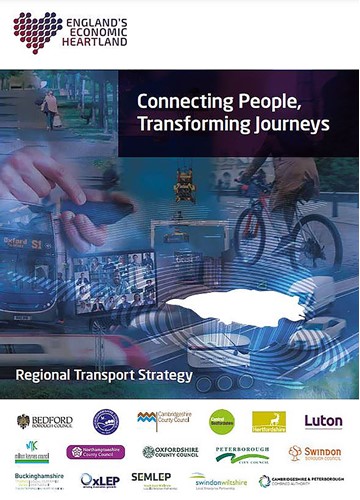 The next step was about developing new tools and commissioning work to make sure there was a regional evidence base in place.
EEH has a group of senior representatives from key stakeholders which includes representatives from all its partners.
When technical work is being commissioned, this group will help develop the briefs and get involved with consultancy procurement.
EEH commissioned the creation of a database to capture all the planned growth, like housing and development, across all local plans and put it on a geographical base.
This database is updated on an annual basis and it means there's a common and consistent baseline for future strategy.
Tugwell says: "It means any technical piece of work that is being commissioned for planning, you can all work from the same baseline."
EEH makes sure that whatever data it is working on at a regional level is made available to its partners. So, if a local authority within the region is looking to develop its local transport plan, it becomes easier for them to understand what's happening around them.
The third step was commissioning a start-up company facilitated by the Transport Systems Catapult (now Connected Places Catapult) to help give a longer term view.
This helped to develop what Tugwell calls a "policy scenario model" that poses the question, what if?
Tugwell says: "It's not about being perfect about a 2050 prediction, but it helps to figure out which direction you're going in so you can make more conscious choices for your strategy."

First- and last-mile toolkit
Tugwell says having the right data available to inform the strategy was a key part of the process and so EEH commissioned consultants to develop a first- and last-mile toolkit.
This used the Experian Mosaic database (a consumer classification system) to sort data across EEH's population in the region into 17 different "personas" down to a 300sq m grid.
Tugwell says having this level of granularity was important, because, while those in transport can often get excited about mobile phone data to show what's happening with travel, it doesn't give an understanding of why.
He says: "This transport strategy had to have the user at the heart of the work.
"So, taking Cambridge as an example – what are the socio-economic factors there, what are the lifestyle factors?
"What it's done for the first time is to look at populations and to analyse how different Cambridge might be to, say, Northampton.
"That toolkit allows you to understand the different types of travel.
"If you're also looking to develop a strategy which has the user at the heart, it then allows you to say, this kind of solution will have a bigger impact in one part of the region compared with others."
This isn't just about transport
The Government's legal requirement to hit Net Zero by 2050 also meant EEH needed to do some technical work on the pathways to decarbonisation.
It commissioned the University of Oxford and the University of Southampton to use the National Infrastructure Systems Model (Nismod) to show what is needed to help reach emission reduction targets in a particular time frame.
So, for example, what kind of power supply is needed to electrify transport across the region?
Tugwell says: "This modelling helps you look at the scale of growth you need.
"That's not for us to deliver, but if you know these relationships you can join up the thinking."
Once all this technical work was completed, it was then mapped so the team at EEH could see, visually, where it all sat across a map for the region.
In parallel to the technical work, EEH reached out to its stakeholders and the wider public with a two-stage engagement process.
Tugwell says: "We wanted to ask very open questions right at the start.
"We presented a snapshot of where the region is with all the issues and the evidence base.
"We wanted to ask them what they think the strategy needed to address."
A consensus then formed around 10 or 12 key points and these helped focus the document further.
Bringing that feedback from the open engagement reinforced the thinking EEH had right from the start.
"Even before Covid-19, we had said that if we're going to deliver economic growth and reduce environmental impact, the strategy could not be 'business as usual'.

Martin Tugwell, EEH
"Those messages we were getting from that open engagement gave us the confidence to move forward. We then combined that with all the technical work to underpin the policies that were included to realise that ambition."