Connected and Automated Mobility (CAM) has the potential to profoundly change the way people and goods are transported, enabling greener, safer, easier, and more productive journeys. The impacts will be most obvious on the existing automotive industry and on future goods and passenger services but will also affect many other industries such as construction, cyber security and insurance.
The UK Government recently put out a call for evidence to gather insight from the industry of where the UK can be globally competitive in these technologies, and the role Government could play to help ensure continued development, testing and deployment of safe connected and automated mobility. Here Paul Campion, CEO of TRL, outlines his response on behalf of CAM Testbed UK.
Introducing CAM
The UK Government is interested in identifying if and how CAM technologies can support wider government priorities such as net zero, levelling up and a strong economic recovery following on from the COVID19 pandemic.
From a TRL perspective, CAM is important for all of these objectives, with having invested in the research and development of vehicle automation since the 1950s. With the launch of the GATEway project in 2015, the UK initiated the development and safe trialling of automated vehicles, giving the public the opportunity to experience driverless technology for the first time.
Since then, the UK Government and industry has progressed to invest in the creation of the Smart Mobility Living Lab (SMLL) in London. SMLL is part of CAM Testbed UK, the only place worldwide with the capability to take ideas from concept to development both virtually and physically, all within a three-hour drive, across eight integrated facilities.
SMLL is a London-based real-world connected environment for testing and developing future transport and mobility solutions. With 24 km of highly instrumented road network across the Royal Borough of Greenwich and Queen Elizabeth Olympic Park in Stratford, the facility provides a complex live testing environment. For CAM technologies, London is the ultimate proving ground for new mobility concepts, with its challenging layout and multi-modal transport systems: if it works here, it will work anywhere.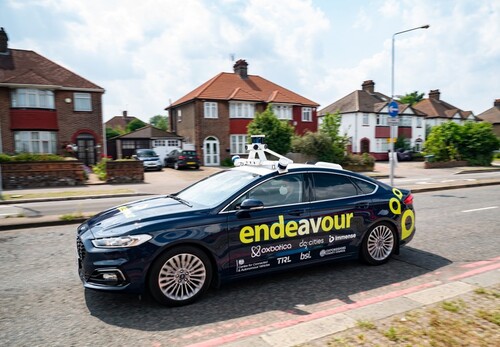 What are the UK's CAM capabilities?
The UK is well-positioned in the CAM sector, thanks to a globally competitive research base assessing the technologies that enable many of the new capabilities that create the Connected and Automated Mobility opportunities. The UK also has many start-ups and innovative SMEs in the CAM area, aided by a leading IT and software sector. The supporting infrastructure (Catapult centres, University-linked incubators and CAM Testbed UK) is strong and, in some cases, globally unique.
The UK is leading the way in safety – which is central to the development and deployment of new automated technologies. For example, the CCAV/ BSI CAV standards programme provides a suite of standards that reflect industry good practice and set the benchmark for safety requirements for trials and testing.
The UK also has strong capabilities in testing and validating emerging technologies through CAM Testbed UK. The facilities offer a range of environments and complexities to test, validate and refine technologies. Facilities, like SMLL, with intelligent infrastructure support alongside in-vehicle monitoring, will enable more advanced trials to be conducted in real world environments.
Why is CAM important to the UK?
Supporting decarbonisation
CAM can support the decarbonisation of UK transport by optimising vehicles' operations and creating new designs, leading to lower embodied and operational carbon emissions. Automated vehicles can drive optimally to maximise fuel efficiency, and therefore minimise well-to-wheel emissions. Having no drivers also leads to operational fuel saving opportunities as vehicles can be redesigned to reduce vehicle mass, improve aerodynamic drag, and eliminate auxiliary loads.
With no drivers, fleets will not be required to follow the EU Working Time Directive, enabling 24/7 operations. This will minimise detours to depots and hotel loads when lorry drivers need to sleep overnight on the road, both mitigating operational carbon emissions. Furthermore, eliminating auxiliary systems (e.g. heating/cooling), components (e.g. seats), and materials (e.g. no need for a cabin) also decreases embodied carbon emissions during the manufacturing stage.
Supporting logistics
CAM technologies are being evaluated for their use in the logistics industry and are expected to have a significant impact. A good example is depot and warehouse operations. The profitability of the logistics industry depends on the proportion of the time their assets (i.e. lorries and drivers) are running with a load, rather than idle or running empty. The speed of turnaround at pick-up and drop off is therefore important, as is the time spent on vehicle maintenance, charging, start and end of shift, etc. Automating these tasks is likely to be easier than automating vehicles running on public roads because a warehouse is a relatively simple operating domain and also a controlled environment.
Supporting the economy
As CAM technologies are deployed into commercial use there will be many other economic opportunities. To the extent that CAM technologies enable greater efficiencies, they will lower costs for companies that exploit them, making them more competitive and better able to grow and add jobs. More difficult to quantify, but potentially much more significant, will be the new business models, new products and new services that will be enabled by these technologies. Whole new industries (or significantly enhanced versions of old industries) may arise as a result of the deployment of these technologies.
How can we continue to nurture the CAM industry?
Looking ahead over the next decade, there are a number of priorities for the CAM sector in the UK. The UK Government should articulate a clear commitment to, and plan for, the support and growth of the CAM sector in the UK, including an investment plan that enables the UK CAM ecosystem and CAM Testbed UK to continue to co-invest with confidence, so that facilities and skills remain adapted to the rapidly evolving technologies.
It is also critical that we develop a flexible and responsive UK regulatory system that enables the safe and secure deployment of automated vehicles in the future. As part of this, we must provide a simple, consistent but robust approach to assuring safety during trials and testing to enable and facilitate trials across all UK locations and environments, and to minimise burden on testing organisations and road authorities planning trials in live traffic.
Further addressing safety concerns, we must develop and implement a UK safety monitoring and investigation unit for automated vehicles to monitor their safety, analyse data from trials, investigate incidents and near misses, and provide timely feedback and recommended actions for improvements. Implementing this unit now and undertaking in-depth investigations for collisions with assisted driving functions will prepare for an automated transport system in the future and enable a more reliable, proactive approach to be adopted. The UK has demonstrated that by leading the world in safety standards, it can be a leader in new mobility solutions and services.