Tritium has announced plans for a new European-based manufacturing facility as part of its global expansion plans, having raised $403 million for a prospective Nasdaq stock-exchange listing.
The Brisbane-based direct current (DC) fast-charging manufacturer will list on Nasdaq later this year, following the business combination with Decarbonization Plus Acquisition Corporation II. The pre-money enterprise value of the combined company is $1.4 billion.
Jane Hunter, chief executive officer at Tritium, said: "The accelerated electrification of the transport sector globally is now underway and has extraordinary implications beyond the benefits to individual consumers.
"We plan to expand to three global manufacturing facilities, enhance our products, grow our global sales and service operations teams, and so much more.
"This agreement funds that growth plan, enabling us to expand our business operations, expedite product development, assess, and achieve the company's environmental, social and corporate governance (ESG) goals, and provide even more services to our customers."
The Government's ban on the sale of new petrol and diesel cars and vans from 2030, and hybrid vehicles by 2035, was an 'important signal' for electric vehicle (EV) buyers and charging infrastructure providers, said Tritium.
In May, Tritium partnered with The Electric Highway and has also announced a partnership with Osprey Charging Network, where it installed Tritium RTM75 chargers capable of providing up to 75kW of charge, at a new Starbucks site in Gosport (pictured).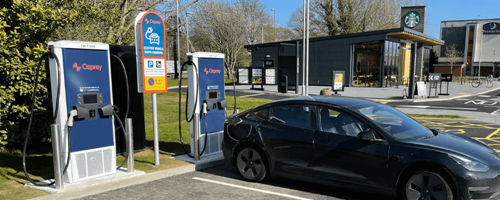 Motorway service station operator Moto confirmed plans to install ultra-rapid electric vehicle (EV) chargers at all its UK sites, with the launch of an EV site with the opening of its new Rugby Services.
The new service area features 24 350kE ultra-rapid EV charging points, 12 Tesla and 12 Electric Highway chargers.
Last year, Tritium launched its charging solution that can scale up in power without the need to "rip and replace" existing hardware, the company said.
Tritium's ultra-rapid chargers provide a 20-mile charge in a minute or a 100-mile charge in 5 minutes, the company said.
The EV charger manufacturer said it has provided more than 2.7 million high-power charging sessions across 41 countries.