Transport for West Midlands (TfWM) has set up a pilot scheme in Coventry offering drivers £3,000 worth of mobility credits in exchange for scrapping older, high emission cars.
The scheme, which is being run in partnership with Coventry City Council, aims to persuade residents who own 10-year-old cars to use more environmentally friendly transport, helping to reduce traffic congestion and improve air quality.
To date, six car owners have taken up the offer, with interest from about 20.
However, with £1 million funding being provided through the region's Future Transport Zone initiative, there is capacity to take hundreds of high-polluting vehicles off Coventry's streets during the two years that the scheme is set to run.
Residents who take part in the scheme will receive a pre-paid transport only debit-card, which can be used to cover the cost of alternative transport including buses, trains, taxis, car hire and car club services over two years.
Andy Street, the Mayor of the West Midlands, said: "The West Midlands is facing a climate emergency, and tackling that means reducing air pollution and finding ways to encourage people to cut out unnecessary private car journeys in favour of public transport or active travel such as cycling and walking.
"Our innovative mobility credits scheme helps do exactly that."
He added: "At the same time as record investment in buses, rail, trams, and new safe cycle routes and a cycle hire scheme, we are also looking at creative solutions to our transport issues including the trials of e-scooters and demand responsive bus services currently underway in Coventry.
"Drivers will only leave their cars if suitable alternatives are available, and that's why we are investing billions in public transport and active travel, as well as trialling these new innovative schemes."
Councillor Jim O'Boyle, cabinet member for jobs and regeneration at Coventry City Council, said: "Coventry is in the vanguard of new technology and environmentally friendly travel.
"We've got the most electric vehicle charging points per head of population anywhere in the country outside London, our buses are going electric and we are trialling an interesting tram system called very light rail.
"Environmentally friendly travel is the way forward and this is a great opportunity for people to give up their older polluting petrol and diesel cars and try it for themselves. It's a great way to show people there are alternatives to the private motor car."
Enterprise supports scheme with car club and daily rental access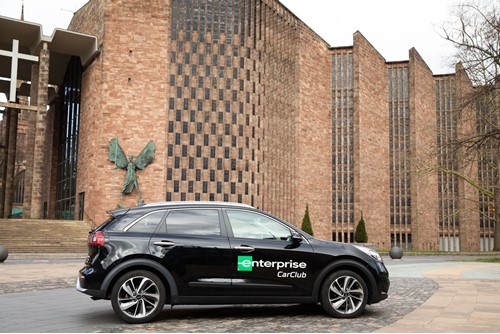 Smart Transport member Enterprise is supporting the scheme with 10 of its car club vehicles placed across the city, including in the five wards where the trial is taking place.
Drivers taking part in the initiative will be able to use their mobility credits to book one of these low-emission shared cars near to where they live or work, or to access Enterprise's rental vehicles.
The car club vehicles are based in on-street bays in residential neighbourhoods – in George Elliot Road, Jubilee Crescent, Northumberland Road and Clay Lane Car Park – to ensure triallists can access a car whenever they need, 24/7.
More low-emission car club vehicles are located in the city centre at Westminster Road Car Park, Barrack Car Park, and Gosford Street Car Park. Two vehicles are located on campus at the University of Warwick as part of the Future Transport Showcase.
During the trial, payment for Enterprise Car Club and rental vehicles will initially be via a Yordex card, pre-loaded with credits.
Payments will be integrated into TfWM's Swift payment card platform, as the pilot expands.
John Seddon, head of transport and innovation at Coventry City Council, said: "We are delighted to be working with Enterprise on integrating Enterprise Car Club and vehicle hire into our mobility credits initiative, which is a first for the UK.
"We believe that giving people easy access to low emission vehicles near to where they live, and work will help to promote integrated transport solutions in Coventry."
Oz Choudhri, head of mobility solutions at Enterprise, added: "Coventry's pioneering mobility credits initiative will provide important information about how to encourage people to use more sustainable shared, active and integrated travel.
"This is why we are so keen to support this trial, bringing lower-emission mobility to the heart of the community to reduce pollution and congestion.
"We saw usage increase the minute we moved the cars to the wards, demonstrating that people are open to the idea of driving a shared car. Integrating car club use into a city's shared transport network and systems in this way makes it even more simple and relevant for everyday use."
Mobility credit trialists can apply for the first year's membership of Enterprise Car Club for free (usually £60), giving them access to ultra-low emission vehicles including electric hybrids.