Transport for London (TfL) has launched an online dashboard to enable people to more easily access and interpret London's road collision data.
By sharing data in this way, TfL and partner organisations believe they can better identify the road danger challenges specific to their communities and work together with London's boroughs and agencies to tackle them.
This will help TfL to achieve its Vision Zero action plan – to eliminate all deaths and serious injuries from London's transport network by 2041.
The new Vision Zero dashboard, which is located on the TfL website, allows users to filter the raw data based on key fields such as injury severity, location, date/time and by mode.
New maps, charts and data visualisation tools compare collision data across the years and by location, making the data easier to understand.
The new dashboard currently shows collision data recorded by the police from 2017 to 2019. Data from future years will be added in due course, with plans for further analysis capability including being able to identify casualty rates by kilometre travelled.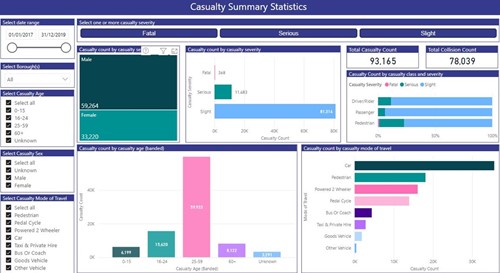 Lilli Matson, chief safety, health and environment officer at TfL, said: "As we continue to take action to reduce road danger, we need to ensure that the public and our stakeholders can access and interpret our collision data easily.
"Our new Vision Zero Dashboard does just that by visualising our collision data, making clearer than ever the appalling consequences suffered by thousands of people in London each year.
"Behind every collision there is a tragedy experienced by a person's family, their friends and their community."
In 2019 there were 25,341 reported collisions on London's streets, resulting in 125 people being killed and more than 26,000 injured, 3,780 of those seriously.
People walking, cycling and motorcycling made up 83% of all people killed or seriously injured.
Provisional data has shown that 96 people died on London's roads last year, including 31 motorcyclists (equal to the 2019 total), 45 people walking and six cycling.
Vulnerable road users at greater risk during lockdown
TfL says that these figures serve as a reminder to drive safely and within the speed limit – especially during the ongoing national Covid-19 lockdown with increased numbers of people walking and cycling.
The Metropolitan Police and City of London Police continue to target speeding and other unsafe driving across London's roads.
During the first lockdown police recorded speeds of more than 130mph but even relatively small increases in speed are known to raise risks to drivers and vulnerable road users such as people walking, cycling and riding motorcycles.
Mary Creagh, chief executive, Living Streets said: "As lockdown continues, it is vital that everyone, young and old, has the right to walk safely on London's streets.
"This data shows that pedestrians continue to suffer the greatest number of fatalities on London's roads, despite much lower car use last year. This must change.
"The Vision Zero dashboard is a powerful tool which shows why we need slower speeds and safer crossings, and crucially, allows people to pinpoint where we need them.
"I urge people to use it to campaign for the changes they want to see locally, to achieve zero harm on our streets."
Victoria Lebrec, head of policy, campaigns and communications at Roadpeace, added: "The dashboard is very welcome. Whilst it is data that is already available, making it easier to access and visualise is important because it will help Londoners to understand the extent that road danger is impacting their community.
"People often are surprised by the frequency and severity of crashes, and I hope that this dashboard will allow campaigners and the public alike to question what more can be done to prevent crashes in London."