Record increases in the number of people cycling has been recorded in London, with an increase of more than 200% on some weekends, data from Transport for London (TfL) has found.
Despite fewer journeys being made during the pandemic, TfL data revealed cycling numbers continue to be above the long-term average at weekends, with a 68% increase across May 29-30 compared to the baseline year.
One weekend (February 29-30, 2021) saw an increase of 240% compared to the same weekend in 2020.
Survey data from cycling retailer, Halfords also suggests bike owners are cycling more often and feel safer on the roads.
In the survey of 2,000 cyclists across the UK (336 in London), 62% of adults who own a bike in London said they have cycled more over the past 12 months compared to previous years, compared to 11% who said they cycled less.
In addition, 49% said they felt safer on the roads, compared to 5%t who said they felt less safe.
TfL and Halfords launched a partnership in November 2020 to enable safer cycling through better training and safety equipment.
Since then, more than 12,000 people have registered for TfL's free online Cycle Skills course.
Heidi Alexander, deputy mayor for transport, said: "Seeing more people out on bikes over the last year has been one of the few good things to have happened as a result of the pandemic.
"This partnership between TfL and Halfords is helping to ensure people have the skills they need to cycle around the capital with confidence, and the right equipment to keep them and their bikes safe.
"We continue to work with boroughs to make our roads safer for all road users, and I hope this year's Bike Week inspires even more people to do some training and give cycling a go."
Santander Cycles hires have also been strong in recent weeks, with 150,000 hires across the bank holiday weekend of May 29 -30, and more than 53,000 hires on May 31.
Sarah Filippardos, head of cycling at Halfords, said: "We have been delighted with the success of our partnership with TfL, supporting our joint mission to get more Londoners cycling.
"Thousands more people have brushed up on their cycling skills and our discount means they can get the accessories they need to cycle safely and make their bike secure when travelling around the capital."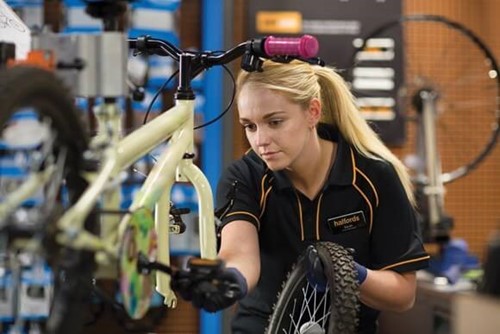 "Really encouraging to see these figures on the rise"
Sarah Mitchell, chief executive at Cycling UK, said: "It's really encouraging to see these figures on the rise in cycling in London recently and with summer on its way, now is definitely a great time to be riding more.
"To help make sure bikes are safe to ride, Cycling UK's Big Bike Revival will be happening across the capital and the rest of England.
"Working with our partners we'll be on hand this summer to fix old or neglected bikes, teach basic maintenance skills and run led group rides to boost your confidence in the saddle."