Key speakers from the public and private sector will explore how to aid the shift away from private vehicles to other modes of transport at next month's Virtual Smart Transport Conference.
The event takes place on June 8-9 and is free to attend, with registration open now.
Chris Lane, Transport for West Midlands (TfWM) head of transport innovation, Kit Allwinter, West Yorkshire Combined Authority active travel policy officer and Ed Pegram, Raleigh commercial partnerships manager will contribute to a session all about how towns and cities across the UK can better achieve positive modal shift.
Lane will speak about how the business model for public transport needs to adapt post Covid-19, including flexible and smart ticketing, as well as how TfWM accessed funding to help trial new ideas.
He will also discuss how initiatives like how mobility credits can boost the switch away from private vehicles and how the region is using e-scooters, buses on demand and short term car rental to create its Future Mobility Zone.
"...We need fewer cars, not just newer cars..."
Allwinter will provide WYCA's perspective on how to build on the uptake in walking and cycling since the Covid-19 pandemic, including the safety aspects that need to be considered to get more people walking and cycling.
Kit Allwinter, West Yorkshire Combined Authority active travel policy officer, said: "The future of mobility involves significant changes to how we move as we need a far more efficient system than enormous private metal boxes.
"Be it shared, autonomous vehicles, buses, trains or even the humble bicycle and foot – to decarbonise and enjoy the benefits of future mobility we need fewer cars, not just newer cars."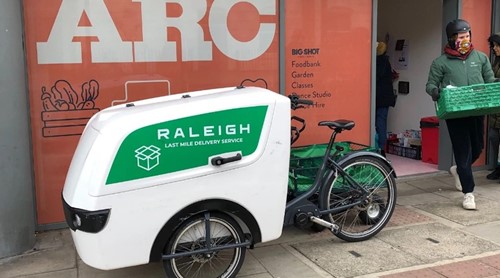 Pegram will build on Allwinter's session to give a private sector take on how Raleigh is engaging with trials of e-cargo bikes to offer ultra-low emission alternatives to electric vans and cars within city centres.
He'll discuss case studies like how Raleigh has worked with the ARC Centre food bank in Islington, which used e-cargo bikes to help make deliveries to 70 households and over 200 people.
Live Q&A
Following the presentations, all three speakers will be taking part in a live panel debate, giving delegates the chance to send questions their way.
There will be eight breakout sessions across the two days (including achieving modal shift) that will pick up on the decarbonisation and Covid-19 themes.
The topics are: addressing urban air quality; place-based solutions to decarbonise transport; switching to electric; achieving modal shift; decarbonising freight; transport outside cities; data and new mobility trends; and universal and inclusive transport.
Smart Transport would like to thank its Headline Strategic Partners for their support with this virtual event including ABB, Centrica, DAF Trucks, Enterprise, FedEx, Geotab, LeasePlan, Liberty Charge, Macquarie, Raleigh, Renault and Worldline.
Conference website: conference.smarttransport.org.uk.