Nearly half of passengers in England would be concerned for their safety when using ride sharing services, according to a Department for Transport (DfT) survey.
The DfT's latest Transport and Technology Public Attitudes Tracker report surveyed 3,500 adults in England in June 2019.
The DfT survey aims to fill gaps in knowledge on key areas and emerging topics such as public attitudes to future modes of travel.
The perceived concerns for safety due to travelling with strangers was mentioned by 47% and this has actually increased from 42% from the last survey in December 2018.
Women were more likely than men to cite this issue (53% versus men 41%), while those living in the East of England and the South West were less likely than those in other regions to cite this particular concern (36% in both regions).
Other disadvantages mentioned were not knowing who you would share with (30%), less privacy due to having to interact with strangers (25%), and longer journey times (18%, down from 27% in December 2018).
People who were already aware of app-based minicab services were more likely than those with no awareness to mention the safety risk of travelling with strangers (48% versus 43% respectively), not knowing who you will share with (31% versus 26%) and longer journey times (19% versus 13%).
When the different types of disadvantages are grouped into themes, 70% of people mentioned at least one stranger-related concern (similar to December 2018, 69%).
There were 20% that mentioned a journey related concern, which was significantly lower compared with 30% in December 2018.
Journey-related concerns included longer journeys (waiting for vehicles to arrive/ diversions to pick up others); and 'less reliable journeys/ less control over choice of route.
DfT used UberPool as an example of a ride sharing service.
UberPool lets passengers going in the same direction share a ride for a lower price. They get a more affordable price if they're happy to share their ride, perhaps walk to and from their pickup and dropoff, and wait while Uber finds them a suitable ride.
But what are the perceived advantages?
A lower cost was seen as the main advantage of ride-sharing, with 65% saying ride-sharing would be cheaper than travelling alone.
Other commonly mentioned advantages of ride-sharing were: that it is environmentally friendly (24%, up from 20% in December 2018), generating less congestion (14%, up from 11%), being more social (11%, similar to the December 2018 findings,12%) and that it would be safer than travelling alone (7%, up from 5% in December 2018).
The proportion who could not think of any advantages remained at the same level as December 2018 (11%).
The latest data goes back to June 2019, well before the Covid-19 lockdown, so it won't be until the next survey before the impact of the pandemic on transport attitudes can be reviewed.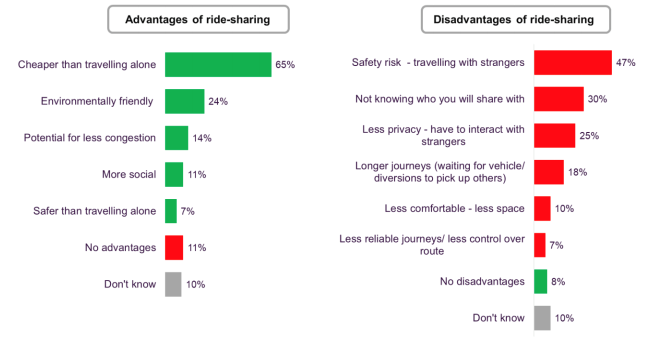 The full survey can be viewed here and includes attitudes on autonomous vehicles, electric vehicles and driver assistance systems.