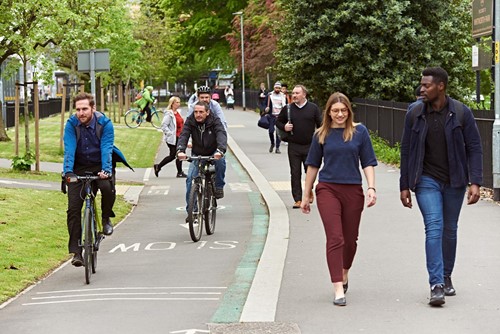 Residents in Greater Manchester are said to be leaving their cars at home to mark national Clean Air Day today (June 17), opting to 'go car-free' and walk, scoot, cycle or wheel to work, school or the shops.
More than 50 Greater Manchester schools are trialling temporary 'school streets' where roads are closed to cars and cycling, walking, scooting and wheeling are prioritised.
Greater Manchester has committed to delivering 50 walking and cycling-friendly permanent School Streets by March 2022.
Transport for Greater Manchester (TfGM) said 'hundreds' more schools are actively promoting Clean Air Day and encouraging parents and carers to make the switch away from the car.
Greater Manchester lead for Clean Air, councillor Andrew Western, said: "I want to thank the thousands of people across Greater Manchester who are committing to 'go car-free' today to mark Clean Air Day.
"I am sure that residents, including parents, carers and children, will really enjoy walking, scooting, wheeling or cycling to get around locally and for the school run, and it will be the start of a new, greener, healthier daily routine."
Last month, Clean Air Greater Manchester launched an online campaign calling on people to 'go car-free' and make everyday journeys and the school run by bike or on foot.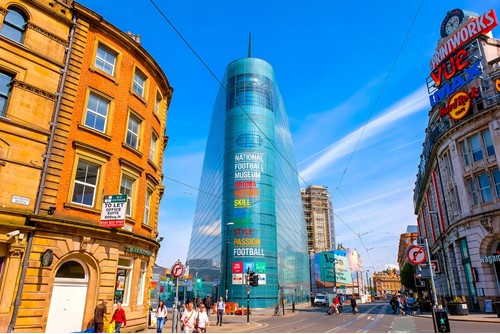 The projects form part of Greater Manchester's ambition to deliver the UK's largest cycling and walking network and to achieve carbon neutrality by 2038.
TfGM said projections show that if all Greater Manchester car journeys less than one kilometre were walked or cycled, it would help prevent at least 42,750 tonnes of carbon dioxide entering the atmosphere – the equivalent to planting 21 million new trees in a year.
In Greater Manchester, 200 million trips of under one kilometre are made by car in the region every year - the equivalent of a 15-minute walk or four minutes' cycling, according to TfGM.
TfGM said Greater Manchester leaders are committed to tackling air pollution, which is the biggest environmental public health issue facing the city-region and contributes to around 1,200 deaths in Greater Manchester each year.
As part of the wider effort to create a greener city-region, Greater Manchester said it will shortly publish its proposed final Clean Air Plan.
The plan, which has been developed by the 10 Greater Manchester councils and coordinated by TfGM, aims to bring nitrogen dioxide levels within legal limits on local roads by 2024.
British Safety Council calls for improvements to pollution monitoring
On Clean Air Day, the British Safety Council is calling for policymakers and regulators to protect outdoor workers from air pollution.
While toxic air is harmful to everyone, the risk of exposure is greater for outdoor workers, said the British Safety Council.
The council urged that air pollution must be fully recognised as an occupational health issue.
Mike Robinson, chief executive at the British Safety Council, said: "Air pollution is the UK's largest environmental health risk, greater than smoking and obesity.
"Indeed, the links between air pollution and illness are increasing. Therefore, we need better air pollution policies for a longer and healthier life.
"We are calling on policymakers, and regulators to protect outdoor workers from the dangers of air pollution.
"Surely outdoor workers deserve the same legal protections as those on the factory floor or in offices.
"Let's make 2021 the year we help Britain's outdoor workers breathe easy at last."
British Safety Council is calling for three key changes:
Improvements to pollution monitoring across the UK
The UK to adopt legal limits, using as a minimum standard, World Health Organisation (WHO) limits for outdoor workers' exposure to the most dangerous air pollutants – PM2.5, PM10, Nitrogen Dioxide and Ozone
More research into the effects of exposure to ambient air pollution on outdoor workers