New research suggests city, urban and regional deliveries with rigid HGVs using electric powertrains, rather than diesel, are on the cusp of being cheaper on a total cost of ownership (TCO) basis.
In making its TCO comparison, the study, commissioned from Element Energy by Transport and Environment UK, factors in purchase price, and energy and maintenance costs.
It also claims that electric lorries will reach cost parity with diesel in the remaining use cases, including articulated supermarket deliveries, by the early 2030s.
Furthermore, it says that far fewer trucks will require public charge points away from their depots than has been suggested previously.
Trucks usually take shorter journeys in the UK compared to other European countries because of Britain's island geography and dense pattern of development, it claims.
Well over half of British HGVs will only ever need to be charged at their home-depot, according to the study, with 93% of the 400,000 truck chargers needed by 2050 will be for depots.
Richard Hebditch, director of Transport and Environment UK, said: "The UK's island geography and density mean lorries do relatively short journeys and the lion's share of truck charging will happen in depots.
"Yes, we'll need some public charging, but we can make lots of progress now without the need for serried ranks of chargers at every motorway service station.
"The Government mustn't miss the opportunity now to kick start the take-up of electric trucks."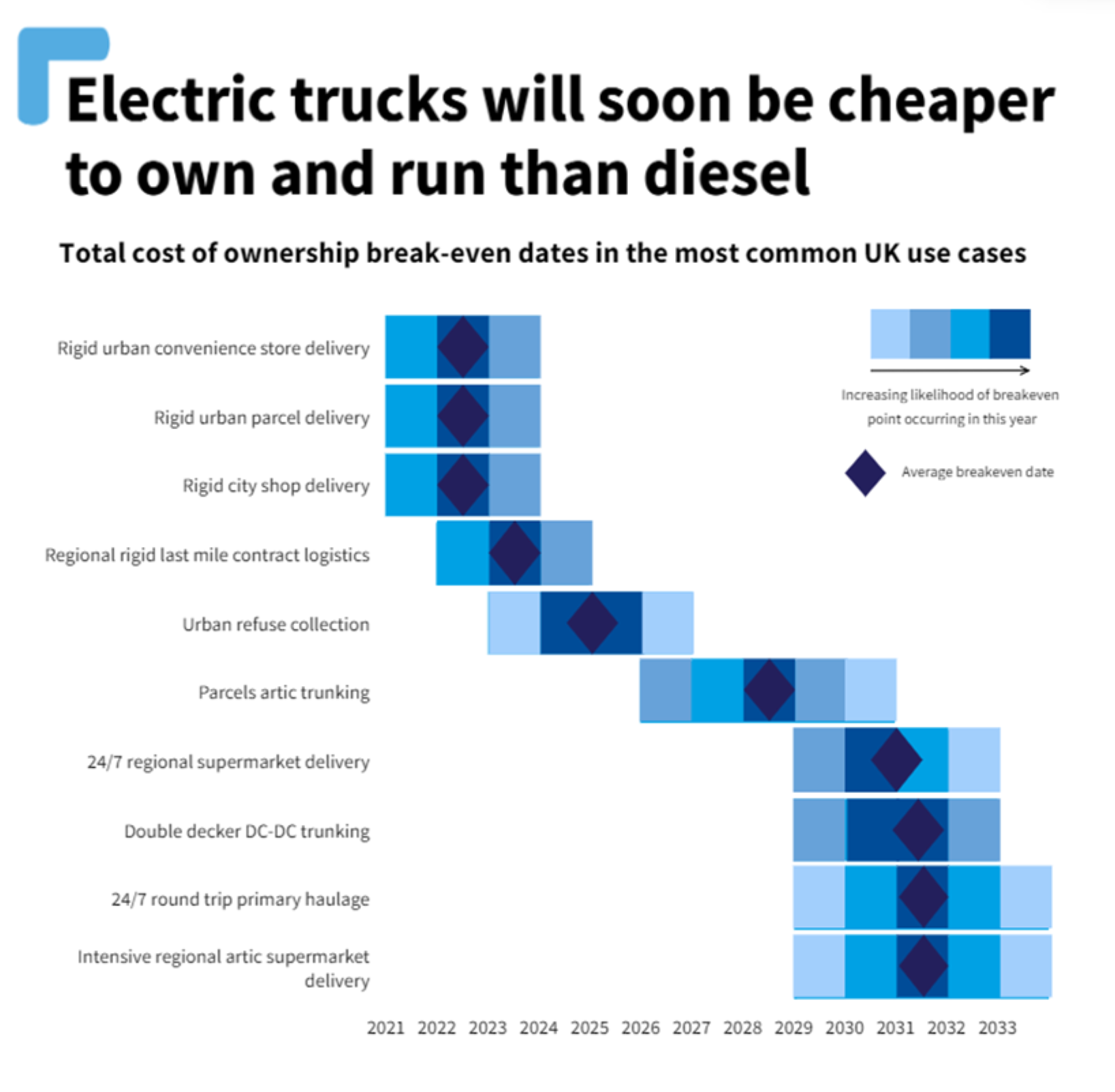 The researchers conclude that the Government's 2035 and 2040 phase-out dates for sales of diesel HGVs can be achieved ahead of time.
However, with the Government still yet to set out a detailed plan to enable the transition to zero-emission trucks, the report recommends: introducing interim ZEV mandates; supporting UK supply chain development for battery electric trucks; providing more effective vehicle acquisition incentives; supporting the roll-out of private charging infrastructure for depot-based fleets; lowering the early-years risks to public truck charging infrastructure providers through zero/low interest loans; supporting public charging at major warehouses and logistics hubs; considering changes to vehicle weight and length limits to support electric trucks; and reviewing where appropriate driver hours regulations and rest stops.
The recommendations have been endorsed by the UK Platform for Battery Electric Trucking, an advisory group of stakeholders which includes experts from: UPS, John Lewis Partnership, Centre for Sustainable Road Freight, Gridserve, Zemo Partnership, and Element Energy.
Hebditch said: "Our research shows that the UK's phase-out dates for diesel trucks are very achievable, but the government has yet to set out a plan to make it happen.
"Key to this is early support for those making the switch to battery electric trucks. This will cost money in the short-term and the Treasury needs to get behind this to help unlock the benefits for the UK economy in the long-run."
Government action required for logistics to decarbonise
Separate research from planning and development consultancy, Turley, and the London Industry and Logistics Sounding Board (ILSB) is also calling for Government to ensure policy supports the decarbonisation of London's logistics sector if the UK is to meet net zero ambitions.
Installing rooftop solar panels across all logistics spaces and clarifying the electrification of HGVs across the capital, are two of the three recommendations made in their Accelerating Logistics Towards Net Zero report.
The report highlights the issues facing London's logistics sector.
Turley and the ILSB are calling on Government to provide interim direction and policy support, to allow investment that supports the rollout of hydrogen or electric-powered HGVs for nationwide fossil-fuel free fleets.
A second recommendation calls for further support to speed up the deployment of rooftop solar panels on warehouses in London and the rest of the UK.
Existing warehouse roof-space across the UK could host 15GWp of solar power, doubling the nation's current total installed capacity without any loss of land. However, only 5% of warehouses currently have solar panels installed, according to the UK Warehousing Association.
The report argues that slow grid upgrades, regulation around sharing and selling energy generation, and the need to embrace smart management is holding back the rollout of solar across the logistics industry. A need to embrace complexity is hindering the development of the last-mile logistics sector too.
Barny Evans, director of sustainability at Turley, said: "The industry recognises it is a significant source of GHG emissions and other environmental impacts; it is eager to accelerate its decarbonisation. There's a responsibility on Government to unlock the barriers to this, and provide the policy needed."