A planning application for an urban mobility hub in Ancoats, Manchester has been submitted on behalf of Manchester City Council.
The application, submitted by Manchester Life Strategic Development Company, is part of a planning and coordination joint venture between Manchester council and Manchester Life.
From the end of 2023, the Ancoats mobility hub would operate a shared facility that "prioritises streets for people over vehicles", as on-street parking would be removed and vehicle movement across the area is reduced, said Manchester Life.
The hub would also include a car share club, e-bike scheme and 150 visitor cycle parking spaces with charging facilities managed via an app, to help encourage the shift away from petrol and diesel cars.
Manchester Life said the mobility hub would support the city's clean air and zero-carbon by 2028 targets by reducing neighbourhood vehicle movements by 1,200km per day and providing 102 electric vehicle (EV) charge points, with capacity to convert 408 parking spaces to EV as demand grows.
Sir Richard Leese, leader of Manchester City Council, said: "The hub is a UK first. Anyone who thinks this is 'just another car park' is massively missing the point.
"The purpose of a car park is to park cars. The purpose of the hub is to help transform the neighbourhood over time, pioneering new ways of getting around and encouraging people to choose greener and healthier transport options. This is about thinking and acting differently.
"We have to recognise that many people who choose to live in the city centre require cars for their daily life and work. But we do want to be very deliberate in making sustainable transport changes easier and more attractive – encouraging the use of electric vehicles, cycles and other forms of active travel while supporting the transition away from petrol and diesel."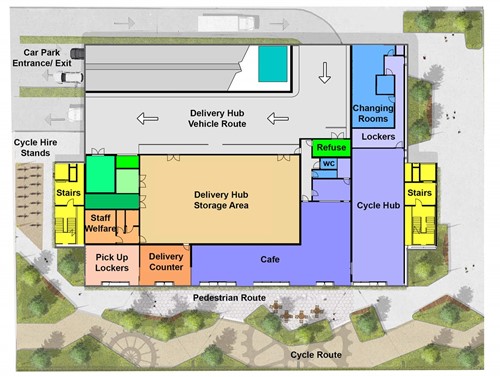 The proposals also include a neighbourhood delivery depot (pictured) that would receive local deliveries and parcels to be collected by residents or taken to individual developments via small electric vans or cargo bikes.
Other community facilities include a commercial unit which will be prioritised for a community and cycle repair cafe adjacent to Ancoats Green.
Mike Wilton, chair of the Manchester Climate Change Partnership, said: "There is no quick fix for the climate emergency. Everyone needs to make choices about how they live day-to-day with climate change in mind. Travel and mobility within the city are priorities for change.
"We welcome the work to develop plans for the Ancoats mobility hub.
"It needs to enable and encourage people to make those low and zero-carbon travel choices.
"We welcome the enhanced provision to support cycling and the neighbourhood delivery depot.
"This type of facility, and more, will be needed for Manchester to play its fullest part in limiting the impacts of climate change, as set out the Manchester Climate Change Framework."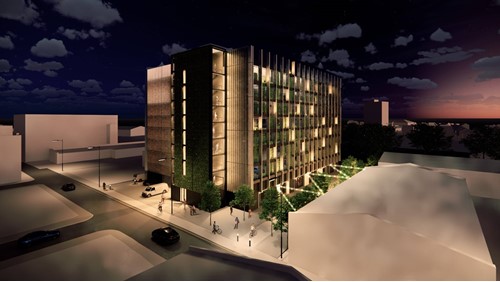 40% of the hub site area would be car-free outdoor public space, with a new and walking and cycling link to connect the Green into Ancoats, said Manchester Life.
The hub would be located on land owned by the City Council and currently occupied by low-rise warehouse units adjacent to Ancoats Green.
Manchester Life said the plans respond to Manchester City Council's emerging Ancoats Public Realm Strategy, City Centre Transport Strategy, and the 2020 Poland Street Zone Neighbourhood Development Framework.
Sam Li, senior innovation officer at Transport for Greater Manchester (TfGM), will be discussing mobility hubs at next week's Virtual Smart Transport Conference, as part of a session on place-based solutions to decarbonise transport. The conference takes place online on two half days (June 8 and 9) and is free to attend. Register for the conference here.