The Government has approved the use of Ford's hands-off driver assistance system so it can now be used on motorways.
BlueCruise makes its debut on the Mustang Mach-E and is the first to be approved for use on UK roads by the Department for Transport.
It enables hands-free assisted driving at speeds of up to 80mph.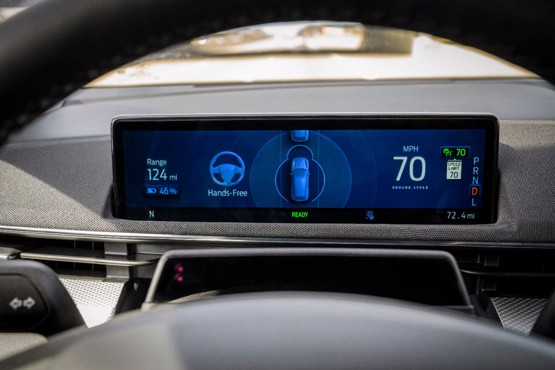 The system monitors road markings, speed signs and evolving traffic conditions to control steering, acceleration, braking and lane positioning, as well as to maintain safe and consistent distances to vehicles ahead – right down to a complete halt in traffic jams.
BlueCruise is classified as a Level 2 autonomous system and can be activated on 2,300 miles of pre-mapped motorways in England, Scotland and Wales, designated as Blue Zones. Drivers must remain attentive at all times and are monitored by an infrared camera continually.
If the system detects driver inattention, warning messages are first displayed in the instrument cluster, followed by audible alerts, brake activations, and finally slowing of the vehicle while maintaining steering control. Similar actions are performed if the driver fails to place their hands back on the steering wheel when prompted when leaving a Blue Zone.
Owners of 2023 Ford Mustang Mach-E vehicles in Great Britain are the first to be able to activate BlueCruise via subscription. The first 90 days are included with the vehicle purchase and, thereafter, a £17.99 monthly fee applies.
Ford engineers undertook 100,000 miles of testing on European roads to validate latest-generation advanced driver assistance systems including BlueCruise and its supporting features, in addition to over 600,000 miles covered in the US and Canada before the system was introduced to those markets last year. Validation drives in Great Britain helped prove out the ability to handle circumstances drivers encounter every day, such as worn-out lane markings, poor weather and roadworks.
"There's a good reason why Ford BlueCruise is the first hands-free driving system to be cleared for use in a European country: We've proven beyond doubt that it can support the driver while also ensuring that they keep their eyes on the road for their safety and that of their passengers while the system is active. That means BlueCruise can make other road users' journeys more comfortable too," said Torsten Wey, manager, Advanced Driver Assistance Systems, Ford Europe.
As of January 2023, car manufacturers are able to seek type approval to launch Level 3 technologies with expanded self-driving capabilities at speed of up to 80mph. The rules previously capped the use of such systems to 37mph, but were not adopted by the UK Government. Ministers gave the green-light to allow self-driving cars last August.