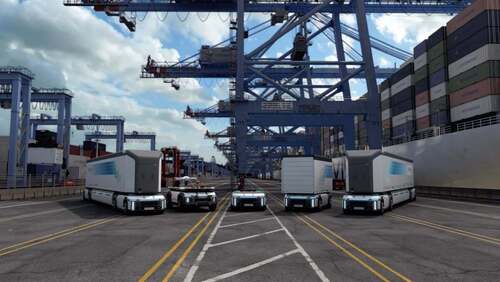 Hyundai Motor Group has set out its Hydrogen Vision 2040 strategy to popularise hydrogen by 2040, at the Hydrogen Wave global online forum held today (September 7).
Hyundai said it aims to achieve its vision through the introduction of new technologies and mobility solutions in transportation and other industrial sectors.
The group unveiled plans that will see the electrification of all new commercial vehicle models, such as buses and heavy-duty trucks, featuring fuel cell electric or battery electric powertrains, as well as the application of fuel cell systems to all models by 2028.
Hyundai said it aims to expand the scope of full cell systems and technologies to all areas of the energy sector, including the provision of electricity and heating to buildings, urban energy sources and power plants.
Euisun Chung, chairman of Hyundai Motor Group, said: "Hyundai Motor Group's vision is to apply hydrogen energy in all areas of life and industry such as our homes, work-places and factories.
"The goal is to make hydrogen readily used for everyone, everything, and everywhere.
"We want to offer practical solutions for the sustainable development of humanity and with these breakthroughs, we aim to help foster a worldwide Hydrogen Society by 2040."
Hyundai said it plans to introduce next-generation fuel cell system with 100kW and 200kW variations in 2023 with costs being lowered by more than 50%, total package volume reduced by 30% and power output doubled.
It aims to achieve a fuel cell electric vehicle (FCEV) price point comparable to a battery electric vehicle (BEV) by 2030, the group said.
Hyundai also revealed the fuel cell 'Full-Flat System' that lowers stack height to 25cm, allowing it to be used for various applications such as purpose-built vehicles (PBVs), multipurpose vehicles (MPVs), buses and trams by mounting the system to either the upper or lower body of the vehicle.
The group said it has already started mass-producing an improved version of the current Xcient heavy-duty hydrogen fuel cell truck.
Future of mobility
The group also presented its vision for future hydrogen mobility across several vehicle applications, from emergency relief and rescue, through to autonomous container transportation and high-performance sports cars.
Hyundai unveiled its trailer drone concept, a hydrogen-powered container transportation system capable of operating fully autonomously, with a double e-Bogie configuration – to allow for manoeuvrability through sideways movement.
Hyundai's trailer drone concept
Hyundai said the trailer drone ensures more than 1,000km of range from a single charge.
The group also plans to develop a five-to-seven-meter fuel cell purpose-built vehicle to target the global light commercial vehicle (LCV) market projected for seven-million-unit sales per year by 2030.
Hyundai also showcased a concept hydrogen-powered hybrid sports car, the Vision FK.
With a maximum output of over 500kW, the Vision FK concept can accelerate from 0-100km/h in less than four seconds.
Combining a fuel cell energy converter with a rear-wheel drive, plug-in powertrain, the Vision FK aims to achieve over 600km in range.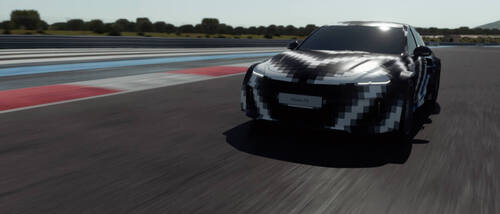 The rescue drone is a new concept mobility solution that combines with a Fuel Cell e-Bogie to create a flying drone that can be operated remotely and autonomously for critical operations such as fire-fighting and life saving.
The rescue drone features an independent steering system for in-place turning manoeuvres and 'crab-walk' driving.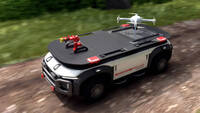 It can also carry out missions via images transmitted from drones mounted on the vehicle exterior and achieves a 450-500km driving range from a single charge.
Hyundai said fuel cell systems have the potential for deployment across diverse applications by 2040, including high-performance vehicles, urban air mobility, robots, aircrafts and large ships.