The Urban-Air Port programme has received backing from the UK Government.
The programme's objective is to design and create infrastructure for electric air taxis and autonomous logistics drones.
'Air roads' aim to enable people and cargo to travel by manned and unmanned electric vertical take-off and landing (eVTOL) aircraft.
The Air-One project, the first of an estimated 200 Urban-Air Port hubs worldwide, is set to launch in Coventry this year for future air taxis, drones and ground-based electric transport, such as cars, e-bikes and e-scooters.
The Government described the launch as a significant step towards a future of clean urban air mobility for the UK.
To create connected 'air corridors' and ground infrastructure, Urban-Air Port has partnered with Altitude Angel and Safeguard Vertiports.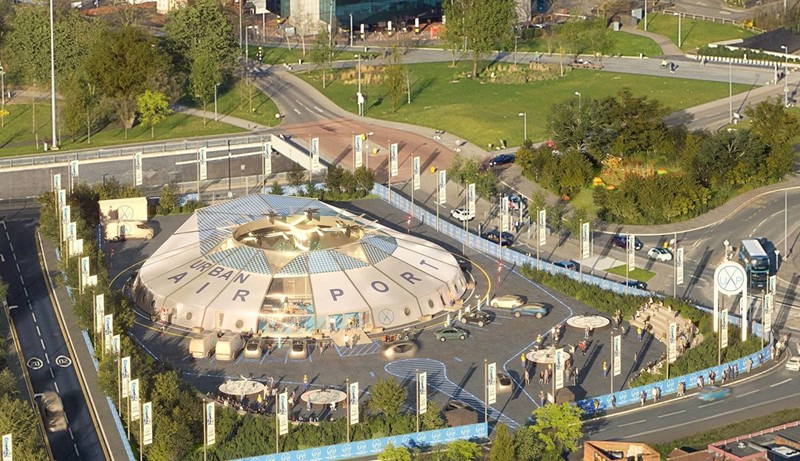 Kwasi Kwarteng, secretary of state for the Department of Business, Energy and Industrial Strategy (BEIS), said: "Cleaner, inter-city flight technology is vital not only to reducing emissions, but to better connecting remote communities, from small towns in the UK to isolated settlements all around the world.
"As we build back greener from the pandemic, initiatives like the government-backed Air-One project will help us develop the infrastructure needed to make our dreams of flying taxis a reality."
An urban logistics drone trial launched in Liverpool in March to test its suitability.
Video: Sandhu discusses his Urban-Air Port concept for eVTOL aircraft
"Unlock clean and beautiful cities"
The Government said it is supporting the development of urban air mobility to provide improved zero-carbon transport connectivity and benefit from exporting the technologies to support the advancing global sector.
Robert Courts, parliamentary under-secretary at the Department for Transport (DfT), said: "The UK continues to pave the way when it comes to the future of transport and this fantastic programme yet again places us at the forefront of improved zero-carbon connectivity.
"As we build back better, I'm delighted to support the Future Flight Challenge, which will explore innovative and greener ways to fly by developing ground-breaking electric and autonomous technology, propelling us further towards our net-zero goals."
The DfT recently granted powers to decarbonise aviation infrastructure as part of the Air Traffic Management and Unmanned Aircraft Bill, to help capitalise on the opportunities drones offer while clamping down on misuse and disruption.
BT is working with Altitude Angel and a number of UK tech-startups as part of UK Research and Innovations's Project XCelerate, which will establish the UK's first commercial drone corridor.
The first eVTOLs are expected to be commercialised within the next three to five years.
Hyundai, a partner of Urban-Air Port, is one of the companies developing an eVTOL passenger vehicle. Hyundai's vehicles are set to be commercialised by 2028.
Joby Aviation, the US-based aerospace start-up, plans to launch a commercial air taxi service in 2024.
In April, UPS announced a deal to purchase 150 eVTOL vehicles, for delivery in 2024, to help reduce delivery times and access smaller markets.
Ricky Sandhu, founder of Urban-Air Port, said: "Our Air Architecture can unlock clean and beautiful cities and connect the world in new ways – in the air and on the ground – bringing economic prosperity, cutting emissions and improving quality of life.
"This is a real British innovation success story – the UK can lead the world in accelerating this transport revolution."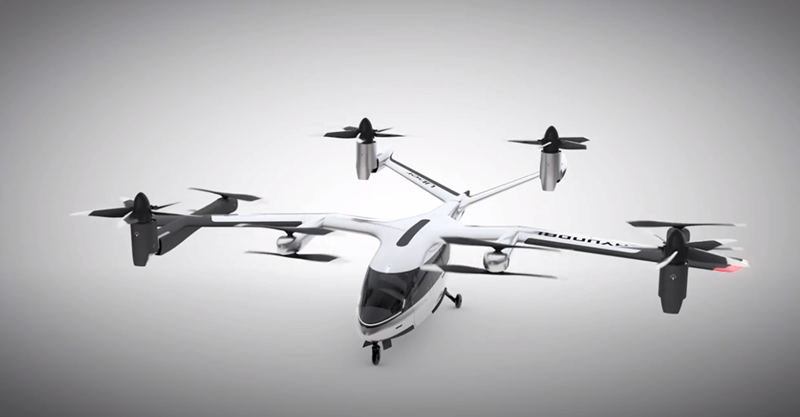 Hyundai S-A1 eVTOL concept