Amid lifting coronavirus restrictions on July 19, the Government has recommended face coverings to be worn on public transport, leaving it up to operators to decide whether to enforce the advice.
Prime Minister Boris Johnson made the announcement yesterday (July 12) that the Government would lift legal restrictions and social distancing, but "expect and recommend" that people wear a face covering in crowded and enclosed spaces where people come into contact with people they do not normally meet, such as on public transport.
In a statement to the House of Commons, secretary of state for health and social care Sajid Javid (pictured), said: "As we make these changes, it's so important that people act with caution and personal responsibility.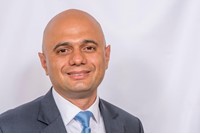 "For example, everyone should return to work gradually if working from home, meet people outside where possible, and it's expected and recommended that people should wear face coverings, unless they're exempt, in crowded, indoor settings like public transport."
London Mayor Sadiq Khan said Government retaining the existing national legal requirement for face coverings on public transport is the "safest option".
He said: "With case numbers continuing to rise, we cannot be complacent and ministers must ensure they provide clear, unequivocal guidance on what people should do to keep themselves and their loved ones safe.
"The wearing of face masks is an important example. It is welcome that the Government is strengthening its messaging to say that people are expected and recommended to wear face coverings on public transport, but the simplest and safest option is for the Government to retain the existing national legal requirement for face coverings on public transport.
"As they continue to re-open, it is also clear that businesses also require more clarity– whether around the expectations for Covid passports, or other measures recommended to re-open safely."
Paul Tuohy, chief executive of Campaign for Better Transport (CfBT), said: "We are disappointed that public transport was singled out and made an example of by the Prime Minster in his speech yesterday.
"The Government should have shown leadership, rather than hiding behind the operators, and the lack of consistency will cause problems for operators and passengers alike.
"The Government must now reassure people that public transport is safe to use and promote its use as we move onto the next stage of the roadmap. We simply cannot afford the long-term health and environmental consequences of increased car use."
A £226.5 million funding package has recently been announced by roads minister Baroness Vere to help improve bus services as Covid-19 restrictions are lifted.
Rail industry response
A spokesperson for the Rail Delivery Group said: "Passengers should follow the Government guidance and, out of respect for others, wear face coverings if an indoor setting is busy.
"Train travel is low risk, with most carriages well ventilated by air conditioning systems or by doors and windows.
"As restrictions lift, we will continue carrying out extra cleaning and providing better information about how busy services are, so that our passengers can travel with confidence."