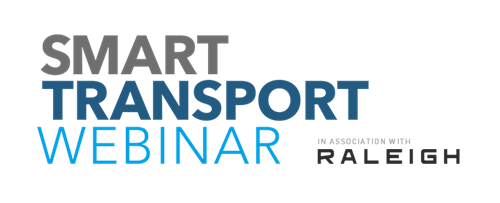 Getting as many people to experience e-bikes as possible will be the key to help mass adoption in the UK, according to a recent Smart Transport's industry webinar.
There was a consensus from those speaking in the first of a series of active travel webinars in association with Raleigh UK, that getting as many people to try e-bikes as possible will be key to increasing confidence for many, who will be new to the technology.
Ed Pegram, Raleigh UK business manager cycle to work, said: "The UK in previous times would see one in three people cycling.
"I believe e-bikes can get us back to that kind of mass adoption. It's about getting people that have considered it or thought about it and taking them to the next stage and letting them try it out.
"The social, economic and health benefits to individuals are huge. We want to work with businesses and local authorities to boost that message."
Raleigh did a project with Sheffield County Council who purchased 160 electric bikes as a try before you buy initiative.
Pegram said: "Trying out the technology is important because it's a bit more like a car purchase.
"E-bikes are a bit more valuable and there are added elements around charging, storing and security that should be considered."
Paul Robinson, Department for Transport head of cycle projects, said France and the Netherlands have shown good examples of how to introduce e-bikes to more people.
He said the Government's Gear Change £2 billion active travel plans will boost the e-bike agenda.
Robinson praised how Paris has incorporated e-bikes into their mobility offers in the French capital with a 10,000 unit e-bike share scheme.
In a promotion early this year, Paris offered €500 towards the cost of an e-bike and this was in addition to the city's existing €400 e-bike subsidy.
Robinson said: "I'm in favour of mass opportunities for large numbers of people to try them for a short amount of time to experience what the technology is like."
Mehmet Ahmet - Cambridgeshire and Peterborough Combined Authority transport programme manager, said that its recent e-scooter trial will be expanded to include e-bikes as a way of exposing more people to the technology for a small cost.
Ahmet said: "E-bikes are for everyone not just for cycling fans.
"They may cost more than a traditional bicycle, but if you compare against operating a car for small trips you can see the economies of scale around that.
"We're using the e-scooters as a bit of a catalyst for people to try e-bikes too. That will be a good way to encourage people to try them."
E-bike security
Several questions came up during the webinar from those concerned about the security of e-bikes left at train stations or bike parking.
Due to the increased value of e-bikes, they can become an attractive target for thieves.
Pegram said the first and most obvious thing is removing the battery from bikes when it's parked.
He said: "We're working on projects that look at tracking for e-bikes, predominantly for route planning and to look at traffic flows, but there's a security angle there too."
Pegram also said e-bike owners can take out reasonably priced insurance policies and also suggested investing in a good quality certified lock that will at least deter or slow down potential thieves.
Robinson said having CCTV that is properly monitored will help to reduce thefts.
He said that the Netherlands has also experienced issues with e-bike theft, but has introduced managed parking as one solution.
Robinson said: "People have gotten used to parking their bikes for free and there could be some pushback from having to pay, but perhaps we should look at the experience in the Netherlands.
"In desperate times, desperate measures are called for. It will be for local authorities to decide whether charging for managed bike parking is appropriate."
E-bike training
There was also consensus during the webinar that training should be offered for those using e-bikes.
Ahmet said: "E-bikes are almost like a new form of transport.
"You need people to feel confident otherwise they won't go back to it. I'm all for providing training for everyone."
Pegram agreed that specialist training is essential for both e-bikes and e-cargo bikes.
Robinson said there is the potential for Bikeability (the DfT's cycling training provider) to offer training not just for children, but also for any adult that needs it.
He said: "The delivery of training will be local, but there's potential there for e-bike training and for that to join up with retailers who can point customers to that training."
Watch the full webinar: