The number of electric cars on UK roads is expected to exceed that of diesel-powered models by 2030, research by The AA has found.
More than 12,500 drivers said that electric cars would form a fifth of all cars on the road (19%) by the time the ban on the sale of new petrol and diesel cars comes into effect.
Petrol vehicles are still expected be the most common in 2030, accounting for 30% of cars.
The sale of internal combustion engine (ICE) petrol and diesel cars could be limited ahead of the Government's planned 2030 ban, the finer details of the strategy will be published in the spring.
Edmund King, AA president, said: "Over the next nine years, electric cars could supercharge the way we drive. There is clearly a desire from drivers to own them. EVs will play a significant role in the future.
"Everything is working in favour of electric cars. The range of a single charge in constantly improving, the purchase and leasing prices are becoming more affordable, more models and styles are reaching the market and investments in charge points are being made.
"Electric vehicle (EV) technology has the ability to unlock much more than greener motoring; providing the chance to create new jobs and opportunities. More should be done to spark the EV revolution, such as scrapping the VAT on electric cars costing less than £50,000 and the construction of numerous gigafactories."
If approximately 33 million cars remain on UK roads between now and 2030, the new car parc would mean a boom of electric cars from 91,000 to 6.5 million.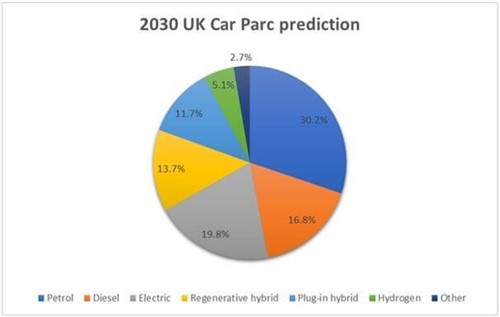 Meanwhile, pure combustion vehicles would see a dramatic drop of 16.6 million cars.
In January, BEV uptake grew by 2,206 units (54.4%) to take 6.9% of the market, as the number of available models almost doubled from 22 in January 2019 to 40 this year. Combined, BEVs and PHEVs accounted for 13.7% of registrations, according to figures published by the Society of Motor Manufacturers and Traders (SMMT).
In 2020, battery and plug-in hybrid electric cars together accounted for more than one in 10 registrations– up from around one in 30 in 2019, amid a turbulent year for the new car market.
Demand for battery electric vehicles (BEVs) grew by 185.9% to 108,205 units, while registrations of plug-in hybrids (PHEVs) rose 91.2% to 66,877.
Analysis from the RAC shows that twice as many BEVs were sold last year compared to the year before, and a total of more than 200,000 have been registered since 2010.
December alone saw more zero-emission vehicles registered than ever in a single month (21,914, a fraction higher than September's figure of 21,903).
The number of public EV charge points also rose by 7% (1,288 charge points) in the fourth quarter of 2020 to a total of 20,775 across the UK.
Companies that have signed up to the EV100 initiative have committed to have 4.8 million EVs on the road by 2030 - an increase of 80%.