Electrified cars achieved a greater market share than diesel cars in October for the second month in a row, according to the latest figures from JATO Dynamics.
The market share for Electric and hybrid models grew to 26.8%, with 302,587 units sold. It's a growth if 153% when compared to October 2019's sales.
Pure electric cars (BEV) saw a YOY increase of 197%, with 71,800 units sold in October.
Volkswagen's new ID3 was the best-selling electric vehicle (EV) across Europe for the same month.
The newcomer overtook the Tesla Model 3 in the sales charts.
According to JATO, the ID3 owes much of its success to businesses and fleets, with more than half of registrations coming from buyers in these areas.
Felipe Munoz, global analyst at JATO Dynamics said: "Similarly to the demand seen for the Tesla Model 3, the Volkswagen ID3 is another example of how appetite for competitive and stylish electric cars continues to grow day by day."
As a result, Volkswagen Group became Europe's biggest producer of EVs in October, comprising of 25% of the market registrations.
Munoz added: "Volkswagen Group is catching up to its peers at great pace, in part due to its strong presence in Northern and Central Europe, where appetite for EVs continues to grow."
Overall total new car registrations in Europe fell by 7% to 1.22m units, when compared to October 2019, matching the sales achieved in October 2018. However, the decrease in registrations recorded in October is the second smallest decline this year.
Top 10 best selling electric vehicles in Europe October 2020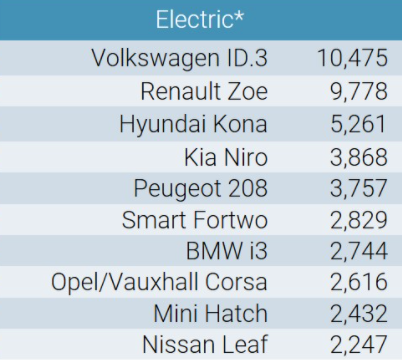 Data source: JATO Dynamics