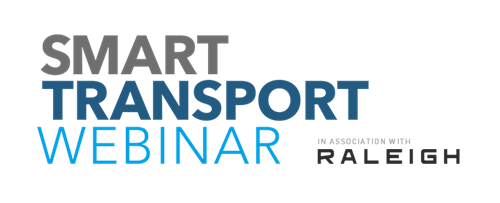 The successful delivery of Government funding, new opportunities through new active travel initiatives and the impact of Covid will help drive e-cargo trials in 2021.
These were the views from Smart Transport's second Active Travel webinar series, held in association with Smart Transport member Raleigh.
Four experts from the e-cargo bike industry were hosted by chair Beate Kubitz, a transport consultant working on the Cargodale project in West Yorkshire, to give an update on their views of the fledgling market in the UK.
Video: Watch our webinar
Aran Nugent, head of programme delivery e-cargo bike, Department for Transport, told delegates of the webinar that the £2 million in funding has been allocated to local authorities and businesses after a "slow start".
He said: "From my perspective it was a bit of a slow start.
"We were expecting larger organisations to come in with big e-cargo bike orders. We prepared for that but it didn't happen.
"There was a lot more interest from SMEs and that's great, but to spend that £2m funding has been quite a task."
The DfT took action alongside the Energy Savings Trust (EST) to create an LA scheme which prompted 58 bids, with 18 winning funding.
This generated the interest to use the £2m allocated to kick-start the e-cargo bike market.
Nugent said: "We're hoping to continue investing in e-cargo bikes and it's one of the commitments in Gear Change.
"The details are still to be developed, but the success we're having with EST will help a long way to continue stimulating demand."
Gear Change is the Government's £2 billion initiative that will look to overhaul active travel in the UK.
Nugent said the onus is on LAs to develop good walking and cycling plans that take ie-cargo bikes and the infrastructure needed into account.
Raleigh's E-Cargo bike range launched in September 2020 and are designed to carry up to 100kg in weight and have a range of up to 75km (46 miles) on one single charge.
Ed Pegram - business manager, Cycle to Work, Raleigh UK, said his company's focus is making sure as many businesses and people can experience the e-cargo bikes as possible.
He said: "As the market grows we need to work with local authorities (LA) to make sure there's the right training, understanding and infrastructure in place for these new vehicles.
"If we look at Europe, cargo bike sales are doubling, but they have a much better infrastructure in general. The UK is playing catchup to an extent, but there is good news with Gear Change funding.
"It's about getting people testing products so the market grows in a safe and sustainable way."
Kit Allwinter – active travel policy officer, West Yorkshire Combined Authority (WYCA), said there are multiple e-cargo projects currently underway in places like Bradford and Leeds, as well as market towns like Todmorden and Ilkley.
He said: "We're seeing a whole range of opportunities around e-cargo bikes to try and reduce the impact of freight and deliveries for our urban and rural areas.
"We're keen to record what we're learning and share that with other local authorities too."
Rosie Knight, programme manager, Energy Saving Trust (e-cargo bike lead), said the Covid-19 pandemic had slowed down the process of LAs receiving their e-cargo bikes, but they have been arriving at the end of 2020 and will be in early 2021.
EST has been supporting LAs with the set-up and design of their projects into 2021.
E-cargo use cases
Knight said there has been a variety of use-cases from those that have received funding.
This includes more traditional last mile delivery courier logistics, but also some use cases within an LAs' own fleet.
She said: "Those include street cleaning, park maintenance, trade waste collection.
"For businesses using e-cargo bikes a lot are using them for food delivery, mail distribution or working with local universities to transfer goods between campuses.
"We've also seen pool e-cargo bikes, leasing schemes and try before you buy."
Allwinter said businesses in Ilkley have formed a collective to keep the local restaurant and takeaway deliveries flowing during Covid-19.
He said: "We have also seen universities and NHS Trusts being quite keen to explore the use case for e-cargo bikes.
"The key thing we're really concerned about is making sure that whatever infrastructure we put in for active travel, that it's also compatible for these larger e-cargo bikes.
"So the benefits are more enhanced over using a van."
Nugent said the DfT has been predominantly focussed on last mile delivery as a use case for e-cargo.
The DfT is now working on how it can make sure it can reach all the businesses where e-cargo bikes might be suitable.
He said: "Joining up with local authorities is the best place for us to start with that, rather than having a scheme and expecting people to stumble across it somehow.
"We're relying on that local knowledge to stimulate growth in 2021."
Cost benefit analysis
Knight said the EST is currently working on a cost benefit analysis to weigh up the cost of owning or leasing an e-cargo bike as a business, rather than subcontracting delivery to a company that uses vans.
She said: "What's been particularly difficult this year is getting information from the SMEs that have e-cargo bikes through the national funding scheme.
"Equally the LA scheme isn't far enough along to have that data."
Knight said running costs also need to take into account things like storage and maintenance.
E-cargo bikes are larger than standard bicycles and they also need somewhere undercover to be stored.
However, EST does have some initial average running costs to help put things in perspective, with the average cost per year for an e-cargo bike at just £295 compared with £6,000 for a small diesel van.
There will be more detail shared by the EST next year when it collects more data from e-cargo bikes being used across the projects that have been funded.
Riders and drivers
One of the questions that were submitted during the live webinar included asking whether there was a particular challenge for businesses to trial e-cargo bikes if they didn't have willing volunteers.
Allwinter said: "So far there isn't a big overlap in those businesses with van drivers that would like to use e-cargo bikes instead.
"On the reverse of that all the cargo bike riders I have met would much rather be on a bike than in a van."
Anecdotally, Allwinter said that while FedEx has been trialling e-cargo bikes, he has heard that van drivers really don't like using them because they're much more used to a sedentary experience.
Allwinter said: "If you're just trying to e-cargo out as a business, you would have to be prepared for a certain level of pushback from your van drivers.
"Likewise, there might be some that will be real advocates that would like to try it."
Kubitz said that at Cargodale, they have found that people would come forward to ride the e-cargo bikes rather than drive.
She said: "There is a completely different profile of person that comes forward to be involved in e-cargo logistics."
Low Traffic Neighbourhoods
The introduction of low traffic neighbourhoods (LTN) could be a particular driver for increased use of e-cargo bikes in the future.
An LTN is a residential area, bordered by main roads where "through" motor vehicle traffic is discouraged or removed. Strategic road closures (like bollards or planters) prevent through traffic.
Allwinter said: "Traditionally a lot of couriers are against LTN schemes initially because they see them as making their lives more difficult due to enhanced journey times.
"One solution is to suggest an e-cargo bike. I know some businesses are looking at that."
While Allwinter said there can be some initial pushback, he said LTNs can reduce congestion and speed up van deliveries once they bedded in. So they can be beneficial to both traditional van delivery companies and those that use e-cargo bikes.
Allwinter said: "E-cargo is preferable for small packages because they are good at doing through routes.
"Whereas vans are better for larger deliveries."
Pegram said e-cargo bikes are not a complete solution, but they can work in combination with a range of last mile options.
He said: "There are a lot of delivery vans driving around that might only be a quarter full.
"E-cargo bikes can sustainably and affordably link into urban areas. The pandemic has meant that businesses are looking at all alternatives."
Rail and e-cargo logistics
Another potential use case is the small package transfer between rail stations with e-cargo being used for onward delivery.
Nugent said: "We're currently talking to cycling charity Sustrans with Northern Rail about moveable seats. So if they're not booked out, we can use that space for cargo.
"It's trying to tie all these things together into a seamless package which is the trick. It's something the DfT is looking at."
Allwinter said WYCA is looking at how best to tie together its multi-modal options.
He said that some rail lines can be quite empty during the day, particularly due to Covid-19, so an e-cargo bike combined with rail for quick small cargo deliveries could be an efficient way to move goods.
Allwinter said: "We have to make sure there is step free access to all platforms so e-cargo bikes can go straight through.
"There's no reason you couldn't create spaces for e-cargo bikes so they can easily become part of the rail network."
Try before you buy
Cambridge is introducing a try-before you buy e-cargo bike scheme in 2021.
Pegram said Raleigh is looking to introduce a family e-cargo bike product next year and Cambridge is an ideal place to use them due to "good infrastructure with wide segregated cycle lanes that travel all the way from Park and Ride into the centre of the city".
E-cargo bikes will be available for short loans for businesses and people in Cambridge that would like to test them out before making a purchase.
Pegram acknowledged there is still work to be done to remove some of the barriers for e-cargo adoption. Including addressing concerns around security, parking and even confidence with using the product.s
He said: "Schemes like try before you buy will be absolutely vital to the success of business and family e-cargo bikes in the future."
Smart Transports is hosting the second of its 'Active Travel' webinar series in association with Raleigh UK tomorrow.
Hear from industry experts as they outline the benefits and challenges of prioritising active travel in both your private & professional lives across both urban and rural settings.