The coronavirus pandemic has accelerated the diversity and inclusion (D&I) agenda across businesses and highlighted the importance of brand perception, according to Ennis & Co founder, Lynda Ennis.
Ennis founded Ennis & Co, the automotive executive search organisation, in 2010 and perceives itself as a strong advocate of diversity and inclusion, having partnered with Aston Martin, Toyota and Auto Trader to organise events promoting the topic.
Ennis has judged on the panel for Autocar's Great British Women, as well as Auto Trader's Retailer Awards in 2020 for the Business Initiative of the Year Award and the People and Culture Award.
This year, Ennis sits on the judging panel for the Barbara Cox Woman of the Year Award 2021, which recognises an inspirational female leader in the automotive industry.
Ennis spoke to Smart Transport about the impact Covid-19 has had on changing attitudes towards diversity and what she'll be looking for in the next winner of the Barbara Cox Award.
Smart Transport: How can employers ensure that their recruitment processes embrace diversity and inclusion?
Lynda Ennis: There are several factors that affect the recruitment process, and probably even more so now, relating to coronavirus.
Employees and employers need to understand each other's requirements and needs in terms of what the working environment is going to look like or does looks like, today. More questions are being asked by employees to find out how the organisation has behaved through this global pandemic.
Covid-19 has accelerated a lot of things that were on the diversity and inclusion agenda and some companies have been more prepared for it than others.
The other thing that is important is people's brand and how that brand has been perceived in the market. Not just what they have said in the market, but what they've done, so providing good examples of where diversity and inclusion has been embedded in their organisations and become part of their DNA, is extremely important.
Over the years, we've seen brand becoming more important in a recruitment process. Now, I've never seen anything like it in terms of the questions being asked regarding flexible working, how they work with mothers and fathers who have commitments from schooling, how they work with the disability community, the Black Lives Matter piece really made a massive impact, as well.
Employers have got to make sure that what they are saying, they are doing to make sure that their recruitment process is incredibly robust. If they do that, the benefits of having diversity in their organisations and their various verticals, really does pay off.
There's been huge amounts written about it from a financial perspective. But it's more about a wellbeing perspective, too.
ST: How has the Covid-19 pandemic and lockdown impacted attitudes towards diversity and inclusion?
LE: Now, it's even more important for leadership and leaders to show what they're made of.
Last year, we interviewed 12 leaders within the industry to find out how they felt about attitudes and has it changed in the way that they portray themselves in the market, and the things that have come across is making sure that what they say they do, but there's been this huge concern for people's wellbeing.
Not everybody can sit at home and work in a nice desk and office environment, some people are doing it from places, which wouldn't be ideal to work from.
There has been this feeling that people need to be much more aware of all the areas around diversity and inclusion and feedback from how people work to how flexible organisations can really be. If people can't work at home, thinking "what can we do"?
There must be strong leadership and behaviours through these sorts of scenarios. You can be a great leader, but if you don't behave in the right way around these areas, employees will find out straightaway.
There's been some very good examples of where leaders have really been very forthright in being open about how they want to look after their employees and how they want to look up to people who are ultimately looking to join the organisation and that's really important.
ST: This will be your first time on the judging panel for the Barbara Cox Woman of the Year Award, what sort of things will you be looking for and what will make a nomination stand out to you?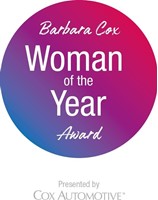 LE: It's important that somebody doesn't just talk about what they've done, but they prove they've done it.
I like somebody that's shown a bit of bravery, somebody that's been able to be adaptable, which has been so important over the past 12 months.
How adaptable you have been with your team management remotely? How do you still satisfy your shareholders? It's important that someone has the proof that they can do it. I'd like to see somebody that has made a real viable difference to an organisation.
I'll be looking at where people have driven real change, real development and real progression, whatever level you are in the organisation.
ST: In your view, what's the importance of recognising and celebrating female talent within the automotive industry?
LE: I believe diversity and inclusion should not solely be based around gender, but sometimes it sadly is and it's a common occurrence. But women are still sometimes underrepresented in the industry.
We don't realise how far we have come because we tend to always focus on the negative, rather than the positive. There are huge amounts of positive things that have been going on in the industry around gender for a number of years now that have started to change the way people think and feel, which is such an important part of the DNA of any organisation.
The Barbara Cox award goes beyond looking at incredibly senior people, it looks at different levels within the organisations.
There are some amazing women out there, they juggle not only their home lives, but their working lives, too. And they don't always shout about it, and usually the ones that don't shout about it, are the ones who are the real stars. The people who are the unsung heroes are shaping the industry.
I'm looking forward to continually promoting and finding future talent for the industry.
ST: Why should people nominate their female colleagues for the Barbara Cox Award?
LE: With all the awards, it is important there is validation. Especially this year, it's nice to focus on the good stuff that's going on.
Focus on the good and the things that those individuals have done. What value have they given you? How much have they given back, be humbler about how people have been and how caring some people have been.
This is the year that people need to take a bit of time to reflect and acknowledge that these people deserve a little bit of recognition, this is what this award will do.
Let's find all those unsung heroes that have gone beyond and let's give them an opportunity to be told that they've done a good job and be rewarded accordingly.
Nominations for the Barbara Cox Award can be made on the Women with Drive website.