The Department for Transport (DfT) has said the number of rapid charging points in the UK has increased by 363% over the last five years to 3,206 units.
While the level of growth is large, it is from a low base and the Electric Vehicle Association England (EVA) has recently called on the Government to boost charging infrastructure more rapidly.
The data has been provided by electric vehicle (EV) and charging point platform Zap Map and broken down by local authority.
The DfT's quarterly EV charging device report show that in Q2 2020, 318 more devices were available in total, up 2% on the previous quarter. Nearly a third (99) were rapid chargers.
Since 2015, the number of public charging devices has grown by nearly five times to July 2020, with an 11% increase in the year to date.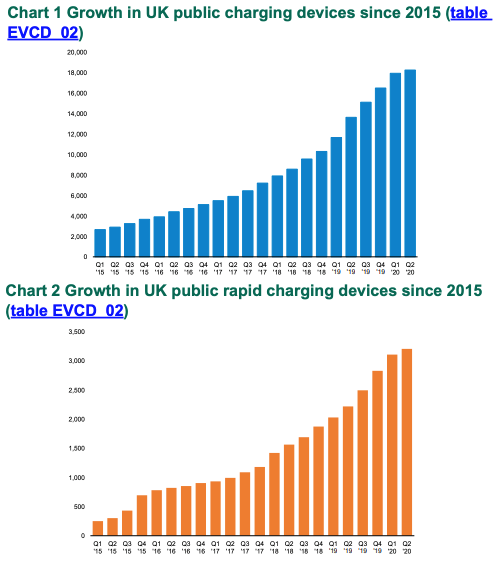 Regional differences
London has by far the most public charging devices per 100,000 of population at 57.
This is followed by Scotland and then the North East at 35 and 30 respectively.
Scotland has the most substantial rapid charging infrastructure in the UK so far, with 8.9 per 100,000 of population. London has just 4.9 by comparison.
The DfT said there is an uneven geographical distribution of charging devices within the UK as some local authorities have big for Government funding to boost infrastructure and others have not.
Most of the provision for the charging infrastructure has also been market led, with individual charging networks and other businesses (such as hotels) choosing where to install devices.
Despite Scotland having an above average number of charging devices per 100,000 of the population, the number of devices available actually decreased by 130 to 1,910 over the quarter.
This is an impact of coronavirus and the lockdown period where charging devices have been switched-of due to the sites being inaccessible.
In every other region, the number of charging devices has increased across the quarter to July, despite the coronavirus lockdown period.
London saw the largest increase with 82 more devices available during the second quarter of 2020.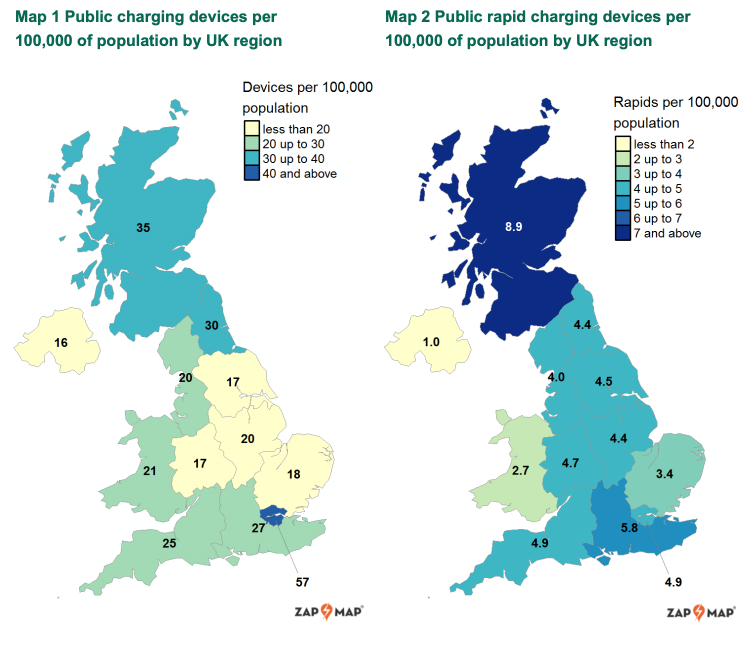 RAC head of roads policy Nicholas Lyes said that despite the coronavirus, it's clear that the installation of new electric vehicle chargers is continuing apace.
Lyes said: "With suggestions that we may have passed 'peak petrol', the sight of plenty of new chargers in prominent locations like supermarket car parks could be the nudge that some drivers need to opt for a plug-in car next time they change their vehicle, over one powered purely by petrol or diesel.
"While home charging is one of the most important elements of EV ownership, a comprehensive public charging network is also vital to giving drivers confidence they can keep topped up when away from home.
"For this reason, it's vital new chargers are installed right across the UK in rural as well as urban locations."
Lyes also said it was important that rapid and ultra-rapid chargers start to make up a greater proportion of new public chargers as this will mean the 'turnover' of EVsusing them can be as high as possible, and can go some way towards making the process of charging a car as normal as filling one with fuel.