The shortlist has been announced for this year's Barbara Cox Woman of the Year Award, which recognises inspirational female leaders in the automotive industry.
Cox Automotive launched the award in the UK in 2019 to honour women who demonstrate a commitment to innovation, leadership, or community.
The award, named after Barbara Cox, who served as director of Cox Enterprises, Cox Automotive's parent company in the USA, is held in association with AM, Fleet News and Smart Transport.
A record number of entries were received from across the automotive industry. The winner will be announced on Tuesday, March 8 at the next 'Women with Drive' event organised by Cox Automotive to celebrate International Women's Day. As well as the prestigious award, the winner will receive £5,000 to spend on her own personal development.
The six shortlisted women are:
Caroline Burnell, head of marketing and communications, eStar Truck & Van
Ciara Raison, commercial director, V12 Vehicle Finance
Claire Perkins, group academy aanager, Stoneacre Motor Group, Stoneacre Academy
Emma Loveday, UK commercial manager and fleet risk consultant, AA DriveTech
Nichola Hobson, general manager, fleet operations, TrustFord
Nicola Gilda, group strategy and operations director, Peoples Ford
This year's judging panel included Cox Automotive International HR director Alison Fisher, Liam Quegan, the Board sponsor for 'Women with Drive' at Cox Automotive Europe, previous winners Stellantis' Alison Jones and National Grid's Lorna McAtear, plus Lynda Ennis of automotive and mobility executive search firm Ennis & Co and Lindsay Greatbatch, head of B2B Memberships at Bauer Media.
Commenting on this year's Barbara Cox entries, Fisher said: "It was great to receive over 50 nominations from across the length and breadth of the automotive industry.
"This award is very special and unlike so many others - we are looking for a great leader, innovator and someone who gives back to their community or industry, just like Barbara Cox after whom this award is named.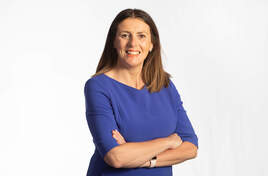 "It was great to read some wonderful inspiring stories of how these ladies are making their mark on the automotive industry, and to have so many new names to consider this year, which just shows what great female talent we have in the automotive industry."
The winner of this year's Barbara Cox 'Woman of the Year' will be unveiled at the Women with Drive event taking place at the Cox Automotive Bruntingthorpe site between 2pm and 4pm and is free to attend online - register here if you'd like to tune into the event.