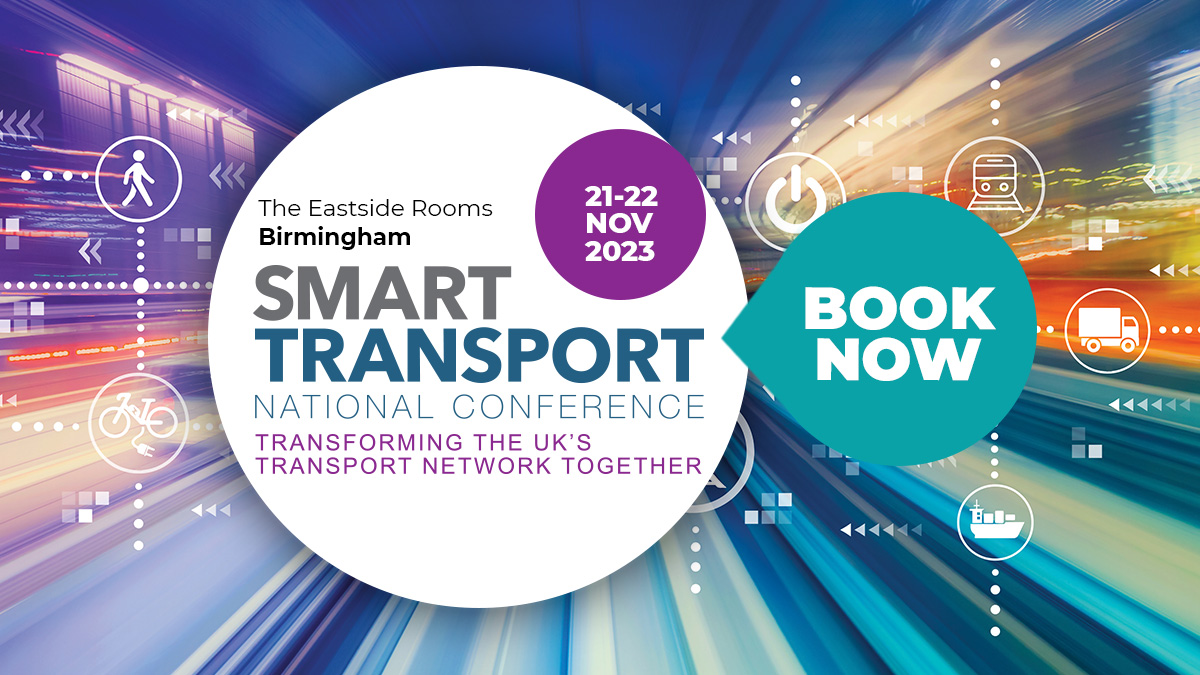 How local authorities can plan visible, safe, and accessible spaces where public, shared and active travel modes are co-located will be the topic of a session at this year's Smart Transport conference.
Experts will explore scalability, adaptability and what factors determine their success at the conference which takes place on 21 and 22 November at The Eastside Rooms in Birmingham.
Session speakers are:
Richard Dilks, chief executive, CoMoUK
Renee van Barr, principal transport planner (rural mobility lead) Midlands Connect
Oz Choudri, head of mobility solutions, UK & Ireland, Enterprise Holdings
Under the theme, 'transforming the UK's transport network together', the event's packed two-day agenda of plenary sessions and breakout streams focus on roads, active travel and public transport with themes including: unpacking the Government's decarbonisation strategy, identifying what future UK transport systems will look like, how to get public buy-in when launching clean air initiatives, freight solutions (including modal shift and last-mile delivery) and key insights into the national evaluation of e-scooters.
It will also throw the spotlight on integrated ticketing and Mobility as a Service (MaaS) as well as exploring the future electric vehicle charging infrastructure and how it will be developed to support the envisaged roll out of EVs.
Sessions will also look at what the levelling-up agenda means for investment in transport infrastructure, how hydrogen applications could fast-track UK transport's pursuit of net zero, how we meet the challenge of positioning roads in a net zero world, the future of parking and kerbside management and developing an effective transport network to service rural areas.
Various best practice active travel case studies from around the world are also planned throughout the two days.
The conference will also launch an exclusive new networking event on the first night called 'Smart Transport After Hours'.
Previous conference speakers have included senior Government officials and public sector policymakers along with influential private sector transport leaders.
Other speakers confirmed for 2023 include:
Matthew Greener, zero emission institute director, Arriva Group  
Tony Duckenfield, managing director, Beyond Logic Consulting  
Tim Bellamy, interim head of transport, Cambridgeshire and Peterborough Combined Authority  
Graham Vidler, CEO, CPT  
Laurence Drake, managing director, DAF Trucks UK 
Kirsty Austin, deputy director, Future of Transport, Systems and Environment, DfT 
Naomi Green, managing director, England's Economic Heartland 
Lauren Pamma, transport programme director, Green Finance Institute  
Simon Phillips, head of transport strategy and programmes, Lambeth Council  
Nick Reed, founder, Reed Mobility 
Benjamin Bell, senior director of public policy & communications, TIER Mobility 
Prof. Glenn Lyons, Mott MacDonald professor of future mobility, University of the West of England   
Dr Daniela Paddeu, senior researcher, Centre for Transport & Society, University of the West of England  
Oliver Coltman, programme manager - future transport zone, West of England Combined Authority 
Connor Donnithorne, Cornwall Council cabinet member for transport
Tracy Millmore, senior SEV infrastructure development officer, transport north east, North East Combined Authority
Martin Howell, Worldline
Xavier Brice, CEO Sustrans
Dr Bob Moran, head of decarbonisation strategy, DfT
Richard Moody, programme director (freight reform), Great British Railways Transition Team
Matt Finch, UK policy director, Transport and Environment
Tim Anderson, group head of transport, Energy Saving Trust
George Hazel, director, ERail Ltd
Trevor Brennan, transport implementation lead, England's Economic Heartland
Chris Todd, founder and director, Transport Action Network
Silviya Barratt, director of policy and research, Campaign for Better Transport
Jack Holland, head of northern Europe – business development, Padam Mobility
Jason Torrance, interim chief executive, UK100
Sarah Sharples, chief scientific officer, DfT
Maggie Simpson, Rail Freight Group
Jon Regnart, senior policy advisor, Hydrogen UK
Chris Lane, head of transport innovation, Transport for West Midlands
Charlie Hicks, councillor for Cowley division, Oxfordshire County Council
Stephen Joseph, chir of Smart Transport
Rebecca Kent, strategic development manager, transport government relationships, Ordnance Survey
Isobel Howie, health improvement principal (public health), Sheffield City Council
Olivier Rousseau, CEO Pedal Me
For conference sponsorship opportunities contact Ernest Olaseinde.