"It is easy to make 1000-mile battery-electric vehicles". So says a report from IDTechEx, in which it claims there are 'many routes' to create such battery electric vehicles (BEVs).
The effect on market uptake would be 'profound', IDTechEx says.
In IDTechEx's research article, the company said solar panel bodywork could help drive the uptake of EVs as it has the potential to make BEVs 'acceptable in most of the world, increasing its market potential, accelerating economies of scale, making it more affordable'.
IDTechEx also suggests land vehicles 'lag' in energy-independent technologies due to having less surface area per passenger and states that single-crystal silicon on the sides of vehicles, is a 'step in the right direction'.
The article states that Tesla and Lucid get past 500 miles range by low drag factor, light-weighting, efficient power electronics, and other strategies such as aluminium monocoque, before adopting solar. The Tesla Roadster doubles the battery to get 620 miles and Lightyear solar family cars approach 500 miles range with solar bodywork and more efficient in-wheel motors.
In 2018, Tesla began to adopt wide-bandgap semiconductors (silicon carbide) in the Model 3's main inverter, which are more efficient and save on the weight and space of the cooling equipment, according to IDTechEx. Supercapacitors used in on-road BEVs can help improve range, the company said.
Infrared harvesting surfaces under the vehicle may work in hot countries, according to the research article, stating that on top and sides, adding perovskite to silicon will grab infrared and light over a wider spectrum, increasing electricity by at least 10%, claiming that multilayer perovskites can increase electricity by 100%.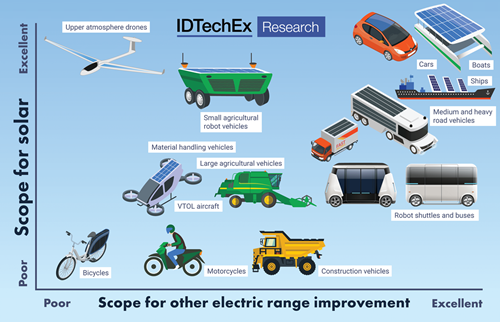 The report states autonomous taxis, shuttles, and buses dispensing with the weight and space of the driver can help increase BEV range.
Raghu Das, CEO of IDTechEx, advises, "VW Group and many others work on structural batteries and supercapacitors to increase range - no more dumb bodywork. Meanwhile, Tesla and Lucid commercialise a first step in that direction.
"Equally challenging, but still a possibility, is using higher voltage to increase range beyond the current focus on charging time. 800-1000V is pioneered by VW Group, Lucid, Rivian, GM, Hyundai, Kia, and other carmakers and their suppliers such as Hitachi, Borg Warner and others. In principle, it increases efficiency and lightens weight."
Bert Hellwig, who is responsible for electric drive system development at ZF, said: "We are currently working on the start of production for several premium 800-volt projects.
"We supply a Chinese OEM with the complete electric driveline, including power electronics, for several models. For a European sports car manufacturer, ZF provides power electronics for a high-voltage application. Further series start-ups are already on the horizon."
Thermal management can also help increase battery range, as transparent heater film applied only where needed on vehicle interiors has been shown to save up to 30% of electricity, said IDTechEx.