58 cross-party local leaders have committed to cutting their organisation's emissions to net zero by 2030, and their community emissions by 2045 - five years earlier than central Government.
Ahead of COP26, the annual UN climate conference hosted in 2021 by the UK, five more council leaders have signed up to the UK100's 'Net Zero Pledge'.
The latest councils to make the pledge - coordinated by the Smart Transport member UK100 - are Warwick District Council, London Borough of Lambeth, St Albans City and District Council, Brighton and Hove City Council and Hammersmith and Fulham Council.
Together the 58 local authorities represent 35% of the UK population (23.5 million Brits), with the English cohort representing 28% of England's land area, according to the UK100.
Stephen Cowan, leader of the London Borough of Hammersmith and Fulham (H&F), said: "Tackling climate change can't be piecemeal. That's why it is so important that towns and cities across the country join together in committing to the goal of keeping global heating below the 1.5°C set out in the Paris Agreement, through initiatives like UK100.
"It's only by acting together, learning from each other and sharing science-based and other solutions that we can prevent a catastrophic climate crisis."
UK100 said the network is pushing for more powers and resources from central government to enable them to 'take ambitious climate action', and the country to meet its target.
The Government is to make a legal commitment to cut emissions by 78% by 2035, compared to 1990 levels.
Andrew Day, leader of Warwick District Council, said: "We are committed to becoming a net zero carbon organisation and in partnership with our business and communities are seeking to rapidly reduce carbon emissions from across our district.
"Making this pledge underlines this commitment and reminds us all of the need to think of the future but to act now."
Christopher Hammond joins UK100 as network membership director
The pledges come as former Southampton City Council leader councillor Christopher Hammond joins UK100 in a newly created role for managing its growing membership.
Christopher Hammond, incoming network membership director at UK100, said: "The fundamental challenge of our time is getting to net zero carbon emissions and averting climate breakdown.
"It's a task that will need bold leadership, legislative clarity, shifts in culture and behaviours, willingness to make mistakes and an enthusiastic adoption of new technologies.
"I know from my time leading a city council that local government is uniquely placed to face and overcome these challenges.
"Not only do they provide services, but they have a unique sphere of influence. Fantastic things are already happening in county, city, town and village halls across the county.
"UK100 is uniquely placed to galvanise, support and make an impact for its members."
Other Smart Transport members have signed the pledge including the Greater Manchester Combined Authority, Liverpool City Council, Newcastle City Council, Sheffield City Region and West Midlands Combined Authority.
Polly Billington, director of UK100, said: "These ambitious local leaders have pledged to do everything within their power to reach net zero emissions as soon as possible in a way that benefits their communities with new jobs and skills.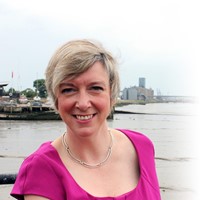 "From Edinburgh to Cornwall local leadership, alongside funding and powers, is key to winning the race to net zero.
"We're thrilled that Cllr Hammond is joining our growing team at UK100. He brings a huge amount of experience, skill and insight from his time at Southampton and through the many initiatives and partnerships that he has led over the years.
"His expertise will help us grow our membership ahead of COP26, deepen connections with our existing members, and strengthen the network's collective voice to government."