Most decision-makers are white males, so what chance is there for others to have their hopes and fears properly represented? asks Laura Laker
When it comes to gender equality in transport, perhaps the most quoted anecdote comes from Sweden. In Karlskoga, among other Swedish municipalities, officials switched to a 'gender balanced budget', one that benefited both women and men equally.
In a country where women walk, cycle and use public transport more than men, during winter three times more pedestrians were being injured because of icy roads than people in cars, mostly women.
Existing winter street gritting patterns had prioritised highways and city centres, where predominantly men worked.
Snow is harder and riskier to get through on foot and by bicycle than in motor vehicles, so footpaths and cycleways were treated first, particularly those near schools, bus stops and childcare centres. This cost the municipality no more money but made the city fairer and more accessible for everyone and reduced injuries, particularly among women.
Caroline Criado Perez, who cites this example in her influential book, Invisible Women, says, although unintentional: "The assumption that shorter walking trips are irrelevant to infrastructure policy is little short of an assumption that women are irrelevant to infrastructure policy".
Across England, women not only tend to walk more than men, but, according to a Women's Budget Group (WBG) report, across England women travel more by bus: a third more women travelled by bus than men in 2017, a situation exactly reversed on trains.
Budget distribution
In this light, allocation of public funds on transport in England is interesting. In 2016/17 of a £29.1 billion budget, 54% was spent on rail, compared with 8% on other public transport, including buses. This, WBG calculated, worked out at £249 per person per year spent in England for rail, and just £8 per person per year for buses.
These imbalances aren't deliberate, as Criado Perez notes, but they are a product of who designs and maintains transport systems. Women make up just one fifth of transport sector employees across Europe, and just 18% in England. As Rebecca Gill wrote for the WBG report: "The vast majority of politicians and policy-makers involved in high level decision-making about public transport are white men."
That means women's experience of travel isn't being considered in planning.
Gill says with more women on low incomes, working part time, "poor quality, unreliable and expensive public transport has a far bigger impact on their lives". Part-time working also makes season tickets less cost-effective and buses often do not tailor timetables to shift working.
"This makes it imperative that public transport policy and spending is understood from a gender perspective at a local, regional and national level," the WBG report notes, adding, "there is little coherent analysis within central or local Government about the gendered impact of public transport policy".
The Swedish solved this via a gender mainstreaming programme. A key tool was looking at gender disaggregated statistics, which firstly involved understanding how decisions, actions and treatment affect different genders; detecting, and then rectifying inequalities.
For example, women avoided bus services at night because they felt unsafe walking home from the bus stops. The solution, also applied in Brasilia, Brazil, was that passengers could be let off outside of bus stops at night, one at a time, to reduce their walk home and ensure they weren't followed.
Physical safety measures on transport networks can be targeted at areas where women and LGBT+ (lesbian, gay, bisexual, trans and other gender identities) people feel and are least safe, such as bus stops, and ensure adequate staffing.
In London countdown timers are sited at bus stops, or via text or online countdowns, and travel apps such as Citymapper. These help passengers time arrivals at bus stops to reduce waiting times. Improved bus stop design can also help, such as removing shrubs from, and eliminating dark accessways near bus stops, and training transport professionals to deal with sexual harassment in transport.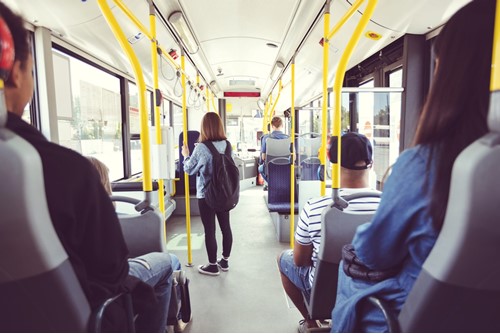 In the UK, we know men's trips are more likely to be end-to-end, and men tend to have primary access to a household car, whereas women are more likely to make more and shorter trips (in London women make 8% more trips than men) and are more likely to use public transport than men.
Women are also more likely to do "trip chaining", involving multiple stops on one trip, including taking children to childcare, assisting elderly relatives and taking care of household management tasks.
These short trips aren't well served by 'hub and spoke' models of bus services and a focus on linear cycle highways for example, which tend to link housing areas with centres for employment, but not housing with childcare or schools.
The absence of public transport can impact women specifically, including economically. Research by Dr Jackie Longworth, chair at the Women's Equality Network, in 2014 found a lack of public transport contributes to the gender pay gap in the West of England. She noted that "30% of women have no access to a car particularly during the working day because either they can't afford one or the family car is used by their partner for work" and that, with high paid jobs unevenly distributed, women seek lower-paid work that is local.
She says: "Planners, transport authorities and developers need to consider the differing needs of women and men when deciding how to distribute residential and employment space and to ensure that public transport opens up the connections between them."
The data isn't always there, gender disaggregated or otherwise. Prof Inés Sánchez de Madariaga, an urban planning professor at Madrid's Technical University, tells Criado Perez in Invisible Women that "compulsory mobility", a term used in transport planning to describe all trips for education and employment, excludes care trips, the trips mostly made by women.
As in Sweden, UK government research has found people, particularly women, would use public transport more if they felt safe doing so. Too little has thus far been done to resolve this issue, though.
A 2020 YouGov survey found more than half of London women have been the subject of unwanted sexual behaviour on public transport, and 21% of men. According to gay rights charity Stonewall, a third of LGBT people avoid certain streets because they don't feel safe there – rising to 44% among trans people. Stonewall's Come Out for LGBT campaign offers LGBT people and allies resources to help tackle prejudice and provide support.
Of 416 Londoners who experienced sexual harassment, only 2% of victims reported these incidents to police – despite a Report it to Stop it campaign.
Criado Perez says non-reporting can be due to feelings of shame, or a fear of not being believed.
"Planners, transport authorities and developers need to consider the differing needs of women and men when deciding how to distribute residential and employment space and to ensure that public transport opens up the connections between them." Dr Jackie Longworth, chair at the Women's Equality Network
In Nottingham, misogyny and offences targeting women have been treated as a hate crime by police since 2016, a policy that researchers found began "shifting attitudes" within two years.
Research by Nottingham Trent University and the University of Nottingham found the policy, which uses existing legislation to record misogynistic behaviours as either hate crime offences or hate incidents, raised awareness of the problem, along with reporting of incidents, and researchers recommended rolling it out nationally.
Janet Horner, a Green Party councillor in Dublin, is one of the authors of a submission to Ireland's Department of Transport, Tourism and Sport on its Sustainable Mobility Policy by the National Women's Council of Ireland, supported by Louise Williams and Joan O'Connell.
They called for urgent action to incorporate a gender analysis of mobility in Ireland, with a concern "transport facilities and active travel options fall short of an inclusive approach and neglect the needs of women from minority ethnic groups and women with disabilities".
They note the 'Hollerback' and 'Everyday Sexism' projects illuminated how commonplace street harassment or sexual harassment is, alongside unconscious or under-examined gendered behaviour in the public realm, such as 'manspreading', catcalling, harassment and assault, that hinder women's access to the public realm.
"From policy to construction planning (through expert groups, workshops, monitoring and evaluation)", incorporating gender analysis in transport planning and implementation is key.
In behaviour change relating to safety, it recommends creation of campaigns to tackle street harassment, including training police on the issues, and to tackle an aggressive road culture, which is often directed at the most vulnerable.
Priority maintenance of footpaths, commitments to vision zero, and moves to tackle car dominance and car dependency, while prioritising cycling and walking to benefit local communities, with support to access cycles.
Horner notes in terms of transport planning for city buses in Dublin, the focus tends to be on the 20-30% of trips, pre-Covid, that are commutes – missing the majority of trips that are made for other purposes, notably by women, and potentially less relevant as more people are working from home post-pandemic.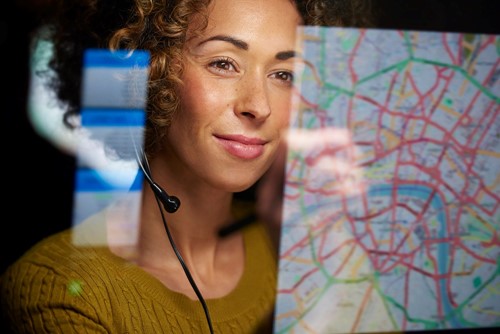 Women in Transport (WIT) is a not-for-profit organisation to help women working in the field. It is trying to tackle the data gap, among other things. Jo Field, a WIT board member, says: "All groups, not just women, need to be involved in every aspect of transport, because transport is for everybody. There needs to be a representative section of the population in full; yes, in the planning and delivery of services and but also in the shaping of policies.
"As well as needing the professionals to be diverse, you also need the groups that you're talking to, to inform the planning to be diverse so women's voices need to come into that but also all the equalities groups or underrepresented groups and disabled people, black and minority ethnic communities. Basically, transport's for everyone, so everybody's voices need to shape it."
For many transport organisations this is an equality act and public sector equality duty. Field notes some people believe calling groups 'hard to reach' or even 'harder to reach' can be a bit of a cop out – as those groups are always there, and they're always accessible to someone.
WIT is conducting an anonymous survey on women's experiences in the transport sector, and how the pandemic has affected that work.
Jo Field says: "Young children seem to be very interested in and inspired by transport, but then something happens as they get older. I don't know if it's parents or teachers, but often women are steered away from careers in the transport sector.
"I think that's probably because there's a lack of physical role models. That's even more pronounced as you go up the ranks to the more senior roles. And that means sometimes our members also mentioned things like workplaces in the transport sector not being so inclusive, with things like presenteeism culture, lack of flexible working and long working hours."
Designing in our own image
There are an estimated 3.6 million LGBT+ people in the UK. In a survey, Transport for London (TfL) found only 55% of staff were willing to answer questions about sexual orientation, compared with 84% on ethnicity, which, it says, represents "a significant barrier to overcome", to increase representation and help people be themselves at work.
TfL's LGBT+ network, OUTbound, helps provide a supportive environment for LGBT+ staff, "to support and influence the evolution of company policy, procedure and culture".
In 2014 TSSA, the rail workers' union, conducted a baseline equality survey.
"We had quite a poor response from LGBT+ people," says Nadine Rae, TSSA organising director. She and her colleagues felt something wasn't right, and publicly engaged further with LGBT+ networks, including Stonewall.
After this, many staff contacted them positively, with the feeling that "finally my union is doing something about this".
They created posters showing positive LGBT+ staff role models and made those resources widely available.
Rae says: "If people aren't feeling comfortable to be their authentic self at work then how can they also project that to the public, and make the travelling public who are LGBT+ feel safe when they're travelling?"
TSSA also created a "bargaining standard" to help employers better provide for LGBT+ staff, with bronze, silver and gold accreditation for steps, from conducting Equality Impact Assessments, and compliance with the public sector equality duty, if applicable, to engaging with organisations like Stonewall, to tackling discrimination, bullying and harassment, to campaigns and training staff.
Rae believes many of these measures also benefit passengers. "It's about making sure there are clear signals that it's okay to be open about yourself and who you are when you're travelling", she says.
"It's about being visible (in supporting LGBT+) and realising that not being visible is not neutrality, it's a negative. You do need to be visible, you do need to participate in Pride and give a signal to people that 'we understand your experience, and we want to make sure that your experience on our services is exemplary, if not enjoyable'."
There is still a lot of work to do. According to TSSA, almost one-in-five LGBT transport staff have been the target of negative comments or conduct from colleagues within the past year, and 35% have disguised they are LGBT because they were afraid of discrimination. In addition,12% of LGBT+ employees wouldn't feel confident reporting homophobic or biphobic bullying to employers. TSSA's #nobystanders campaign asks people to take action if they see bullying behaviours.
There is also a role for procurement, where transport authorities can "ensure a commitment to equality, diversity and inclusion", which Greater London Authority (GLA) aims to do.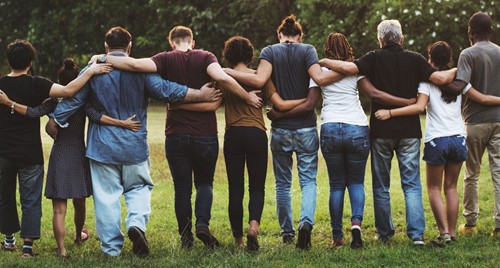 The GLA was voted 22nd out of a top 100 places "that do great work over the past year to help achieve acceptance without exception for all LGBT people" by Stonewall in 2020. It also publishes workforce data, including its gender pay gap, stating publicly it is a diverse employer and ensuring interview panels are diverse, participating in various Pride events, including Bi Pride and Black Pride.
It's also about actively promoting diversity in industry recruitment. According to research by City & Guilds, 84% of the 250,000-strong UK rail sector workforce is male, and 28% aged 51 or over, at a time of 4,000 unfilled vacancies, and labour demand on the rise – creating a 'critical' skills shortfall by 2025.
In a survey just 2% of women respondents picked rail as one of their three most desirable job sectors, compared with 10% of men. Women and young and BAME people were least likely to even consider a career in rail, women 24% vs men 41%.
Martin Hottass is managing director of technical training for City & Guilds. He says while the railway industry has traditionally provided generational work for families, others may struggle to understand the available roles or how to begin a career in the industry.
He says four- or five-year transport project contracts can create short-termism in workforce investment. He says: "The British apprenticeships system is good at innovation, at creating fit-for-purpose job roles, but we're not very good at giving people the same experience over a long period of time because we tend to chop and change every couple of years."
Network Rail is trying to address this by awarding consecutive contract periods at once. Training the workforce pool in alignment with Britain's industrial strategies would help, too.
A further solution, if there were greater flexibility in the apprenticeship levy, would be to spend a percentage of tax initiatives to address the gender balance including 'positively discriminating' in favour of female learners, says Hottass – and role modelling women in precision, complex jobs, which women tend to excel at. Women tend to be purpose-driven and with the potential of public transport for reducing carbon emissions, road congestion and air pollution, he argues promoting roles along those lines could help attract more women.
Ultimately, Hottass says: "Transport needs to be representative of the community it serves. In terms of gender, 54% of the population is female. By excluding 54% of your marketing, you're crazy."
The City & Guilds research identified some solutions as: "Proactively publicising career opportunities – specifically targeting girls, women, young people and people from BAME communities, and showcasing other people from similar backgrounds who have forged careers in the sector". This, it says, could in turn significantly broaden the industry's appeal.
Again, Network Rail gets name checked, this time for its 'Just like me' programme, "which aims to inspire girls and young women to explore engineering".
Active travel for women
Arguably active travel, cycling and walking, are the most equitable modes of transport, particularly suited to trip chaining. In the Netherlands, more than half of all cycling trips are made by women, thanks to a network of safe linear cycle routes and low-traffic neighbourhood streets. In Britain just one woman cycles regularly compared with three men – a fact attributed to a lack of safe cycle routes.
Horner, co-founded 'Monthly Cycles' a group ride around Dublin, often using low-traffic or off-road routes, also aimed at improving 'visibility' of women cycling.
This role modelling helps, she believes. "I've definitely had friends who say that they assume cycling in Dublin isn't for them because they feel it's far too dangerous. But when they see me and others whizzing round on bikes, they feel: maybe I could do this."
There are also wider structural solutions, in terms of access to bikes, as well as attitudes and infrastructure, that are interlinked. At present, the Cycle to Work scheme, a salary sacrifice scheme that allows employees to buy cycles via employers tax-free, benefits higher earners the most, who tend to be men, and the scheme isn't available to those out of employment, or self-employed, who are more likely to be women, or retired people (women also live longer).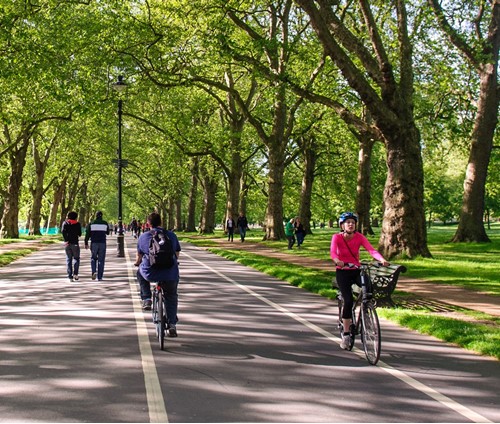 The 'removal' or clarification of the £1,000 price cap no longer applying in Britain's scheme will help with the purchase of e-cycles and cargo bikes, providing women in work with the option to transport children by pedal power rather than car, but more needs to be done to tackle other barriers, argues Horner.
Among them is the fact women tend to experience greater levels of aggression or violence on the street, particularly so when walking or cycling.
That is an acute issue for young women and girls. An Irish promotional campaign called "And She Cycles", depicted cycling as part of a young girl's aspirational image, after a survey found the number one barrier to cycling was a fear of boys' reactions to them on a cycle.
Horner says: "If you're cycling along, you're risking your skirt going up when you're riding past the boys' school or whatever. That is a risk of massive humiliation, because they will absolutely go for you if they see you do anything slightly embarrassing."
That problem doesn't stop in adulthood, says Horner. "If I get shouted out, or get derogatory comments made about me in public, 90% of the time in Dublin that's when I'm on a bike. They might be gendered comments, they might be kind of threatening comments, they might be anything else, but the bike is one of the big things that provokes that."
Normalising cycling is one solution. Cycling UK's Big Bike Revival is a community-led annual programme fixing up bikes and delivering group rides in a bid to help those who traditionally wouldn't cycle, but could benefit from cycling, to do so.
The events have a 50:50 gender split, thanks to things like women mechanics and ride leaders from local communities. Last year Cycling UK sought to specifically support LGBT+ people to get into cycling, and found LGBT+ organisations reached out to them, once they recognised a welcoming space.
Unconscious bias training has helped its volunteer groups become more open to LGBT+ members, spaces the organisation says have become key support networks for members during the pandemic.
Cycling UK's director of behaviour change and development, James Scott, says: "I think cycling opens up the entire community to people that have never had that opportunity before. People that can't afford a car, people that feel they haven't got the self-efficacy or the confidence to get on a bike, to explore their community more".
Community spirit is, he says, "just one of many outcomes from the simple process of jumping on a bike".