Lee Waters talks to Huw Morris
"For a long time, transport has had a bit of a get out of jail free card when it comes to emission reductions because it's seen as important to the economy and should be treated as exceptional," says the Welsh Government's deputy minister for climate change, Lee Waters. "But there is no way we can hit our net zero targets if we continue on that course."
Waters points out that since 1990, the baseline year for measurements, waste has slashed its emissions by 43%. Transport has reduced its emissions by just 6%.
"If we keep that pace of progress, we will not hit our overall targets and will face catastrophic climate change which will be enormously damaging to the economy and our communities. We can no longer turn a blind eye to transport.
"The key issue is how can transport achieve all the important things we need for the economy while reducing emissions. The starting point has to be change."
The nation's transport policy is an international trailblazer. Waters is spearheading a panoply of initiatives – bus deregulation, a pavement parking ban, more emphasis on public transport and active travel among them.
Wales will also be the first country in the UK to introduce legislation to have a 20mph speed limit on roads where cars mix with pedestrians and cyclists. More recently, Wales unveiled a ground-breaking roads policy that stresses sustainable transport.
"We have followed the 'predict and provide' mode in transport for generations," he says. "Car use is predicted to increase therefore we must build more roads to keep up with demand.
"The problem with that is it simply doesn't work. You are constantly chasing your tail, you build extra roads but that is money you can't spend on public transport and giving people alternatives.
"While building extra capacity has a short-term impact on congestion in the order of 20% when the road first opens, within a matter of years extra journeys are generated, more people jump in the car because they think the roads are quieter, then services, businesses and housing developments crop up next to the new roads and junctions which generate additional journeys. People move further away from their work so travel further and the whole system generates additional demand which fills the roads up again."
Waters points to one of the major road schemes cancelled by the Welsh Government, the Deeside "Red Route" - a 13-kilometre (eight mile) dual carriageway for the A55/A494 also known as the Flintshire Corridor Improvement Project. He argues that its own business case showed the £300 million scheme through ancient woodland would fill up with traffic within 15 years.
"The amount of carbon generated from steel, asphalt and concrete is very significant. You are destroying fragile ecosystems which can't be replaced when we have a nature as well as a climate crisis. You are also taking money from other things but crucially it's not going to work.
"This is a failed way of thinking that we keep repeating nonetheless. That's why I say we have been trying the same thing for 70 years and it hasn't worked."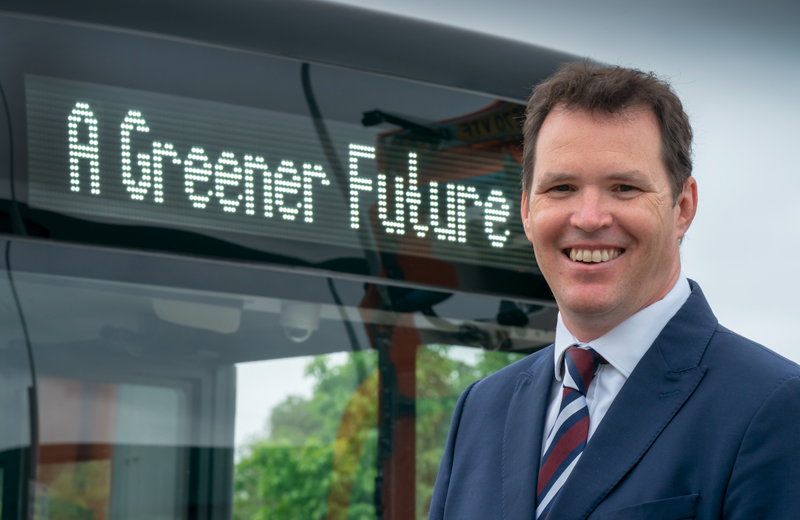 A key policy aim is reducing car use by 10%, which Waters says is not revolutionary when compared with the 20% goal set by the Scottish Government or the UK Government, which has no target at all.
"We're not saying we won't build any roads, we are building them now and we will continue to build them but we are setting the bar much higher for when a road is the answer to a transport problem. We need to look at alternatives such as prioritised bus lanes and quality active travel networks and not simply building a piece of tarmac designed to make traffic move faster."
Funding remains a perennial bugbear. Railway spending is a classic case in point.
"We have 12% of all the UK's rail track in Wales, 5% of the UK population and we've been getting 3% of the rail spend for many decades. There is something wrong when we don't get what we deserve or need if we are to achieve our ambitions for net zero."
How the Barnett Formula works with HS2 is particularly illustrative, Waters says. Far reaching reforms of the way funding mechanisms work are desperate needed.
"Where schemes benefit only England, we should get a population share of the money. HS2 does not have a metre of track in Wales, its own business case shows it harming the economy of South Wales and the UK Government has now slowed down the progress of the leg to Crewe which was the only fig leaf to say there was a benefit for North Wales.
"Nobody can claim high speed benefits Wales. Under those circumstances, we should get 5% of funding and with £100 billion spent on HS2 we would expect get £5 billion.
"But the Treasury has fiddled the rules so it is categorised as a project that benefits England and Wales therefore we are not entitled to a population share. The lack of real devolution means we don't get our priorities recognised, we have a historic pattern of underfunding, and now we have existing rules being actively manipulated to disadvantage us."
One such priority is active travel, an issue on which Waters says the Welsh Government is now spending £50 million a year - the same as the Department for Transport - "so funding-wise, we are putting money on the table and we are seeing good progress in some areas and poor progress in others so there has been an unevenness that needs to be addressed".
The Welsh Government is looking at introducing pathfinder initiatives "where we give additional support to local authorities with an appetite for change". Ministers are "in the market for understanding how to raise the bar on active travel and have open mind on the best way to do that".
He praises Active Travel England as one source "we need to learn from". Updating the Active Travel (Wales) Act 2013 is "not a huge priority" as the main problem is skills, capacity and a willingness to change.
"We want to give Transport for Wales a role as a centre of expertise and help local authorities help each other. That's a big part of it and using our funding to reward those who want to do the right thing and not try to give everyone a little bit of the action if they are not serious."
Ultimately, this is a huge opportunity for transport, he says. Planners, engineers and professionals must be "part of the solution" and "tackle old problems in new ways". The transport sector's "creativity, ingenuity and know-how" are desperately needed.
He admits that overturning a 70-year mindset is difficult. However, the Welsh Government has no option but to confront climate change, he adds.
"The role of political leadership is to make change happen not simply to give a list of reasons why it's too difficult to change. The science is very clear and getting more alarming by the year and unless we significantly change the way we do things we are not going to be forgiven by future generations for the consequences.
"This is not some distant target. Within my children's lifetimes we are facing two metres of sea level rises which will devastate our economy and communities right along most of the Wales coast.
"This is real. We can't shy away from the fact that we now what is going to happen. We can't say nobody told us. It's now up to us to change our behaviour and actions to meet that challenge."
Welsh transport statistics at a glance
■ Some 70% of personal journeys in Wales are by car, which is slightly above the Great Britain average
■ There are 33,100 kilometres (20,567 miles) of highway in Wales. There are also 1,700 kilometres (1,056 miles) of passenger railway lines
■ A total of 75% of households in Wales have one or more cars or vans available, with a higher proportion in rural Wales
■ Only 2% of journeys are by bicycle
■ Transport accounts for around 14% of greenhouse gas emissions in Wales. Of this, road transport is the greatest contributor, with more than 90% of emissions
■ Transport for Wales says 13% of households do not have access to a car and 25% of bus passengers have a disability or long-term illness
Source: Welsh Assembly
The Welsh Government's policy
The Wales Transport Strategy, published in 2021, introduced a sustainable transport hierarchy prioritising active travel and public transport over private motor vehicles.
The first of its three priorities is to bring services to people to reduce the need to travel. The second aims to allow people and goods to move easily by accessible, sustainable and efficient transport services and infrastructure.
A third aim is to encourage people to switch to sustainable transport.
The Welsh Government wants 45% of journeys to be made by public transport or active travel by 2040, with 32% of them currently made this way. Net Zero Wales aims for the most polluting 50% of buses to be replaced by a zero tailpipe emission fleet by 2028. It also pledges to decarbonise rail with a "comprehensive programme" to introduce new trains, including electric traction on the Core Valleys Lines.
In June 2021, the Welsh Government announced a review of new road schemes it funds, with a specialist panel reporting last September.
In their response in February, ministers announced "all new roads need to contribute towards achieving modal shift – both to tackle climate change and to reduce congestion on the road network for freight".
They will still consider investment in roads:
■ To support modal shift and cut carbon emissions
■ To improve safety through small-scale changes
■ To adapt to the impacts of climate change
■ To provide access and connectivity to jobs and centres of economic activity in a way that supports modal shift.
The panel also recommended four conditions that investment schemes will need to meet:
■ Minimise carbon emissions in construction
■ Not increase in road capacity for cars
■ Not lead to higher vehicle speeds that increase emissions
■ Not adversely affect ecologically valuable sites.
The Welsh Government has cancelled the hotly debated M4 corridor around Newport after the South East Wales Transport Commission recommended a "network of alternatives" centred on public transport. These will be delivered through infrastructure, network policies, behaviour change, governance and land-use planning.
In particular, the commission proposed:
■ reconfiguring the South Wales Main Line to increase rail capacity and flexibility between Cardiff and the River Severn
■ a new rail station building programme to provide local, commuting services on the main line
■ new rapid bus corridors across Cardiff and Newport, connecting to the rail backbone
■ new commuter cycle corridors, connecting to the rail backbone and rapid bus corridors
■ a fundamental redesign of the transport interchange in the centre of Newport.
Work to develop three metro systems is also under way.
First findings from the Welsh 20mph trials
Slower driving speeds, increased levels of walking and cycling and minimal impact on journey times are among the key findings of an interim monitoring report published in March of the eight first phase areas of Wales trialling the new default 20mph speed limit.
The limit will be introduced in September on restricted roads, including those where streetlights are placed no more than 200 yards (183 metres) apart and are usually located in residential and built-up areas with high pedestrian activity.
The report found that motorists on average drove slower in the first phase areas with an average speed reduction of 3mph recorded across all eight communities.
Substantial behaviour change has been observed in St Brides Major and St Dogmaels, two of the first phase areas, where the number of people driving at or below 24mph has increased from 23% to 45% and from 54% to 84% respectively. The report also concluded that schools in 20mph areas have seen a greater increase in active travel journeys - from 49% to 74% - compared to schools predominantly in 30mph areas where the figures were 49% to 67%.
Welsh Government's pavement parking plans
People who park on pavements could face fines of up to £70 under Welsh Government plans to allow local authorities to take enforcement action where it is causing an unnecessary obstruction
Ministers had considered a report by the Welsh Pavement Parking Taskforce issued in 2020, which rejected an outright ban but called for local authorities to have additional powers to tackle problem areas. The move also follows an 18-month pilot scheme in Cardiff.
The UK Government had intended to amend existing regulations on obstruction of the road so as to separate out obstruction of the pavement but has yet to secure parliamentary time.
Under the Welsh Government's plans, local authorities can enforce the unnecessary obstruction of the road as a parking contravention through civil enforcement. It is proposed that the police will also retain the ability to enforce the offence as a criminal matter.
Guidelines for local authorities are expected later this year.
Bus deregulation in Wales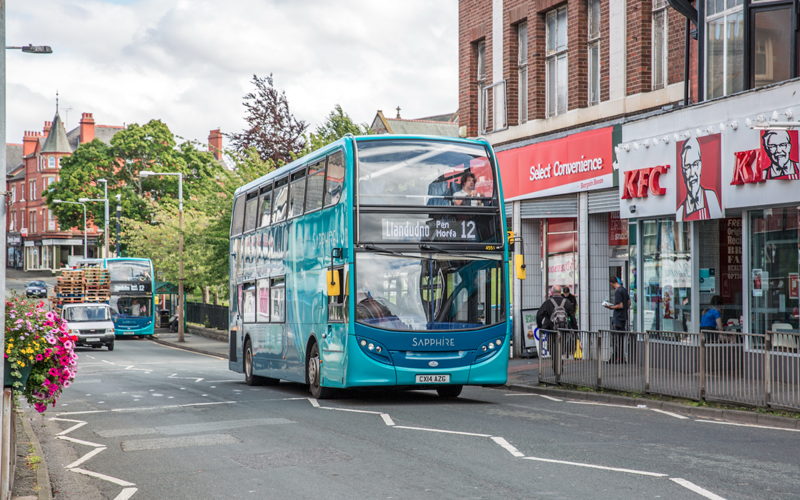 The Welsh Government has major plans for bus franchising, promising improved services, lower fares and a sustainable transport alternative to the private car.
However, it is not able to offer the long-term funding certainty a new system would receive, with "recurring costs" of £57.4 million estimated for the franchised system, along with transitional costs of £91.3 million and £23.1 million of capital costs.
Like most of the UK, Covid-19 dramatically reduced the number of passenger journeys in Wales. According to UK Government bus statistics, passenger journeys fell from 91 million in 2019/20 to 26 million a year later before partially recovering to 52 million in 2021/22, the latest available figure.
The pandemic also forced the Welsh Government to withdraw legislation to introduce franchising.
A white paper published last year reaffirmed ministers' commitment to bus franchising throughout the country, and to permit local authorities to establish new municipal bus companies and relax restrictions on existing municipal bus companies.
Under the Welsh franchising model, the white paper proposed a supervisory board to co-ordinate regional bus networks devised by Corporate Joint Committees. These new regional groupings of local authorities will in turn co-ordinate the network plans of each unitary authority. Transport for Wales will spearhead a National Centre of Excellence for Franchising to give all parts of the country access to resources to tender and manage franchise contracts.
The white paper also promises investment in bus priority and passenger waiting facilities. Bus investment will be integrated with land-use planning to ensure any new development is focused on areas with strong bus services.
Ultimately, the Welsh Government is aiming for a comprehensive network serving the widest feasible range of destinations, with co-ordinated timetables for bus-to-bus and bus-to-rail connections and area wide fares across all forms of public transport.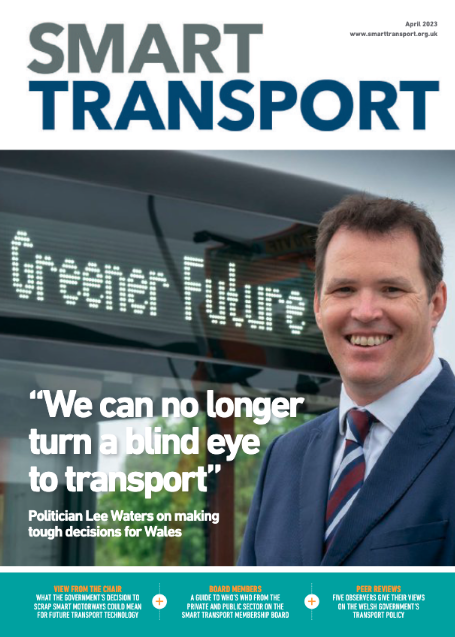 *This interview was first published in the April 2023 Smart Transport digital issue and peer reviewed by:
Martin Tugwell, chief executive, Transport for the North
Martin Howell, director, transport markets UK&I, Worldline
Brian Swallow, general manager for South Wales and the South West, Enterprise
Nicola Kane, director, Steer
Paul Tuohy, chief executive, Campaign for Better Transport
You can read the issue and the peer reviews here.