The Bus Back Better: national bus strategy for England, which the Government published in March, has been met with delight and concern in equal measure.
James Gleave, director, Mobility Lab UK, says: "The national bus strategy is very welcome, it's an extremely positive message that is basically saying that the Government is supporting buses. The main concern is the timescale. Future funding is conditional on areas having at least an enhanced partnership (EP – see below) in place, and in place quickly. Even with Government support it's an extremely ambitious timescale."
His view is echoed across the industry. There's excitement that, against the backdrop of the Covid-19 pandemic, buses have been thrust into the spotlight. The ambition to create a much simpler, more convenient, intuitive and widespread network for passengers is generally applauded. But this is set against worry that rapid change is being demanded with insufficient resources – with areas that are already largely functional able to improve vastly while underperforming areas find the learning curve too steep, the targets unattainable and will end up in disarray.
Jonathan Hampson at Via, which supplies technology enabling flexible on-demand buses, has experienced this directly already.
"On one hand, Covid has allowed capable local authorities to do some things really quickly," he says.
"The problem is that this requires every local authority to get to a point of competency fast. The resources of transport teams are diverse and this is quite an ask for stretched teams. Some are stretched so thinly that this will be too much."

Jonathan Hampson at Via
But, after an year in which the industry has gone from relative (if slightly anaemic) health and profitability to existence on life support, mainlining Government cash in order to keep the buses running while a fraction of people have been permitted to travel during the pandemic, the whirlwind schedule seems almost incidental.
The national bus strategy in brief
It's not insignificant that this is the first national bus strategy for England, nor that it comes with prime ministerial support. There's an impetus for change about the document that recognises the decline of the bus network and at least some of the underlying structural reasons for it, as well as presenting a vision for change.
"It's nice to see a bit of oomph and ambition in the strategy. It's a good thing as there is a focus on a really important mode and something to galvanise activity around," says Tom Quay of Passenger Technology Group.
The strategy identifies elements of the current services which contribute to decline: the limited cooperation between operators, lack of evening services, complex ticketing and poor integration. Its main cornerstone is to bring together local transport authorities (LTAs) and their bus operators "to set out plans to improve local bus services and break the vicious cycle of decline".
This improvement is funded by £3 billion (originally announced in February 2020) to support new and increased services, with at least £300 million of funding to support the sector recovery from the pandemic in 2021/2022. A £25m tranche of that £300m is earmarked to ensure LTAs have the skills and people they need to deliver this strategy and to create a national centre of excellence.
In terms of infrastructure support, the strategy outlines bus priority schemes to speed up journeys – with the first schemes delivered in 2021/22 and £120m of funding to accelerate the delivery of zero emission buses in 2021/22.
The national bus strategy specifically outlines features for 'the buses we want', which it characterises as "more frequent, more reliable, easier to understand and use, better co-ordinated and cheaper: in other words, more like London's, where these types of improvements dramatically increased passenger numbers, reduced congestion, carbon and pollution, helped the disadvantaged and got motorists out of their cars".
To this end, it promises that LTAs will have new powers to enforce traffic regulations with a view to promoting bus reliability and implement bus priority schemes.
In summary, the national strategy is aiming for buses that are:
• Cheaper with low, flat fares in towns and cities
• More comprehensive reducing overprovision in corridors to increase provision elsewhere and balance the network.
• Easier to understand journey planning websites/apps, info at bus stops, common numbering systems, local branding, evening and daytime routes the same, easy-to-understand routes, all operators on the same route should accept the same tickets, use the same route number and be shown on the same timetable. Minimal changes (and all at the same time) plus marketing to get new users.
• Easier to use, ensuring common tickets between operators; passes and daily capping should be available on all services, irrespective of operator, at little to no premium to single-operator fares. All buses should accept contactless payment. Tickets and fares should be simple; fares should increasingly be standard in urban areas. Bus stations should be protected from closure and redevelopment.
• Better integrated with other modes and each other – railway station hubs, passengers should not have to buy a new ticket when changing buses (easy through ticketing and integrated ticketing with bus and rail etc.). Park-and-ride expanded. More rural buses should carry bikes.
• Better to ride in
• Greener
• Accessible and inclusive by design
• Innovative
• Seen as a safe mode of transport
Getting to this level of excellence is not straightforward. The bus industry cautions that one of the pressures on service quality is the competition with the private car. Congestion slows buses down and makes them less reliable for (and therefore less attractive to) passengers, and also increases the costs of running buses as additional vehicles are required to maintain service frequency.
Katy Taylor, chief strategy and customer officer at Go-Ahead, says: "Car restraint is fundamental to the success of the bus, as congestion undermines the business case for buses.
"If we can get that virtuous circle with more people on the bus and fewer cars, we can provide better (and cheaper) services which attract more people to take the bus. We're hoping the national bus strategy will deliver more of that."

Katy Taylor, Go-Ahead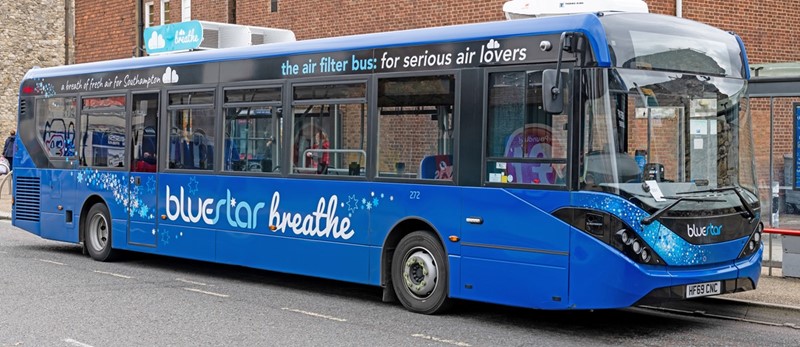 Go-Ahead Group's air-filtering bus has undergone trials in Southampton. Now the group is looking to expand to Brighton, Manchester, Newcastle, Oxford, Crawley and Plymouth
This is echoed by Stagecoach's statement on the strategy. It says: "The potential of buses has remained unfulfilled due to a failure to seriously tackle car use, resulting in slower services, higher operational costs and fares, and declining passenger numbers."
However, while there are structural issues built into the traffic conditions the bus services operate in, there are others created by the deregulated bus market that have hampered the ability to create bus networks across areas and simplify ticketing and fares so they are 'more like London's'.
The fact is that London's network is created via franchised services. Bus franchising powers in the rest of the country have only been available since 2017 to mayors of combined authorities (although they could be made available to other types of local authority, where needed, through secondary legislation).
Franchising allows the transport authority to design the network and set fares and ticketing technology (like the Oyster card), and operators compete for route tenders. The first mayoral authority to attempt franchising will be Greater Manchester, announced in March 2021.
The only other franchised service outside London is that on Jersey (where legislation is slightly different). The operations were franchised in 2013, and the Jersey Liberty Bus network is run by HTC Group.
The Bus Services Act 2017 also gave local authorities powers to create EPs which allow them to direct services more closely, short of franchising. There is currently only one of these in England – in Hertfordshire.
The pandemic, and associated lockdowns, have reduced passenger numbers (due to restrictions and social distancing requirements reducing the loading of buses) and, therefore, fare income to a fraction of the industry's annual turnover. The Government has supported bus operators to ensure they remain solvent and able to operate with a discretionary fund, the Covid-19 Bus Services Support Grant (CBSSG).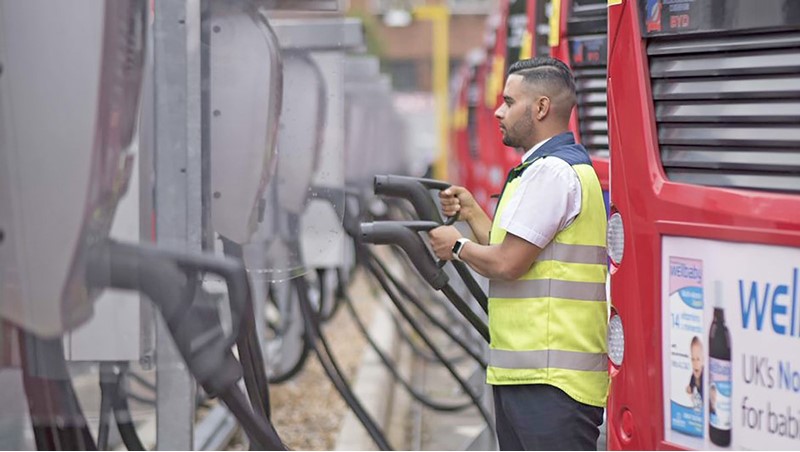 A London bus gets charged up at Waterloo. The way buses operate in the capital is seen as a sound example for other services
From July 1, 2021, CBSSG and any successor to it (including funding to transform services outlined in the strategy) and the (potentially reformed) Bus Service Operators Grant (BSOG), will only be available to LTAs, outside of London, who have committed to entering into enhanced partnerships or started the statutory process of franchising services, and to operators who co-operate with the process.
The strategy is clear that "since franchising can take several years, we expect those LTAs who want to start down that road to commit to establishing an enhanced partnership in the meantime, unless they have begun the process of implementing franchising already (as in Greater Manchester, for instance)".
This is where the industry and commentators are apprehensive. There's a split between those that are concerned about too much direction from local authorities and those that fear too little. Stagecoach immediately launched legal action against the Mayor of Manchester's decision to proceed with franchising, whereas other operators seem more sanguine about the possibility.
Taylor at Go-Ahead recognises that there are pros and cons for franchising.
"The issue we have is that we can lose the connection with incentivising people to travel," she says. "We've been laser light-focused on customer experience and that isn't quite the same with franchising.
"However, on the other side, you gain network running ability. So it's very much about having open eyes about what you're trying to achieve."
Jonathan Bray, director of the Urban Transport Group is concerned that too much emphasis on the EP route would not deliver the desired results, in essence that the national bus strategy wants the kind of bus network you would get through specification via a franchise or through municipal provision.
"But though franchising (and perhaps municipal operation in the future) are seen as legitimate ways of achieving these goals by the strategy, in effect, bus services in England are being herded to the top of an enhanced partnership ski slope and given a hefty push," he says.
The issue is that – although requiring a lot of work – enhanced partnerships are still an easier goal than franchising. And BSOG (and other funding) is dependent on achieving this.

Jonathan Bray, Urban Transport Group
For Bray, this means that there has to be a danger that, on these timescales and with local government spending cuts having decimated transport planning capacity in the shires in particular, weak and loosely specified EPs will emerge in order to access the cash – while the details that matter to passengers are "spun out into the future".
The timescales are of concern to all.
Taylor says: "There is currently one enhanced partnership in the UK which took two years to establish. Plans by October and implementation by March 2022 will be really challenging and local authorities don't generally work that fast. For instance, Oxford has no funded bus services any more so it hasn't required anyone within the council to think about buses. From this base, to an enhanced partnership within a year is a big ask.
"We do have really good relationships and devolved models with directors at local level. We also have a pragmatic approach and hope that local authorities will use our experience as transport planners. Sitting down and creating a network together would be our aspiration."

Go North East (GNE) has introduced new Voltra electric buses on routes linking Gateshead and Newcastle, a first for the region
The devil is in the detail
When it comes down to simplifying the fares and ticketing, a raft of complex legislation may yet stand in the way. As Bray puts it: "Franchising is clear – the competition is for the market rather than within it. However, enhanced partnerships are still within a deregulated market and cannot fully replicate a franchise (for instance, integrated bus tickets being priced equally)."
The complexity he refers to hinges around the Competition and Markets Authority (CMA) role in bus ticketing.
The CMA requires competition between operators because 'rivalry between suppliers encourages efficiency, lower prices and better services'. However, it also recognises that 'multi-operator public transport tickets produce significant benefits for passengers and others'.
In recognition of this, it allows a block exemption to Chapter I of the Competition Act 1998 (under which agreements between companies that serve to align their pricing or services are prohibited) where particular public transport ticketing schemes meet certain conditions.
To muddy the waters further, however, the block exemption requires that operators are still able to set their own fares (both for their own tickets and multi-operator tickets).
In advice on the application of competition law to EPs, the Department for Transport (DfT) specifically notes that, in the context of an enhanced partnership, concerns which may arise include aspects which "reduce incentives on operators to independently set their own fares".
To ensure everyone is kept on their toes, the Department for Business, Energy and Industrial Strategy (BEIS) launched a consultation on the renewal of the block exemption in March.
As Bray puts it: "The consultation on the block ticketing exemption is an added complication which creates more uncertainty on top of other things in the bus strategy."
Previous impact assessments found that "allowing the exemption to lapse risked incurring additional costs to transport providers and could lead to a reduction in investment and development of ticketing schemes". It recommended the renewal of the block exemption.
A different outcome would certainly change the ticketing landscape in an already contested area.
Bus service improvement plans
LTAs are expected to publish Bus Service Improvement Plans as part of the process of developing partnerships. Besides the general improvements outlined, and required across the board, there are specific points about areas with particular needs and demographics – from Bus Rapid Transit connections between towns and villages less densely populated areas needing to adopt demand-responsive transport (DRT) in rural areas and bus solutions to reduce the impact of tourism.
In popular tourist areas such as the West Country and the national parks, often blighted and congested by too many cars, we want Bus Service Improvement Plans to show how far more will be done to promote buses to visitors, with improved services, easily accessible information, park-and-ride sites and special tickets.
With the advice to remain local and book UK holidays during the Covid-19 pandemic, there has been intense pressure on visitor attractions with reports of 'parking chaos' in beauty spots around the country.
There is a real opportunity to build bus solutions into local traffic plans – with digital signage directing people to park-and-rides or even updating sat-nav systems to ensure people are aware of where they will be able to park (and where not).
One element of the strategy that is roundly welcomed is the support for innovation and excellence.
Passenger Technology Group's Quay particularly welcomes the £25m to develop best practice and a centre of excellence.
"For a long time we've been talking about standardisation and talking to operators and trying to spread knowledge within the industry," he says. "A centre of excellence to raise the profile and agree what 'good' looks like is music to my ears."
This could really help scale technology.
Hampson of Via says: "It's good to see that DRT is recognised and, indeed, that the strategy recognises there are ways of delivering bus that are more compelling and attractive. There's an understanding that technology can be used to deliver better services."
Given the extreme time pressures on the development of partnerships it's likely that a raft of consultancies will step in and offer their services. It's to be hoped that the centre of excellence will keep some of the good practice and learning within the public sector and build the capacity within local authorities for the future.
The future – and fast
The national bus strategy represents a new relationship dynamic between bus operators and LTAs. In recent years LTAs have had opportunities to persuade operators to run services they regard as important through funding incentives – infrastructure improvements such as guided bus ways. There has been little to compel operators to set up new services where profits are marginal at best – even though they would enable passengers to access the network as a whole.
The national bus strategy is designed to ensure LTAs and bus operators sit at the same table and plan systems to reach more people, more regularly and provide a better, more intuitive experience – and start doing this very quickly.
The prize is clear. Where public transport is planned on a network basis, use is greater. It's possible to see the benefits in London, or slightly further afield in continental cities where cheap, simple day passes are possible.
For instance, Vienna has an incredibly simple annual public transport pass priced at €365 (£315) a year. With more than 850,000 passes sold (the equivalent of in excess of 40% of the Viennese population) this represents about 45% of ticket revenue. Overall,this fares revenue represents more than half the total budget for roads, haulage and public transport for the city.
There's still a way to go, but, where positive collaboration, sufficient capacity and understanding of people's transport needs is in place, the national bus strategy is a first step towards integrated transport that planners in both cities and rural areas have been dreaming of.
---
Enhanced partnership requirements
The Bus Services Act 2017 enables local authorities to set up enhanced partnerships (EPs) – along with a number of other potential partnership structures to aid cooperation across areas. The EPs required – as a minimum – by the bus strategy to unlock future Bus Service Operators Grant (BSOG) funding have a number of defining characteristics:
Enhanced partnerships
• Are legally enforceable and binding on all operators.
• Can only be created with agreement from majority of bus operators (those running 75% of routes).
• There is no obligation on the local authority to provide infrastructure.
• Can be across multiple authority areas.
• The local authority can take over service registration from a Traffic Commissioner.
• Are required to follow a specific consultation procedure.
• Operators can appeal to Competition and Markets Authority if they feel ticketing arrangements are unfair.
• Provided competition requirements are met, ticketing schemes are not bound by the rules and restrictions of the ticketing block exclusions.
The only example in the UK is the Hertfordshire "Intalink" which replaced an existing Quality Partnership of 20 years and includes improve-ments to infrastructure, uniform branding and multi-operator tickets.
---
Rural buses and DRT
In February 2020 the Department for Transport (DfT) the Rural Mobility Fund (RMF), a pot of £20 million available for local authorities to trial demand-responsive transport (DRT) schemes or improve existing services. Since then, 17 local transport authorities have been awarded funding, ranging from £700,000 to £1.5m, for projects to address gaps in public transport provision (see here for a previous ST assessment of DRT services).
These schemes are conceived primarily as data-gathering exercises, with more emphasis on evaluation and information-sharing than providing a long-term service. Cost reductions, broader user demographics and replacement of fixed bus routes are among the list of desired long-term outcomes.
Despite the fund name, schemes have been approved in both rural and suburban areas.
The strategy hints that more investment in DRT may be on the way and also recommends that DRT services integrate as closely as possible with existing services, down to adopting the same livery.
"Integration between DRT and fixed-line high volume services is something that is essential to ensure that the network functions as a whole, and the recognition of this in policy is really exciting," says David Carnero of DRT platform Padam Mobility.
The RMF award of substantive funding to 17 local authorities, backed up with oversight and expertise from the DfT, offers the potential of a step change in the UK DRT landscape. The funding is spread over five years, and the scope and scale of the schemes varies from area to area.
Nottinghamshire's plans include eight new DRT vehicles in three areas, a bespoke back office with dynamic booking, through-ticketing and integration with existing services, including unified branding. The booking system will also be shared with external partners. The scheme as a whole has a budget of £5.5m of which the RMF is supplying £1.5m.
Buckinghamshire has been awarded just more than £1.8m, split between two schemes. One will involve 11 accessible minibuses serving Aylesbury and Stoke Mandeville hospital, whereas the second scheme will focus on High Wycombe and aim to compensate for reductions in local bus services.
Norfolk proposes to buy just one vehicle using its award of £700,000, to cover an area of 85sq m and serve more than 20 small communities.
Some of the schemes are focused on daytime travel, but others will have extended operating hours with the aim of supporting the night-time economy, including in Surrey, Warwickshire, North Lincolnshire and Cumbria.
Of the successful local authorities, Surrey has announced that it will use electric buses to support its existing network in the Mole Valley, although other details of the scheme are currently thin on the ground. Essex has an intention to use fully electric vehicles, taking advantage of Gridserve's "Electric Forecourt" near Braintree.