Latest research aims to give politicians the courage they need to start discussions around introducing a UK-wide road pricing scheme.
A new report from Campaign for Better Transport has found that half (49%) of people support replacing fuel duty and vehicle excise duty (VED) with a pay-as-you-drive scheme. Findings show that less than a fifth (18%) oppose the idea.
Until now, politicians have been reluctant to introduce road pricing because they are concerned it will prove unpopular with voters.
However, the switch to electric vehicles (EVs) as part of Britain's net zero strategy means a £35 billion a year loss from fuel duty and VED will need to be replaced from new sources of revenue for the Treasury.
The Pay-as-You-Drive: the British public's Views on Vehicle Taxation Reform report examined more than 3,000 UK adults' views on road pricing and found that three-out-of-five people (60%) believe vehicle taxation needs reforming, with close to half (49%) supporting the idea of a pay-as-you-drive scheme compared with fewer than one-in-five (18%) opposing it.
The report adds that support for reform grew among those surveyed by eight percentage points (from 41% to 49%) once they were presented with options for how such a scheme could be delivered, showing, it adds, that some initial concerns around road pricing can be overcome.
Paul Tuohy (left), chief executive of Campaign for Better Transport and Smart Transport board member, says: "The need to reform vehicle taxation is becoming increasingly clear as we rightly move away from petrol and diesel vehicles in order to tackle climate change.
"What this research shows is that road pricing, far from being an unacceptable concept to the public, is, in fact, one that the majority of people believe can be implemented fairly and could, in fact, save most drivers money."
Campaign for Better Transport's report found that people thought a well-designed pay-as-you-drive system would be a fairer and more transparent way to tax motoring because it would include EV drivers and could ensure people who drive less, pay less.
Those polled thought that a scheme which included measures such as a tax-free mileage allowance would enable targeted tax cuts to specific groups, like those who have to drive for work, and would mean people who live in places where there are no public transport alternatives wouldn't be unfairly penalised, either through a higher tax-free allowance or being charged a lower rate.
A pay-as-you-drive scheme would have the added benefit of bringing an immediate tax cut to drivers with the removal of VAT on fuel duty.
The report also found that a number of measures would further increase support for a pay-as-you-drive scheme including:
■ A commitment to raise no more than fuel duty and VED do currently.
■ Ensuring tax intake keeps pace with the increased take-up of zero-emission vehicles as the main reason for reform.
■ A Government campaign to introduce the scheme which focuses on the 'drive less – pay less' benefits to help with the cost-of-living crisis.
■ A proportion of the revenue to be set aside for road maintenance and public transport improvements.
■ An arm's length body to set and review emission standards and charging rates annually.
Silviya Barrett, head of research at Campaign for Better Transport, who wrote the report, says: "Our research found that many of the common concerns around road pricing, things like protecting people's privacy and not penalising people who need to drive, can be overcome with a well-designed pay-as-you-drive scheme.
"In fact, support for road pricing increased among the survey group over the course of the research once the scheme was fully explained, proving that public concerns about road pricing can be overcome."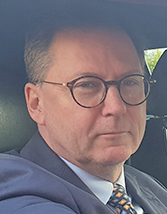 Steve Gooding (left), director of the RAC Foundation, says the question of what does or doesn't make a policy like road user charging publicly acceptable is 'one of endless fascination and extensive speculation', adding: "This report genuinely shines some light on the issue and reveals the way that people's opinions can be informed and influenced by giving them the opportunity to develop a better understanding of the issues."
And Kate Jennings, director of policy, Logistics UK, says: "Change is coming and it is imperative that any road charging policy must be developed in close consultation with the logistics sector to ensure fairness and transparency between government and business.
"Logistics businesses already operate on extremely narrow margins, so any system must be applied to all vehicles and phased in carefully for the avoidance of double taxation.
"Logistics UK stands ready to work with Government to develop a system which is simple, effective and transparent for all parties."
Five years ago, in a short-listed joint-submission to the Wolfson Economics Prize with economist Deirdre King, The AA suggested a 'Road Miles' system that would be gradually introduced, with every driver receiving an allowance of 3,000 free miles – one third more for those in rural areas or with disabilities – and, thereafter, a small charge per mile would be levied.
Commenting on the Campaign for Better Transport report, Edmund King OBE, The AA president, says: "The Treasury will want to reform motoring taxation as the transition to electric vehicles will cost them billions in the longer term.
"A balance must be struck between encouraging the uptake of zero emission vehicles against a background of increased EV running costs, and ensuring fairness for all drivers.
"This comprehensive report opens up some of the options, including a mileage allowance system similar to our 'Road Miles' concept."
Campaign for Better Transport's report concludes that a pay-as-you-drive system could progress in stages from a pilot for EVs, to replacing fuel duty and VED with a fully 'smart' scheme with a varied pricing structure, which would replace any pre-existing local road charging schemes and provide the ability for people to opt out and pay a higher set annual charge instead.
At the report's launch at London's Central Hall Westminster, Edmund King, Kate Jennings, Silviya Barrett and Simon Jeffrey, policy adviser (transport) at the Local Government Association (LGA), sat on a panel hosted by Ben Webster, former Times transport and environment editor, to discuss its findings.
Jeffrey said the LGA 'warmly welcomed' its findings and said that any scheme could help local authorities plug a gap in funding and also act as a tool to help them meet their transport decarbonisation targets. He added:
"Central Government has to lead this conversation and it has to be making a case for it."
He says some local authorities would want to 'keep their own local interventions, such as a congestion charge or workplace parking levy', and others would welcome a national scheme with local elements.
In its road pricing report produced earlier this year, the LGA said that 'a national road charging system should be as simple as possible and clear to users, but it should be seen to be fair'.
The Transport Select Committee also produced its own road pricing report in February this year and recommended the Government introduce a 'pay-as-you-drive' scheme using telematics technology.
It said the Government should consider a road pricing mechanism that uses telematics technology to charge drivers according to distance driven, factoring in vehicle type and time of day.
At the time of the report's launch, the committee's chair was Huw Merriman, who, since October, has been a Government transport minister with rail responsibilities. He says: "It's time for an honest conversation on motoring taxes. The Government's plans to reach net zero by 2050 are ambitious. Zero emission vehicles are part of that plan.
"However, the resulting loss of two major sources of motor taxation will leave a £35bn black hole in finances unless the Government acts now – that's 4% of the entire tax-take.
"Only £7bn of this goes back to the roads; schools and hospitals could be impacted if motorists don't continue to pay."
The Transport Committee, which launched its road pricing inquiry in 2020, considered the implications of accelerating the shift to zero emission vehicles, including bus and freight vehicles, and the case for using new technology to introduce some form of
road pricing.
"We need to talk about road pricing," said Merriman last February. "Innovative technology could deliver a national road-pricing scheme which prices up a journey based on the amount of road, and type of vehicle, used.
"Just like our current motoring taxes but, by using price as a lever, we can offer better prices at less congested times and have technology compare these directly to public transport alternatives.
"By offering choice, we can deliver for the driver and for the environment."
However, he stresses: "Road pricing should not cost motorists more, overall, or undermine progress on active travel."
Campaign for Better Transport is now calling on the Government to establish a cross-party commission before the next general election to help secure agreement on the case for reform with a view to having a pay-as-you-drive scheme ready for implementation by 2025.
---
The trio of scheme design options
Campaign for Better Transport's analysis considers three viable options for designing a national pay-as-you-drive system:
1. A flat per-mile charge for EVs only (while keeping fuel duty and VED as they are for non-electric vehicles).
2. Replacing fuel duty and VED for all vehicles with a set per-mile charge with the charge level based on vehicle type and emissions (i.e. lower charges for smaller and less polluting vehicles) but regardless of when and where
one drives.
3. Replacing fuel duty and VED for all vehicles with a 'smart' per-mile charge that varies dependent on vehicle type and emissions, location or type of road, and time of day.
Option 1 has the attraction of being simple and addresses directly the gap created by EVs not paying tax. Research showed 65% of respondents believe it is fair for EV drivers to be taxed, but at a lower rate than petrol and diesel drivers so as not to slow down their uptake. An EV-only charge also does not address the lack of transparency and fairness in the current system, so it would not be a good option while a significant proportion of petrol and diesel vehicles remain. Yet an EV-first charge could provide a good starting point to roll out a pay-as-you-drive system for all vehicles.
Option 2 would expand the distance-based charge to all vehicles so petrol and diesel drivers pay it instead of fuel duty and VED. It would still be a static per-mile charge, but it would charge less polluting vehicles a lower per-mile rate. This would encourage a switch to lower-emission vehicles and ensure that EVs are still cheaper to run than petrol or diesel cars. The main downside of a static set charge, however, is that it cannot address the main concern for 63% of less supportive participants that a pay-as-you-drive system would penalise people when public transport options are less available.
Option 3 a 'smart' scheme which varies the charge according to when and where the actual journey takes place – is the best way of making the system fair to people who have no option but to drive.
If a journey takes place in more rural areas with fewer public transport options, or on days of the week and at times of the day/night when such options are unavailable, the rates could be much lower. So a fully variable smart road pricing system should be the option to work towards in the longer term.
Campaign for Better Transport says its main downside is that it requires vehicle tracking technology (a plug-in device, the vehicle's in-built telematics or roadside cameras) to account for location and time of day – a key stumbling block in the past – while a static set charge only requires an odometer reading at a vehicle's MOT.
The report found that, while people disliked the idea of being watched by cameras specifically, loss of privacy was not among people's top three reasons for considering pay-as-you-drive a bad idea, and both the MOT system and the in-vehicle tracking are equally popular ways to implement the system.
Campaign for Better Transport says this shows that all three design options are viable and could be different stages of implementation.