Councils and metro mayoral authorities are being offered new London-style powers over roads in a bid to grow and improve the nation's cycle and bus networks.
Under the proposed changes, intended to boost cycling, walking and bus route delivery and management, councils will be able to enforce moving traffic offences and, perhaps more radically, metro mayors to introduce strategic transport networks, akin to London's (no stopping) red routes.
Between July and September 2021, the Department for Transport (DfT) consulted on Key Route Network (KRN) powers. As the consultation document put it, "mayors have strategic transport responsibilities, but limited and inconsistent powers over the most important part of their strategic transport network, their strategic roads".
Traffic restrictions
The changes would give metro mayors the ability to set traffic restrictions and alter the design and use of a designated strategic road network. This would mean introducing cycle lanes and bus lanes, restricting parking and banning traffic turns, as well as enforcing bus lane contraventions across a city region.
London's earliest successful strategic cycleways were delivered along the capital's red routes, the 5% of streets controlled and managed by Transport for London (TfL).
While Cycle Superhighways were delivered to a high standard from 2014 onward, with one famously spanning 15 miles from Barking to Lancaster Gate, the Quietways, delivered on smaller roads by individual boroughs, were patchier. The then cycling commissioner, Andrew Gilligan, branded the Quietways a failure, and opted to instead focus on main road routes he and Mayor of London Sadiq Khan could deliver.
Similar issues were laid bare in other cities during the pandemic.
Pop-up lanes
When Transport for Greater Manchester (TfGM) set about introducing pop-up lanes during the pandemic, with the aim of enabling key workers to travel safely to work, there was a major barrier. When the pop-up lanes reached the border of Manchester City Council, they stopped. At the time the city council gave various reasons, including that the demand wasn't there, or that temporary lanes were not the answer.
Proponents of the schemes argued such gaps left routes severely compromised, forcing less confident cyclists to dismount or find another way at the borough border.
The KRN powers are part of a bid to prevent a repeat of this problem.
KRN choices
KRN roads will be chosen by local authorities and metro mayors based on streets' strategic importance and economic activity, with the aim of reducing congestion on those routes with new bus or cycle lanes.
Without these powers, mayors can only deliver strategic road corridor improvements with unanimous agreement of all the authorities through which a route passes. With the new powers they would become the key decision maker on those routes.
The Government says KRNs will "give mayors and their mayoral combined authorities (MCAs) more decision-making powers over, and accountability for, the management of their Key Route Networks", via Traffic Regulation Order powers over KRNs.
Both powers were commitments in Gear Change, Boris Johnson's cycling manifesto, and KRNs were part of the Government's levelling up agenda. Central to this, the Government says, is a coherent network that enables mayors to deliver area-wide schemes.
London Walking and Cycling Commissioner Will Norman says TfL's red routes play an important role in the city's cycle network "with many of London's busiest cycle routes running on red routes". He says mayor Khan "supports giving cities greater power over their roads to help them make active travel safer and more accessible for their residents".
What happens in Europe
In Europe such powers are commonplace. The European Cyclists' Federation's Aleksander Buczyński, says across the continent a city or regional administration generally manages main roads and public transport, and the districts or municipalities the smaller roads.
For ease, most strategic cycleways run on main road routes, which has its upsides and downsides: cycleways are direct, but can use polluted streets with complicated and regular junctions where the risk of collision is higher.
However, the benefits of bringing something like a cycle network under more centralised control is "pretty obvious", says Buczyński.
He adds: "The interests on the local level don't always align with the interests on the regional level. There might be an important road that connects a town in the suburbs with the city centre, which crosses for 300m (328 yards) or 3km (1.9 miles) some corner of a municipality on the way, and for this municipality, it's really the last priority route. But for those people who live (beyond) this corner, it's the most important route, and maybe for the region."
He says while measures like school streets can be delivered by local authorities, longer-distance routes from the suburbs to city centres need to be delivered by a regional authority.
"The other approach is to try to coordinate districts and municipalities to provide this route outside the main road network, where you might have 10 municipalities agree and the 11th doesn't or it's not interested or has different priorities and the challenge is to ensure a consistent standard, consistent information or even managing roadworks or winter maintenance."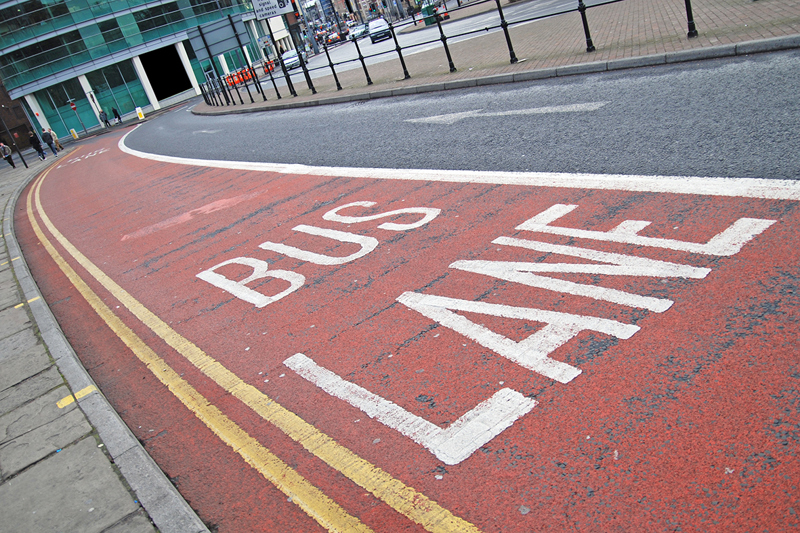 The politics
While, in theory, the measures make sense, the politics are a little delicate. In consultation, the Government "particularly sought the views of combined authorities, local authorities and bodies that represent the interests of local government".
Eleven MCAs responded, along with 16 local authorities, 17 members of the public and two campaign groups, as well as industry bodies and bus, coach and haulier companies. While the public was supportive, MCAs and local authorities were less so – at least openly.
Although 55.3% of respondents overall agreed mayors should hold powers to manage KRNs, 40.4% did not – and most mayors and local authorities said they didn't support the transfer of power from local authorities to MCAs "believing it would be contrary to the principles of devolution".
Of MCAs, four disagreed, three agreed and seven didn't complete or said neither. Of local authorities, 11 disagreed, three agreed and two were equivocal. Seven individuals agreed, against three who disagreed.
However, behind the scenes, Smart Transport understands mayors generally want these powers. The thinking is that devolution only works if central government reshapes the regions in this way, from the top, as no council would vote to effectively give away power.
Meaningful networks
Explicit support or not, mayors need these kinds of powers to deliver meaningful citywide transport networks.
As Cycling UK's Duncan Dollimore puts it: "I think it's a sensitive issue and it's understandable that metro mayors don't want to say to the local authorities 'we want to take your powers', and that's where the Government has been quite sensitive in introducing powers. It's a bit of a no-brainer really. Of course metro mayors should have at least the authority to ensure things are integrated.
"If you commute in and out of Manchester city centre, you're almost inevitably going to be moving through a number of different council areas and potentially a number of times as you walk around the city centre. The idea that you have a bus network or cycling network that doesn't integrate across the city is ludicrous.
"The classic example is Kensington and Chelsea. (The premature removal of a pop-up cycle lane) was, effectively, the decision of one council to scupper proposals for a connected route through multiple boroughs in London. It impacts people out of the borough and requires consideration of more than a few people that live within a few hundred metres of a particular route."
However, because the lane in question wasn't on a red route, TfL was powerless to prevent its removal.
Dollimore adds: "The fact that they have those powers might make those discussions a bit easier, though they might be quite sensitive, particularly where there's multiple local authorities of different political colours.
"It's no good one local authority saying 'we just aren't doing cycling and walking, and we aren't taking part in these bus plans', because those plans, ultimately, have to be citywide – they can't be consigned to one borough."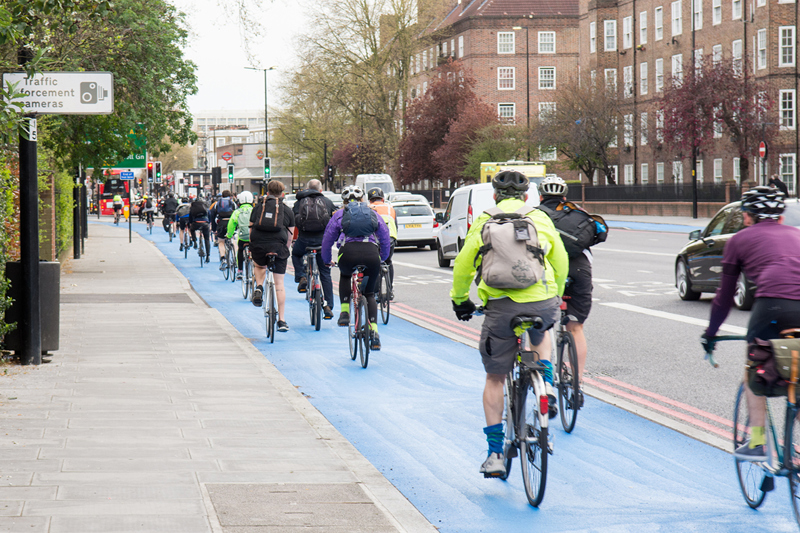 Cycle networks thrive on close collaboration
Norman adds: "From our experience, a comprehensive cycle network is best created in close collaboration with boroughs and TfL analysis shows that 85% of the cycle connections with the greatest potential to increase cycling are on borough roads. It is through this joined-up approach that we can provide a connected, coherent and high-quality cycle network that best serves Londoners and supports our long-term goals to expand London's cycle network."
In Brussels, 85% of roads and streets are managed by 19 municipalities and the remaining 15% by the Capital Region of Brussels. The city's cycle network consists of existing regional cycle routes, which Buczyński describes as 'mostly following quiet local routes, but not always the most direct', and a planned network of cycle highways, 'following more direct main roads, but also railway lines'.
The growth of cycle routes on main road corridors was rapidly accelerated during the pandemic when a staggering 60km (37 miles) of streets across Brussels were improved for cycling within a year of the pandemic starting.
Buczyński adds: "Generally you want every street to be in a way safe for cyclists so you don't want to have blank spots on your city map. And if you don't equip a main road with cycling infrastructure, it means you cannot really go to shops or to houses that are located along the main road."
Sustainable communities
A DfT spokesperson says: "Key Route Networks are critical to creating better connected, healthier and more sustainable communities and supporting economic growth.
"That's why we amended the Levelling Up and Regeneration Bill to give greater decision-making powers to mayors, helping them deliver better bus services and level up transport across the country."
From May 2022 local authorities in England were offered the ability to enforce 'moving traffic offences', with the promise of granting them powers held previously by police, London councils and Cardiff Council.
Under Part 6 of the Traffic Management Act 2004, highways authorities outside of London were to enforce moving traffic offences. However, because the legislation was never introduced to Parliament, the offences could only be enforced by police under criminal law. This has now changed.
Enforceable offences included driving incorrectly in a bus or cycle lane, stopping in yellow box junctions or contravening banned turns, one-way streets or making illegal u-turns, as well as the ability to enforce measures like school streets.
Active travel routes
Again, the measures will particularly benefit delivery of effective active travel routes and public transport, with the added benefit, the Government says, of freeing up police time.
In its guidance on the powers, the Government adds: "The Secretary of State believes there is greater scope for providing more priority for buses as a contribution to achieving an integrated and efficient public transport network.
"Implementing the moving traffic enforcement powers recognises the dual imperatives to improve air quality through reduced traffic congestion, and to encourage behavioural shift towards sustainable travel choices by keeping junctions and cycle lanes clear of obstructing vehicles to improve bus reliability and to promote cycling as part of Government's broader policy to further promote active travel choices, post Covid-19.
"If a local authority has not already done so, it should develop civil enforcement policies that are consistent with and contribute to its overall transport policy, including modal shift towards public transport and active travel."
There was already a clamour for these changes. Prior to the move, in a survey of English councils by the Local Government Association (LGA), 67% of respondents said the police didn't actively enforce any moving traffic offences in their area and 90% said they would use civil enforcement powers if they were available. The benefits, councils told the LGA, would include reducing road congestion and improving traffic safety.
In addition, 89% of respondents said they would like to be considered for the powers, for which councils must apply to the Secretary of State. In the first tranche of applications Kent, Norfolk, Oxfordshire and Durham county councils as well as Bedford Borough Council, Buckinghamshire, Derby City Council, Surrey, Hampshire and Bath and North East Somerset were offered the new powers from July 2022.
In Derby, the first enforcements started on 23 September at 10 locations, including six school street schemes. They were effective: in the first six weeks contraventions dropped at each site, with five seeing a reduction of between 50% and 72%.
The approach in Kent
Kent County Council (KCC) consulted on introducing the powers from March to May 2022. Most comments indicated support for the proposed changes and KCC will begin enforcing across several sites from spring this year using automatic number plate recognition (ANPR), including routes restricted to cycles, taxis and buses, and yellow box junctions.
Some consultation respondents complained police should enforce such issues, that enforcement wasn't needed or was a revenue-raising exercise. Yet, those in support reported drivers 'speeding' through bus gates and risks posed to other road users of dangerous driver behaviour. Interestingly, 80% of respondents were aged 50 or over.
A KCC spokesperson says: "Government has opened the way for councils to enforce moving traffic offences, such as stopping in yellow box junctions, which cause congestion on local roads. Like many local authorities, we know these powers would be a useful tool to keeping our roads safe and moving.
"Following a KCC consultation earlier in 2022, we aim to begin enforcing at some locations on a case-by-case basis by the spring and we are working to set up the relevant equipment and systems needed for this. Officers will continuously monitor the impacts and benefits of such enforcement action on helping us to manage Kent's roads.
"We recognise policing priorities have made it challenging to deliver enforcement action of this nature in the past."
To fend off claims such a move would constitute a money-making exercise, one Government stipulation is that the purpose must be to increase driver compliance and any funds raised be spent on things like public transport, highways or environmental improvements.
Income figures
That didn't stop the RAC releasing figures ahead of the expansion of legislation that London and Cardiff, who already had the powers, "raked in a staggering £58.2m in 2018/19 – 25% more than in 2016/17". Using terms that focused on the cash, rather than the purported safety benefits of catching law-breaking drivers, the piece framed the measures as "profitable" and "lucrative" for the councils involved.
Cycling response
Cycling organisations welcome the move, however. Dollimore says: "It's an ongoing problem, for cycle route users particularly, in relation to drivers entering yellow boxes, unlawful turns and driving in bus lanes.
"But it's a particular problem for people using mandatory cycle lanes, where drivers parking in them effectively render them useless. Where you have people routinely driving and parking in them you do have scenarios where cycle lanes become worse than having nothing because people are doing 50m (55 yards) in a mandatory cycle lane and pulling out not knowing if someone's going to open a car door, weaving in and out of parked vehicles in what's supposed to be a cycle lane."
He adds: "The argument that this is a cash cow ignores the fact that if you don't want to be fined; don't commit the offence."
He said there possibly is a case for a transition period, in which enforcement letters are sent for two-to-three months, to get drivers used to the idea of fines.
Cambridgeshire County Council says it is applying for the new powers, specifically enforcing a 'no left turn' at Downing Street, Cambridge, except buses, taxis and cycles. The order was laid before Parliament in June 2023, a council spokesperson told Smart Transport, along with applications from Gloucester, Herefordshire, Manchester City Council, West Berkshire and Central Bedfordshire.
This location was chosen, the council says, due to historical reports of poor compliance with the area's traffic rules and the potential impact on safety from contraventions due to the high level of pedestrian, cycle, bus and taxis movements in the area.
While these powers are too new for their impacts to be known, local authorities and road safety campaigners seem positive about the changes.
It will be interesting to see what happens in the coming months and years.
---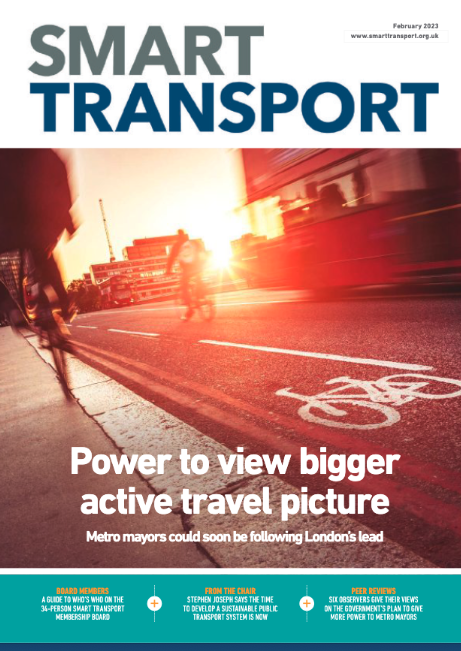 * This article was first published in the February 2023 digital issue of Smart Transport.
It was peer reviewed by:
Ben Lawson, vice-president strategy Europe, Enterprise Holdings
Thomas Ableman, director of strategy and innovation, Transport for London
Martin Tugwell, chief executive, Transport for London
Simon Roberts, technical lead for transport, C40
Sophie Randall, innovation lead mobility and cities, Innovate UK
Martin Howell, director, transport markets, UK&I, Worldline