In its Transport Decarbonisation Plan (TDP) published in the summer of 2021, the Government announced 'Commute Zero' – a package of measures designed to help businesses reduce emissions from their employees' travel. While the aspirations are laudable, its contents amount to little more than an education and communications package.
There is no mention of legislative or fiscal measures to incentivise commuters to switch to greener modes of transport. The reality, post-pandemic, is that many commuters are abandoning buses and trains and getting back in their cars to get to work. While cycling has increased a little, the much-vaunted active travel revolution is yet to materialise.
In addition to raising money for the State, the benefit-in-kind (BIK) tax system was designed to make company car perks less attractive. However, dramatic lowering of BIK in relation to electric vehicles (EVs) has led to some businesses are actually making company cars more widely available through tax-efficient salary sacrifice schemes.
Kit Allwinter, active travel policy officer for the West Yorkshire Combined Authority, says: "Decarbonising the commute doesn't involve doing anything that we don't already know how to do.
The future is about encouraging commuters to use a mix of walking, cycling, buses, trams and rail to get to work. "But to make room on the roads for this multi-modal future to happen, national Government and local authorities need to be brave enough to start actively discouraging people from using their cars – even electric cars – to drive to the office."
The demise of the season ticket?
Prior to the pandemic, commuter journeys accounted for 15% of all trips and 20% of total travel distance in the UK – totalling 18 billion kilos of CO2 emissions per year. If – as current data indicates – commuters remain reluctant to return to public transport for fear of further outbreaks and, instead, use their cars to get to work, emissions associated with commuting could conceivably rise.
According to the Department for Transport (DfT) , car journeys are regularly hitting levels above the equivalent period pre-pandemic, while bus (75-80%), tube (65-70%) and rail passenger numbers (55-60%) remain depressed. The Office of Rail and Road says total passenger revenue was £999 million in 2021-22 Q1 – 35.9% of the £2.8 billion in 2019-20 Q1 (2021-22 Q1 prices).
If these trends are sustained over the long term, employees who once spent several thousands of pounds a year on a rail season ticket to reach the office may conclude that the money would be better spent on a car, which they then use for commuting and other journeys they may previously have made by public transport.
Norman Baker from the Campaign for Better Transport is clear about the challenges posed by the post-pandemic commuter landscape.
He says: "All the evidence suggests companies want employees back in the office – at least for part of the week. But those who are returning to the office seem to be more likely to switch to the car.
"If this trend is sustained as more return to the office, this will make congestion and air pollution even worse, while compromising the ability of public transport to fully recover from the pandemic.
"Bus passenger levels have recovered reasonably well, but we have serious concerns about the rail network.
"Passenger numbers remain much lower than pre-pandemic levels and, while the Treasury has stepped in to support the operating companies, we have concerns they will be forced to increase fares and cut services, which could trigger a downward spiral and jeopardise the investment required to electrify the entire network in the longer term."
The Government postponed this year's annual rail fares review until the new year. But rail campaigners are demanding a ticket price freeze to persuade passengers to return to the railways, giving them the same benefit as drivers have enjoyed with the decade-long fuel duty freeze.
"Supported by clear leadership from the Government, local authorities need to be much bolder in taking measures to displace journeys by car and encourage people to use public transport or active travel," adds Baker. "One of the simplest ways to do this is to increase parking charges on city centre car parks and put a levy on workplace parking.
"As long as these measures are accompanied by increased availability of affordable public transport, congestion eases and passenger numbers rise.
"When they do this – as we have seen in Nottingham and Brighton – the results are positive for everybody: cycling becomes safer, bus journeys become quicker and the wider local economy benefits. Less traffic even benefits motorists who have no alternative but to commute by car as the traffic is lighter."
In June, the Government launched a new range of Flexi Season Tickets offering discounts and refunds for hybrid workers who only need to travel into the office two or three days a week. However, in most cases the savings are significantly lower than those offered by traditional season tickets and not all incorporate onward travel on the tube.
Allwinter says: "Even running a very modest car costs at least £3,500 and in the southeast, commuters can easily spend up to £6,000 a year on a season ticket. If you use the car to get to the station and pay for parking, that's around £10,000 a year just to get to work.
"We need to provide an alternative whereby commuters pay £3,000 for a package of mobility credits – including access to a car club, buses, tube, trains – and pocket the saving, so there is a tangible advantage to ditching the car or not buying one in the first place."
"Even running a very modest car costs at least £3,500 and in the south-east, commuters can easily spend up to £6,000 a year on a season ticket. If you use the car to get to the station and pay for parking, that's around £10,000 a year just to get to work" - Kit Allwinter, West Yorkshire Combined Authority
Measuring and managing emissions
Companies are increasingly preoccupied with measuring their carbon footprint in response to the growing pressure from investors and customers.
Establishing robust environmental, social and governance (ESG) standards is increasingly regarded as an essential aspect of company reporting and all publicly-listed companies are coming under pressure to demonstrate these indicators are moving towards net zero.
There are tentative signs that employers are beginning to look at the issue of emissions relating to travel to work and business travel.
The Greenhouse Gas Protocol explains how companies can measure the Scope 3 emissions from various forms of commuting in great detail – allowing them to reframe employee travel guidelines from an emissions perspective. The Greenhouse Gas Protocol categorises businesses' emissions into three 'Scopes':
Scope 1 covers direct emissions from manufacturing and includes company vehicles.
Scope 2 includes indirect emissions from the energy it buys – for example to heat offices.
Scope 3 covers indirect emissions associated with its supply chain and includes business travel and commuting.
For most companies, this is the largest source of emissions.
Given transport remains the largest single source of greenhouse gas emissions in the UK, one of the most impactful ways to reduce Scope 3 emissions is to focus on employees' commuting and business travel.
The Confederation of British Industry (CBI) recently published a paper which suggested companies should take greater responsibility for the emissions associated with commuting and business travel and integrate these within their wider net-zero strategies. DfT figures clearly highlight the dominance of the car in commuter journeys.
The car is the largest commuting mode, accounting for a 61% share of commuter journeys and a 67% share of distance travelled. CBI analysis has showed that 76% of businesses expect flexible working to become more common in their organisation post-pandemic, and 47% expect most of their workforce to adopt hybrid working beyond 2021.
The challenge will be, as the economy reopens, to embed new travel practices that can drive down emissions from commuting in both the immediate and longer term.
Matthew Fell, CBI chief UK policy director, says: "If the UK is to meet its obligations to reach net-zero emissions by 2050, decarbonisation of commuting will be vital.
"However, this will require not only significant public and private investment in infrastructure and technology, but also a shift in business and employee behaviours to match.
"A key change will be for businesses to now take greater responsibility for their employees' commutes. They should factor these emissions into their net-zero strategies and set out tangible steps to help their teams make greener journeys.
But before a company can cut its Scope 3 emissions, it needs to measure them. The Carbon Trust – among others – offers robust methodology to allow companies to calculate Scope 3 emissions and there are a growing number of specialist consultancies who will work the emissions out and advise on how to reduce them.
According to Ali Clabburn, chief executive of one such consultancy, Mobilityways, the average employee generates 601kg of CO2 per year.
In London, that figure is more likely to be around 240kg – due to the capital's comprehensive public transport system – but in rural areas, it can be as high as 800kg.
"The good news is, by using data to identify the sustainable travel options that are already available, it's actually possible for most companies to cut their emissions by half or more without doing anything particularly radical," says Clabburn.
Mobilityways' analysis revealed a sustainable travel option was available to just more than 95% of employees surveyed.
Clabburn adds: "Some of the companies we work with have taken more radical steps; such as identifying where the majority of their employees live and relocating offices nearer to them or implementing flexible working and halving the number of parking spaces they need.
"But for most, using a tool like ACEL (Average Commuter Emissions Level) to measure and benchmark their emissions then clearly mapping out the transport alternatives for their employees is proving enough to start making substantial cuts to their commuting emissions."
Richard Adams, associate director – consulting, transportation at AECOM, says: "Employers should publish the carbon footprint of the various travel choices for both business travel and commuting and make it clear that the default assumption is that employees will only travel on business when it is absolutely necessary.
"Another way to send a clear message to employees about commuting habits is to remove half the desks from city centre offices and consider doing the same with parking places. This makes it clear that presenteeism is no longer the only yardstick for performance."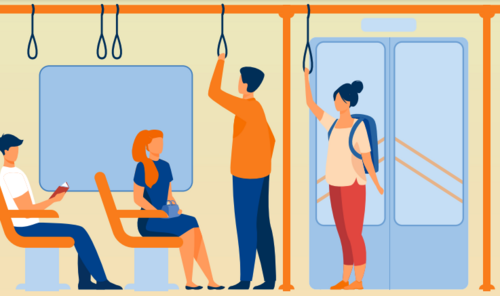 Company cars - time to level the playing field?
Changes to the tax regime in 2017 precipitated a decline in company car uptake, but that trend has gone into reverse thanks to revisions to the BIK tax bands which create incentives to opt for an EV as a company car.
Swapping their BMW 3-series for a Tesla Model 3 will save the typical higher rate tax-payer more than £5,000 in tax over three years and corporate and small business purchases contributed to making the Model 3 the best-selling car in Britain in September.
But, providing employees with company cars and somewhere to park them makes it difficult to then tell them to get the bus into the office.
And since the tax changes in 2017, many companies now offer salary sacrifice schemes to ALL their employees, reducing both the employer and the employee's tax and national insurance liabilities.
Richard Adams, associate director at AECOM, says: "While internal combustion engines have become cleaner and more efficient in recent years, many of these gains have been wiped out by manufacturers producing larger SUVs, which company car drivers seem to have embraced.
"The car remains an essential form of mobility for many employees, but, unless alternative forms of mobility such as the emerging forms of MaaS and mobility credits get the same sort of tax concessions that company car drivers have enjoyed over the years, it's going to be difficult to persuade employees who benefit from a company car to avoid using it to commute into the office.
"And EVs – which currently enjoy incredibly preferential BIK tax treatment – aren't a silver bullet. A universal switch to EVs won't solve peak rush hour congestion – and subsidising what are generally quite expensive premium products is hard to justify to someone on minimum wage whose bus service has just been cut."
So, isn't it time to introduce similar tax breaks for those who take a cash allowance to opt out of a company car scheme and use the money to buy mobility credits to pay for public transport to and from the office? The Government has confirmed rates of BIK until 2025, but thereafter, there is no visibility over how EVs will be treated.
From an environmental perspective, encouraging employees to commute by bus, train or bike is preferable even to EVs – and would make a significant dent in companies' Scope 3 emissions figures.
A survey from the R/GA consultancy earlier this year revealed that two-thirds (66%) of private vehicle owners and eightin-10 (82%) people leasing are willing to give up their vehicles in favour of Mobility as a Service (MaaS), over the next 10 years.
James Lancaster from Urban Mobility Partnership (UMP) is calling on the Government to invest a further £190m to incentivise local authorities to invest in MaaS and tax-free mobility credits. In its response to the Government's DTP paper, UMP says: "Just switching to EVs will not deliver the change in our transport system we need.
Modal shifts away from single-occupancy private car use are what is needed to deliver vibrant towns and cities across the UK, where consumers can move around sustainably.
"The Government must fully commit to supporting policies that can drive behaviour change and incentivise consumers to shift away from private vehicle use.
As we recover from Covid19, now is the opportune moment to not just go back to our old ways of moving around but to encourage people to move away from the most polluting forms of transport and into public transport and shared mobility solutions."
Is commuting the priority?
Some commentators maintain that demonising the commute misses the mark. While a lot of journeys are compressed into the rush hour, it only accounts for around 16% of all journeys and has been in steady decline since the 1980s.
Commuters are making fewer journeys – although some of the reduction is down to people working from multiple office locations or combining the commute with the school run or shopping – neither of which are categorised by the DfT as 'commuting'.
According to DfT figures, by far the biggest drivers of traffic are shopping (19%) and leisure (26%), so addressing travel in these areas could yield bigger emissions reductions.
"It's much easier to drive into a city outside the rush hour and therefore harder to discourage these kinds of journeys unless you can make them much less convenient by – for example – removing parking provision or pushing parking charges much higher," says Adams at AECOM.
"But as city authorities which have been rocked by the pandemic seek to recover from its economic impact, suggesting that they replace car parks with spaces where more valuable forms of commerce can happen seems fraught with risks."
After street closures and lower traffic volumes during the pandemic, there is growing appreciation of the economic upsides to displacing cars to make more space for people and commerce.
Allwinter says: "Displacing cars in favour of public transport and active travel does not adversely impact town centre business.
In fact, there is a growing body of evidence to suggest the opposite is true. "In London, you've got a situation where business in Soho who had got used to having extra space outside their premises during the pandemic now don't want cars back on the streets. And in West Yorkshire, cities like Leeds and Bradford really understand this and are adopting policies that actively discourage car use."
Local authority planning policy could also be used to reduce town centre parking, by scrapping the requirement for a minimum number of parking spaces to secure permission for new developments.
In a report published earlier this year, the International Transport Forum said minimum parking requirements tend to exacerbate car dependency and hold back infill development, making home ownership less affordable.
This is already happening in London, where planners can use Public Transport Accessibility Level (PTAL) to inform planning consent and give the green light to car-free developments.
And in Leeds, a new railway station at Kirkstall Forge is part of a development which will provide more than 1,000 new homes, 300,000sq ft of office space and 100,000sq ft of retail, leisure and community facilities – including a school – all just a sixminute ride train journey from the city centre.
According to The Urban Transport Group, 'Transit-oriented Development' schemes like Kirkstall Forge place public and active transport front and centre of new commercial, recreational and residential developments.
Integrating public transport and active travel into the planning process for new developments provides an alternative to the established default position of prioritising car-based mobility before considering the alternatives as an afterthought.

Shorter commutes
While the adoption of transit-oriented development is appropriate for new developments, the pandemic is showing signs of precipitating a broader-based revolution in urban planning and mobility: the 15-minute neighbourhood.
Provision of safe walking and cycling infrastructure and access to frequent, reliable, affordable public transport is what makes the 15-minute model work.
Without these fundamentals in place, residents will continue to use their cars, reducing the environmental, economic and safety dividends that flow from the model.
Until recently, the centralised location of workplace was the biggest obstacle to the development of 15-minute neighbourhoods.
Many city residents' social and family lives revolved around suburban centres where shops, schools, recreation and essential services were clustered. The only time they travelled into the city centre was to go to work.
Post-pandemic, many advocates of the 15-minute neighbourhood believe employers will embrace a more model in which employees work within a hybrid framework of online collaboration with access to smaller, local offices or co-working spaces and less frequent commutes to large HQs.
Terry Lee Williams, strategic transport adviser at Arup, says the pandemic had challenged many underlying assumptions about transport and urban planning.
He says: "We have been slowly producing cities where the opportunity to engage in work, recreation and commerce is within 30 minutes of your front door, where a significant numbers travel in two short daily peaks.
"But when work is concentrated in city centres and there is a widely distributed and growing population, the complexity of delivering a true 30-minute city is beyond many places.
However, the past year might have provided a new direction.
Survey after survey is showing that, post-pandemic, roughly 40% of people wish to work from home 40% of the time.
"This is actually great news for both city dwellers and planners, who are endlessly stressed by the time/distance demands of existing cities: they are about to live and work in something more like the 15-minute village.
"If those preferences lead to a real redistribution of work (and many major employers in tech and professional services around the world have already announced a pivot to home working), that will, in turn, lead to more local service and retail jobs in the communities where people actually live.
"The billions invested in servicing mass transport for peaks can instead achieve an all-day service across greater geography, giving people a new choice of when to travel and to where, without returning to private cars. Until now, our infrastructure reflected our daily routines.
"As such, there was an inevitability of growth and congestion. Who knew that our behaviour could be modified so rapidly and to such an extent?"
Peer reviews
Steve Gooding Director, RAC Foundation
For large periods of the past 18 months, a virus drove a change in our travel habits that Government policy had previously tiptoed around: Covid didn't invite workers to switch their mode of travel to save carbon; Covid kept commuters at home.
Yet, as the country has exited lockdown so the data shows that travel, especially by car, is back. In fact, in some places morning and evening traffic volumes exceed pre-pandemic levels.
And who can blame people? For those who have one, the car has always offered point-to-point, ondemand transport. Now, it also offers the chance to avoid catching the virus from fellow commuters.
Clearly the car is a convenience – perceived or real – which people are prepared to pay for even if such vehicles do, on average, stand idle for more than 90% of the time.
As Mark Sutcliffe's article makes clear, there are reasons why weaning us off our car commuting habit isn't easy. Also, in terms of total carbon emissions, it is questionable whether doing so necessarily offers the most important and/or fertile ground when compared with the other trips we make by car.
Yes, there are measures that would gnaw away at the point-to-point convenience that cars traditionally offered – if the road-space reduction means longer queues and longer journey times, if parking provision is reduced or subject to a levy, if tax changes reduce the attraction of running a car altogether, then change is surely possible.
But are we, in transport terms, asking the right question? If our priority is to cut the carbon footprint of our travel behaviour might we not be better asking whether we can reduce the demand – the appetite – for travelling, particularly commuting, in the first place? Many jobs require us to turn up in person by their nature.
But what lockdown has taught us is that many don't, at least, not every day. And that begs a wider question – how far is our general economic health put at risk if those of us who can work remotely choose to do so, are supported by their employer to do so, and could be further helped by a radical boost to nationwide signal coverage – superfast broadband – as has been pursued in countries like France?
So, what we need is an assessment that brigades our economic and environmental fortunes together.
Should we prioritise a return to the office, to the pre-pandemic commuting lifestyle which helped town and city centres to thrive, but try to do so in a non-car-based, 'build back, but better', way?
Or should we aim to foster something fundamentally different, with less commuting travel, which still promotes active travel for local trips, and sees a flourishing of local businesses? Step forward, then, the leaders of our city regions who, blessed with multi-year spending deals in the recent Budget, might just be best placed to find the right the most sustainable and the most attractive way through.
Stephen Bellamy Commercial manager, Nexus
This article presents a somewhat apocalyptic future for attempts to decarbonise the commute and seems to be at odds with the emerging trends of travel patterns post-Covid. The commute as a Monday to Friday, 9-to-5 concept is dead.
Indeed, like the tyres of a bus, the commute as an activity has been losing tread for some time when looking at the data.
A Department for Transport report published in 2015 showed that "commuting journeys per worker have consistently trended downwards in recent years, from 7.1 journeys per week in 1988/92 to 5.7 in 2013/14". The car has certainly continued to dominate this declining picture, but both rail and bus have seen marginal increases in market share over the same period.
The mode to suffer the most has been walking, with a mode share reduction of 7% between 1988/92 and 2013/14.
Suburbanisation has been the key driver for mode choice trends, with people travelling longer distances from home to their place of work.
The jury is still out on whether the impact of Covid-19 on lifestyles will accelerate suburbanisation. Interest in housing outside of major urban centres has skyrocketed over the past year, leading to significant price increases in suburbia and price stagnation in cities.
This latter point may eventually help rejuvenate the city, allowing younger people to afford property in cities, helping to keep the buzz of cities alive and the need to continue accommodating the commute. However, regardless of where people end up settling, one trend that seems to be in 'for the long haul' is increased homeworking.
Recent surveys undertaken for the Tyne and Wear Metro suggest that people are looking to travel two-to-three days a week to 'work' with the remaining days worked from home.
Feedback on how these customers intend to travel suggests a continued loyalty towards public transport with few jumping ship to the car.
This makes sense when exploring the issues raised in the article from a different angle.
The article describes at length the inflexible, comparatively expensive public transport offerings that will push people to acquiring cars.
But what of the inflexibility and expense of car leasing deals? Leasing deals are fixed prices over long terms, giving customer very little flexibility to reduce their costs if they are using a car less. Public transport operators, on the other hand, provide a range of tickets that can suit numerous lifestyles and travel patterns.
If you no longer require a season ticket, chances are there is an attractively priced day product to reduce costs.
This doesn't mean public transport operators should become complacent.
Tyne and Wear Metro has recently introduced a 'kids-go-free' offer for up to three children to travel for free with a fare-paying adult.
It doesn't matter what ticket the adult has to be eligible for this offer. Public transport operators need to reward loyalty in a way that they have not done before to keep passengers coming back.
They have the benefit of flexibility on their side already, following decades of accommodating a huge range of travel patterns among the travelling public.
Finance deals for cars are still based on the assumption of regular use and for this – and the unstoppable force of home-working – fears about our ability to decarbonise the commute are undermined.
Paul Hollick Managing director, The Miles Consultancy
Reading the article, one fact jumps out. Everything in the Government paper is a suggestion or recommendation with little provided in the way of financial or practical incentives for people to change their commuting behaviour.
If ultra-low benefit-in-kind (BIK) taxation of electric company cars has taught us one thing, it is that rapid and decisive transport change really requires some form of fiscal strategy – and that is not present here.
There is a strong argument that if there was a genuine desire for change at the highest level, the ideas presented would be accompanied by imaginative measures such as decarbonising tax breaks for commuters, but they are simply not present.
From an AFP point of view, it's not a question of whether businesses accustomed to thinking about transport in terms of owned or leased vehicles are too car-centric or not.
Everyone knows that it is a good idea to try to remove as many cars as possible from commutes – and the piece correctly highlights growing interest in environmental, social and governance standards as an element of this – but the barriers often remain high. Examples of this abound.
Public transport across the UK remains sketchy, especially outside major cities, and changes such as extra funding announced in the Autumn Budget are closer to being localised sticking plasters rather than strategic rethinks. The cost of parking at railway stations is prohibitive, meaning it is often simply cheaper to drive into work and park than it is to drive to the station and take the train.
Cycling on major roads is quite often stressful, even where there are cycle schemes, and using a bike in winter is simply likely to be a cold, dark and wet experience.
Plus, there has been a definite change in mood post-Covid, with some people remaining reticent to use public transport because of the risk of infection finding that they simply like having the personal space of a car to themselves. Against this backdrop, it is interesting to see the interest created by the Citroën Ami commuter EV.
Even if people choose to change their commute, it is often difficult to know which are the best alternatives to promote.
A recent presentation I saw from Transport for London indicated that car clubs and ride-hailing solutions can generate more traffic rather than less.
Measuring potential decarbonisation requires a high degree of expertise.
Against these issues, local authorities and individual employers are being left to make their own moves. In some places, such as the scheme to radically discourage car use within the inner ring road in Birmingham, this is likely to create genuine change. However, the will to bring about major shifts will vary from place to place, as we have seen with clean air zones.
Employers can introduce practical initiatives.
For example, those who cycle or use public transport can be provided with facilities such as showers and given small rewards such as meal vouchers, while parking facilities for cars can be reduced in number – but experience shows that these kinds of moves often create relatively small changes in behaviour.
Ultimately, it is difficult to escape the conclusion that if the Government wants to see change, it needs to do more than provide a menu of ideas and create a national strategy that ensures commuters seriously rethink their journeys. The problem is that politicians strongly dislike effectively telling people what to do, perhaps understandably so.
However, until they grasp that nettle, any widespread behavioural shift will be highly variable from location to location, from employer to employer, and from commuter to commuter.