Karla Jakeman was wrestling with a very modern problem when she had the Eureka moment. How to juggle the demands of family and career while trying to fit in exercise with no time to visit a gym or cycle all the way to work? Covid-19 proved to be an unlikely source of inspiration.
"If you are a busy, working parent, especially working from home, getting to 10,000 steps a day is often nigh on impossible," she says.
"During the first Covid-19 lockdown, when many people were getting on their bikes, the active travel revolution took a giant leap forward… but not for everyone.
"Not everyone has a bike or has learnt to ride one. Not everyone is physically or mentally able to ride to work. For those living in rural areas it can be too far or too dangerous (or both). There are many preventative aspects. But it got me thinking. What if people, like me, could cycle part of the way?
"Those in rural areas could put their bike on the bus to the city and then cycle the rest of the way. Those with physical challenges could cycle some of the way and then use the bus for the rest of the journey."
As innovation lead for connected transport and mobility at Innovate UK, the Government's arms-length innovation agency, Smart Transport board member Jakeman has some skin in the game. Her idea was refined in collaboration with University of the West of England (UWE) Bristol professor of future mobility Glenn Lyons and Active Things chief executive Scott Cain.
COMBO TRAVEL
It is now known as Combo Travel. So, what is it? How does it differ from other modes of active travel? What is holding it back? And what could help it in the future?
The definition of Combo Travel is "human-powered mobility in combination with a motorised mode as an enabler of healthier lifestyles and lower carbon journeys", according to the joint authors' academic paper.
A more conventional one is how to "enable active travel for everybody regardless of their fitness, their economic situation, whether they can afford a bike, whether they are in rural or urban areas".
Lyons offers the snappiest definition:
"Combo Travel is a marriage between motorised mobility and using our legs more which is better for our planet and better for our health."
Most motorised journeys – whether by bus, train, tube, car, coach or even van and lorry – involve some kind of active travel at either end. The difference is in degrees. The concept's supporters see Combo Travel as distinct from Mobility-as-a-Service (MaaS) which is predominately about access to motorised transport based predominantly on time and mileage.
Combo travel stresses the active element.
"It could be seen as a pre-curser or even as an accompaniment to MaaS to enable more people to travel actively, whether it be walking or cycling," Jakeman adds. "I don't see them as independent, but complementary."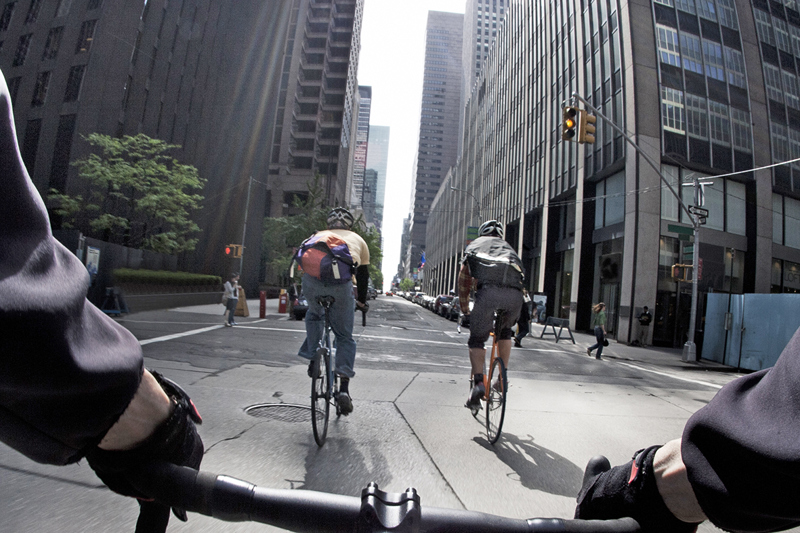 The paper's authors view Combo Travel as "an under-explored and under-developed phenomenon" deserving further attention, not least because of its potential as a "super policy". Public health, supporting motorised transport services, decarbonisation and promoting economic growth are among the big policy areas covered by the concept.
"It's not about going from and to whatever destination people need," says Lyons.
"But, if they are prepared to walk or cycle further at either or both ends of the journey using public transport or shared mobility in other forms, it opens up a bigger market.
"That's the triple win for a super policy. It will help people's health, it might to some degree tackle problems with air quality, and, with the benefits of active travel, it improves sociability and helps create a sense of place rather than just moving along corridors in metal boxes."
MAJOR OBSTACLES
Combo Travel's advocates acknowledge some people have been doing it without realising. They are also very quick to point out that major obstacles must be overcome for the concept to gain further traction – not least addressing a transport culture that puts the car first.
"Combo Travel is not likely to thrive in an environment where the transport system is designed around going from your driveway in a private car to a car park next to your place of employment," Lyons says. "Combo Travel becomes attractive if you have got a walkable environment that you happen to travel into by car or bus and you know you can enjoy part of that journey by walking or cycling.
"If I'm getting off a car or bus, train or sharing a car journey and then facing rather intimidating roads or streets to cycle along where street furniture or electric vehicle cables clutter the pavement or street lighting is poor, that's not conducive to me getting extra steps in."
A second major hindrance is the fraught relationship between cycling and the transport modes themselves. For example, with rail, inadequate cycle parking at train stations is a familiar bugbear.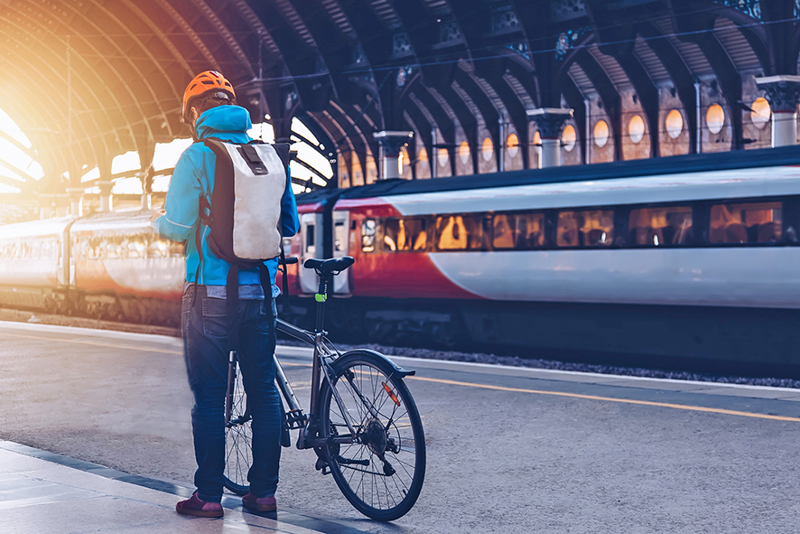 "It's frustrating because cycling and rail ought to be natural bedfellows," says Cycling UK policy director Roger Geffen.
"It's a fantastic door-to-door combination for travelling sustainably without a private car, whether for environmental reasons or you cannot (or do not) drive. Combining cycling and public transport enables longer, not just short trips.
"Yet rail operators have not particularly welcomed cyclists whether it's by not designing good cycling spaces or having good cycling reservation systems if they are there at all."
CYCLING SPACES
Geffen contends policymakers and transport operators face two crucial challenges to bind cycling closer with trains and, hence, boost Combo Travel. Safe and secure cycling spaces outside stations is one. Adequate and well-designed cycling spaces on trains, including for people who use cycles as mobility aids, is another.
"It's assumed that most cyclists are fit, healthy, mostly young-to-middle-aged males able to lift their cycles onto trains and that is a self-fulfilling assumption," he adds. "That's mostly true in the UK, but not in more cycling-friendly countries. There are plenty of people who use cycles because they have difficulty walking.
"Using cycles as a mobility aid is important for equality and yet our rolling stock designs out the ability to use the cycle-rail combination for people who cannot lift their bikes, particularly on trains with hanging hooks."
Train reservation systems are another cause of rancour. These tend to be inflexible and do not take the passenger's changing needs into account.
"Where train operators say you can't bring a bike on unless it's been reserved and that reservation has to be made well in advance, it means people who regularly travel by cycle and train, if they don't know whether they'll be leaving work at 5.30pm, 6pm or 6.30pm, book the bike on all three trains," Geffen adds. "That creates greater difficulty for everybody else who is trying to do the same thing."
BIKES ON BUSES
It's a mixed picture for bikes on buses. Most bus services in the UK will allow folding bikes. Some ask for folded bikes to be placed in a luggage area and inside a suitable carrying bag or holdall to reduce the risk of injury or damage to other passengers and their property. However, many services will not let passengers bring non-folding bikes on board. A few will do so, but only at the discretion of the driver, who will most likely refuse permission if the bus is too busy. Fewer still offer services with racks, with cyclists pointing to Go North East and Cambridgeshire Bike Bus Explorer.
Other issues cut to the heart of the built environment. A major factor is women's safety, an area covered in depth by the UK writer Caroline Criado Perez in her landmark book Invisible Women and cited by Lyons as an eye-opener on how urban design and planning is biased against women.
Nowhere near enough attention has been paid to the threat of violence against women when designing public spaces, she argues.
Indeed, since a stakeholder engagement exercise by Combo Travel's authors on the concept, the UK has witnessed the horrific murders of Sarah Everard and Sabina Nessa. Better-lit public transport stations, streets and other public spaces, for example, might go some way to making women feel less vulnerable, says Perez. Jakeman suggests not locating bike stores in dark areas at stations.
"It's very easy, as an able-bodied white male enjoying the privileges of that position in society, to think 'I'll get off the bus a couple
of stops early in the evening and walk home to get my steps up'," Lyons acknowledges. "But, if I'm a young black woman in a different part of the urban setting that could be incredibly intimidating. It's being aware this isn't an instantly deliverable solution for everyone without some care and attention to how we design our built environment and transport services."
These downsides apart, Combo Travel might be an idea whose time is arriving. Technology will be a driving factor here, particularly digital connectivity through smartphones. Lyons points to walking with Google Maps and navigation.
"You can easily check your options for your journey and answer the three key questions of will I get lost, how far is it and how long will it take?"
A key point made during the stakeholder consultation exercise was for "a 'smart conversation' with the right tech companies or the right innovation challenge" which could turbo-charge the concept into the mainstream. Super apps, which link multiple modes of transport together and allow users to pay for an entire journey, are on the horizon.
LOCAL TRANSPORT BILL
A Local Transport Bill is still envisaged by the Government in the autumn, although industry wags wisecrack that ministers have not said which autumn.
What should be in it?
Recognising Combo Travel as a transport mode would be a step forward, but everyday challenges remain. Pavement parking is a particular bête noire for Lyons and he wants to see the bill introduce a nationwide ban.
"That would go a long way to rebalancing our built environment to support modes beyond the private car," he adds.
Liverpool John Moores University visiting professor of sustainable transport, John Whitelegg, says Combo Travel is part of a more general debate about modal shift. "We must create the right circumstances, information, total road safety, more space for walking, cycling and buses to shift as many car trips as possible to non-car alternatives. These can be in any combination and multi-modal for a rich mixture of walk/cycle/bus/car-share."
For Geffen, finance is a key issue. The Government had commissioned consultants Transport Quality of Life to find out what it needed to spend to meet its targets for increasing walking and cycling by 2025. The Government has allocated £2 billion. Cycling UK thinks the real figure should be three or four times that amount.
The charity's freedom of information (FoI) request to see this research was rejected on the grounds that it was being used to formulate policy. Now that policy has been set out, it is planning to submit another FoI request and sees an opportunity for the bill to plug a big gap.
UNLAWFUL STRATEGY
Cycling UK also points to July's High Court ruling that the Government's net-zero strategy is unlawful because it fails to outline how climate policies will meet legally binding carbon budgets, as required under the Climate Change Act 2008. Other legal demons confront ministers.
"Legislation on cycling and walking invest­ment strategies, under the Infrastructure Act 2015, requires that they set out the objectives to be achieved and the financial resources to be made available for achieving them," Geffen adds.
"It doesn't say those financial resources should be adequate for achieving those objectives, which is a no-brainer, but is not there in the legislation."
According to sobering Government statistics, health conditions caused by poor physical activity costs the NHS £1bn a year, with indirect costs at around £8.2bn. "The nation would benefit if policymakers encourage activity in a country where there is an epidemic of inactivity," says Jakeman.
---

Authorities 'wasted an opportunity' following pandemic
They are unlikely 'bedfellows', but a leading motoring organisation and a cycling charity agree the Government and local authorities have "wasted an opportunity" from the Covid-19 pandemic to encourage and change travel behaviour and get more people on bikes.
The AA and Cycling UK agree the phased relaxation of lockdown restrictions between March and July 2021 largely failed to stimulate a bounce-back in trips and distance covered by UK travellers last year, citing National Travel Survey figures published at the end of August.
In 2020, the distance cycled on average had shot up 62%, with the number of trips up 26%. In 2021, compared with pre-pandemic levels, the average distance was up only 2% and the trips 7% lower.
"The reversal of lockdown trends that saw a surge in active travel in 2020, such as cycling, points to the Government and councils' failure to seize the opportunity to ingrain and promote more of those changed behaviours into the way the UK travels," says AA president Edmund King.
"The statistics also show that, while the path out of lockdown was a cause of great celebration, the pandemic continued to cast a long shadow over UK travel throughout much of 2021.
"In particular, the one lockdown trend that has endured has been working from home, and still probably accounts for the 5-10% reduction in weekday car travel that exists today."
SAFE TO CYCLE
Covid-19 showed that more people – particularly women and children – would cycle if they felt safe to do so, according to Cycling UK chief executive Sarah Mitchell.
"Sadly, it's no surprise that last year those cycling levels dropped, as some short-sighted councils began pulling out the protected lanes which kept people safe, and traffic levels rose again," she adds.
"Both national and local governments need to learn last year's lessons and focus on the new crisis: cost of living. More people are turning to cycling for shorter journeys to help make ends meet, but they need the safety that dedicated cycle lanes bring.
"The short-term benefit is that people will be able to keep making those essential journeys to work, to school, to the shops by bike. The long-term benefits will be improvements to the nation's health, economy and environment."
An AA poll of more than 15,000 drivers in July revealed "even with record pump prices beyond anything that could have been imagined a year ago", only 2% had ditched the car in favour of walking or cycling.
"There is a rebound effect from the pandemic in certain respects with people pushed to come back to the office, such as a rather insidious Jacob Rees-Mogg note on your desk telling you he looks forward to seeing you soon," says UWE professor Glenn Lyons.
"You can imagine how some people working from home and engaging in their own communities are being drawn back to the older form of working."
---
Government's drive to improve walking and cycling
By his own admission, nobody outside the sport of cycling had heard of Chris Boardman until 1992. That year he won Great Britain's opening gold medal at the Barcelona Olympics.
Boardman now has his eyes on a very different prize. This year he was appointed commissioner of Active Travel England, created by the Government to set standards for active travel infrastructure, engage the public, conduct training and encourage behaviour change.
"This is all about enabling people to leave their cars at home and enjoy local journeys on foot or by bike," Boardman says. "Active Travel England is going to make sure high-quality spaces for cycling, wheeling and walking are delivered across all parts of England, creating better streets, a happier school run and healthier, more pleasant journeys to work and the shops."
In July, the Government unveiled plans to improve walking, cycling and wheeling routes with the aim of making active travel account for half of all journeys into towns and cities by 2030.
ACTIVE TRAVEL SCHEMES
Under the package, £2 billion was committed towards achieving this target over five years, with £200 million going to active travel schemes across England, including £35m for a national cycle network.
The investment will be integrated into wider transport and growth plans, with local authorities encouraged to embed active travel infrastructure into policies and designs.
The Government's cycling and walking investment strategy aims to raise the percentage of short journeys into towns and cities from 41% in 2018 to 2019 to 46% in 2025. It also has targets to double cycling activity and increase the percentage of children walking to primary school from 49% in 2014 to 55% by 2025.

Huw Morris is a freelance editor, writer and researcher. He is the consultant editor of The Planner and previously edited Planning, Inside Housing and Axis magazines.
---
Peer reviews
By Ben Lawson, vice-president strategy Europe, Enterprise Holdings
Behaviour change is the most challenging component of driving modal change in travel habits. We are all still learning from a range of mobility projects, and what is consistent is that underpinning every travel decision is a personal travel plan.
The personal travel plan often has little to do with available modes of transport. It won't automatically change just because there is a new bike scheme or car club programme on the street or at the office.
Even deterrents such as high fuel prices won't necessarily lead to change.
It is hard to generalise about why we each of us chooses to travel the way we do. The reasons are highly individualised, even among people who may appear to have quite similar lives and may live and work in the same community.
When and why a trip takes place, and what else is happening in that individual's life at the same time, are more likely to underpin the choice of transport.
The results from successful mobility pilots indicate that modal shift happens when several factors combine to enable people to rethink journeys on their own terms.
There are several factors that promote behaviour change.
More choice is essential and should embrace all modes of transport, without trading one off against the other or focusing on one as a silo.
Second, get under the skin of why people travel. People commute by car for any number of reasons (and never because they want to increase congestion or pollution).
Where you live, your job, the many 'hats' you wear during the working day, all influence the selected mode.
Enterprise's trial with Imperial College London showed that users would often commute to work by car so they had it to hand just in case something came up.
Having shared cars on site was enough to encourage many to commute by bike or train instead, because they knew there was a solution if they suddenly had to make a business trip, pick up a child from school or run an errand.
Better knowledge of how shared transport programmes work is another factor. Even simple things like how to access bus and train timetables can help to kickstart change.
Incentives then add the 'pull' factor. They encourage people to have a go in exchange for points or prizes, and this can then lead to permanent change.
Our BetterPoints pilot in Milton Keynes that rewards people for using an electric car club vehicle is seeing good uptake. BetterPoints is also part of our two-year partnership with the University of Warwick.
This is a workplace programme that also appeals to students and local residents and businesses, because the low-emission vehicles, bikes and electric scooters are very close to the city centre.
We can see that on average, the electric vehicles are being rented for 23 hours and travel almost 80 miles per rental, a distance that is not practical with active travel. It shows that users are making the best practical choices.
Giving people more choice and information so they can decide which transport mode is best can be more effective than leveraging one mode over another or second-guessing what is viable for each person.
Finally, our experience is that transport providers deliver better solutions when they work together.
We can see this as part of the Urban Mobility Partnership – a group which now includes active travel providers such as Dott and NextBike.
The personal travel plan means there need to be many choices and solutions. This is only possible when we all work together transparently with the same shared goals.

Ben Lawson is responsible for the strategic development of all lines of Enterprise Holdings' business in Europe, while driving efficiencies and growth within the organisation.
By Martin Tugwell, chief executive, Transport for the North
It is encouraging to see initiatives such as Combo Travel highlight the practicality of some of the choices available to the prospective traveller. However, it is important that they do not inadvertently detract from the need for the more fundamental change across our transport system that is necessary to achieve our strategic outcomes.
We must continually challenge ourselves when developing solutions to see things from the user's perspective. We must remind ourselves that the factors that influence travel choices are many and varied.
Each and every one of us must ensure that we understand the diversity of the community for whom we're developing solutions.
Intuitively, we know that socio-economic, cultural, ethnic factors, among many, all have an influence on individual choices.
It is simply no longer acceptable to continue to ascribe the same characteristics to every resident when it comes to travel choices and/or travel preferences. And yet, all too often, our technical approaches continue to do exactly that.
It is important that initiatives such as Combo Travel highlight the wider benefits of active travel. We know that enabling individuals to live independent lives for as long as possible helps improve their quality of life. And we know that this will reduce health inequalities and demands on hard pressed support services.
As a profession, we know such considerations are particularly important given our ageing population. And, of course, investing in transport solutions that enable independent living through better travel options will help teenagers and young adults have confidence that a privately-owned car is not the only practical solution.
Transport for the North recently published its evidence base on transport-related social exclusion. This ground-breaking piece of work shone a light for the first time on the consequence of our approach to transport investment – a society whose transport infrastructure has been developed primarily to meet the needs of the car.
Initiatives such as Combo Travel quite quickly remind us of the many factors that serve to frustrate our desire to achieve a truly integrated transport system, one that offers affordable choices to the prospective traveller.
We quickly cite the plethora of funding initiatives, each of which comes with its own set of funding requirements, monitoring and reporting arrangements. We talk about how the delivery of a transport solution requires the stitching together of funding from a number of sources. And we highlight how the focus on capital investment serves to skew the development of transport solutions in a particular direction.
What initiatives such as Combo Travel serve to highlight ever more clearly is the importance of adopting a user-centred, place-based, outcome-focused approach to the development of our transport system.
It emphasises the importance of reducing the complexity of funding streams and of reducing the bureaucracy associated with them to the absolute minimum necessary. And we should redefine the roles and responsibilities at the different levels of governance – national, regional, and local – such that decision-making and funding is devolved to the lowest practical level.
Combo Travel shows there is a better way to meet the needs of the user: we need to work together to change the system to enable such ideas to become the norm.

Martin Tugwell joined the sub-national transport body Transport for the North from England's Economic Heartland. He has more than 20 years' experience in strategic transport and infrastructure planning at national, regional and local levels.