The headline is the UK Bicycle Association's verdict on the pandemic's impact on cycling.
It neatly sums up the step change in cycling that the traffic-free, stay-at-home days of lockdown precipitated.
To say that 2020 was a good year for bike sales is a bit of an understatement. It was also reassuring – for aspirations for sustainable travel – that these bikes did not go unused.
Recorded cycling levels in the UK were at the highest level since the Government's walking and cycling statistics were first published.
There was an increase the average number of cycling trips by 26% and the miles cycled increased by 62%, more than double the average distance in 2002.
The potential economic force of the bike industry is often overlooked. While the role of cycling in achieving net zero through emission-free travel is well understood, the industry's impact is much broader.
The cycling industry is an engine for the jobs and revenue the sustainable economy requires.
The Bicycle Association's 2020 report provided detailed analysis of cycling industry sales and growth during the pandemic period and illustrated the change in the cycle market in the UK.
Retailers saw sales grow by 60% since March 2020 with e-bike sales more than doubling.
Between April and September 2020, the UK cycling market saw a 27% rise in sales volume and a 26% increase in average prices, compared with the same period in 2019. The 2020 UK cycling market was estimated at £2.2 billion for the year.
While 2021 is not quite as elevated, there is evidence that although the lockdownassociated uplift has reduced, it has not disappeared, and that the cycle industry now is bigger than it has ever been.
Despite this rosy picture, the UK lags behind some European neighbours. In the same period, the German bike market sold a staggering €6.3 billion (£3.3bn)-worth of bikes.
The UK has innovative companies developing cutting-edge technology across the sector from manufacturers through to cycling data and bike share operations, but the sector is hampered by a lack of cycling infrastructure.
Cycling Industries Europe (CIE) CEO Kevin Mayne explains: "Take-up of cycling is greater in countries with better infrastructure.
The UK has relatively poor infrastructure and relatively poor performance. It's like having a handbrake on the industry."
The CIE is forecasting growth in bike sales from 20 million per year to 30 million per year by 2030 across Europe.
However, because the driver behind the cycle market is, in its experience, the state of cycle infrastructure, CIE predicts a more modest growth in the UK than the overall uplift of 50% across Europe.
The contribution cycling makes to the economy is widely recognised by governments across Europe, both in terms of the jobs and revenues supported by manufacturing, selling and utility cycling, but also the value of auxiliary services, fleet management and, in particular, cycle tourism.
Across Europe there are 70,000km (43,000 miles) of safe 'Eurovelo' routes enabling pleasant trips for cycle tourists. This is no mean economic driver.
For instance, in Germany more than 200,000 people are employed in bike tourism alone. People make 5.4 million trips of three or more days on bikes per year - a total of 34.3 million day trips.
Mayne adds: "The German cycling consumer association made it a mission to take the adventure out of cycle tourism.
"They made great infrastructure that people could ride on side-by-side, along rivers and through forests. You see people riding their bikes on these tourist trips, people who would be expected to drive elsewhere. It's a much bigger market."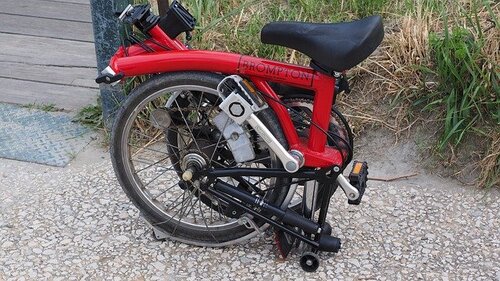 Achieving something similar would be possible in the UK, according to Mayne: "The National Cycling Network is good, if the construction quality was there."
This emphasis on opening up the market is also part of the appeal of e-bikes.
"E-bikes are not about speed. They're about opening up cycling to the slower, older cyclists and the people who want to wear their ordinary clothes," Mayne says.
Extra power also supports a much broader use of bikes – with 'pedal-assist' motors, they make light of carrying loads.
The oft-repeated argument against bikes replacing cars, that 'you can't do your weekly shop on a bike', becomes nonsense as e-cargobikes have become commonplace and increasingly thoughtfully designed for a range of consumers and uses. However, the availability of technology alone is insufficient to get these bikes used.
Consumer research by bike component manufacturer Shimano, in its 2021 'State of the Nation' report examining attitudes towards e-bike usage in 12 European countries, indicates that consumer attitudes to e-bikes and e-cargo bikes is dependent on the perception of safety.
The research finds that, in the UK, cost is the biggest reason given not to buy or use an e-bike (49%), but 'not feeling safe' is not far behind (41%). This is not surprising.
In the UK, we have witnessed an ongoing battle to establish a useful network of cycle lanes.
During the pandemic the (extremely sparse) cycle infrastructure provision was augmented with pop-up cycle lanes but many have since been removed over the course of the past year.
However, in countries with more developed infrastructure, safety is much less of a concern.
Concerns about safety are as low as 12% in Denmark, 17% in Germany and 21% in the Netherlands; cost is a much bigger deterrent (42% in Denmark, 54% in Germany and 64% in the Netherlands).
Across the 12 European countries researched for the report, an average of 24% of people cite safety as a concern – only just more than half the UK figure (41%), demonstrating quite how far the UK has to go.
Mayne says: "The key thing is to combine positive cycling measures and measures to restrict cars. I see the Birmingham carfree zones as transformative as putting in a bike lane." There's recognition from many authorities that this is a priority.
Kit Allwinter, Active Travel Policy Officer for West Yorkshire Combined Authority (WYCA) and Leeds City Region Enterprise Partnership, says: "WYCA data shows that off-road cycling is still well above what it was before lockdown. We know people want to walk and cycle more than they do.
"There is clear evidence that people support us in making driving harder in the urban environment and walking and cycling safer.
"What is difficult, is that members of the public say they support taking away road space, but this support may be more of a general sense, as it becomes more difficult to establish when it's specifically in their area.
"In many places in the UK, we are having to go back to basics before we can go forward. Cycle infrastructure has been built that's been below par (particularly if it was required not to reduce road space for cars) and there is not a continuous network."
Allwinter adds: "We're having to do foundational work to understand what infrastructure we have, the state it's in.
"The LTN 1/20 Cycle infrastructure design manual allows us to assess this – whether it's compliant (and whether it can be upgraded to be compliant).
"In short, we definitely need more data collection and funding for data collection so that we're better able to evaluate interventions and make arguments.
"On the positive side, funding such as the City Region Sustainable Transport Settlement comes with very clear guidance that it promotes active travel and also requires schemes not to induce more car trips."
Even in London, where cycle lanes have a head start, there is fraught debate between Transport of London, planning a cycle network designed to transport people across the city, and some borough councils which have removed pop-up cycle lanes and low traffic neighbourhoods, reducing the overall utility of the network.
In short, progress is being made, but it can be slow.
While infrastructure is still lagging, business is doing its best to support the switch to cycling and more sustainable transport. The kinds of bikes available have become more diverse to suit a range of people and lifestyles. Bikes and trikes which will carry loads are readily available, e-bikes are commonplace and come in many style niches.
Sharing and renting bikes
Similarly, the ways in which to acquire them are increasing. No longer do you have to buy a bike to use one.
Rental options are available from companies such as Swapfiets.
It launched in the UK promising inclusive maintenance for a monthly fee. Bike share is growing across the UK with different schemes – and operators which are notably diversifying into smaller cities and more rural areas. Cambridge has voted to expand its Voi e-bike scheme to market towns and other rural areas.
Cardiff is expanding its Nextbike bike share to the hilly Penarth region with e-bikes. Manchester is due to launch a public bike share scheme in 2022 with Beryl.
Enterprise & Brompton bike share
The shape of bike share is changing. Enterprise is trialling a new model at its Russell Square car hire branch in London.
The service, launched in September, gives customers the opportunity to hire iconic Brompton folding bikes from Brompton Bike Share in partnership with Enterprise.
James Lancaster, head of European Mobility Innovation at Enterprise, sees this integration as a potential model for the future.
He says: "This is something that we'd like to roll out across the UK.
"We see this as part of the opportunity to create the 'branch of the future' integrating shared transport – car clubs, bikes and scooters and public EV charging to our network.
"We have 450 locations near railways and urban centres, and also in more rural areas. 93% of the UK population is within a 10-mile radius of an Enterprise. We see branches evolving and adapting. The type of bikes might be different in a more rural area."
Bike security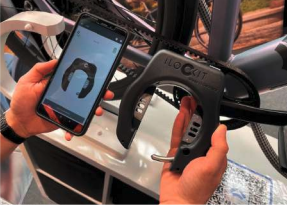 As bike purchases boomed during the pandemic, so, too, did bike thefts. Thieves found an abundant and easy target in valuable and saleable bikes (particularly e-bikes) locked up outside workplaces, homes and supermarkets. The media was filled with reports of (particularly) NHS staff cycling to work through the pandemic leaving work to find their bikes had been stolen.
Bike parking and security has increasingly become a concern for people who rely on their bikes as their means of transport. Even the gold standard locks and chains on the market generally serve only to slow thieves down and are only as good as the stands the bikes are locked to.
Bike lockers and bike parking are more secure, and numerous different styles are now available to employers, parking operators and local authorities.
However, much like car and phone security over the last few decades, innovations in tracking, geofencing (and, in some cases, the remote locking of e-bike batteries) could make bike theft a less attractive enterprise.
Equally, easy locking and immobilising of bikes reduces some of the friction of using bikes to replace car journeys. In the UK, the bike tracking market is yet to take off.
However, the European model of selling bike trackers with a cost-effective insurance policy is set to launch in the UK soon.
Bike trackers can be concealed in motors, handlebars and integrated locks which cost from £150-£200, with insurance from around £5 a month.
Typically, the insurance guarantees the return of the bike or a replacement bike that would provide comfort to those who rely on their bikes daily for commuting and other trips.
E-bike motor manufacturers are also building in better security.
The latest Bosch motor system comes with a small detachable control panel individually coded to the bike.
Once the bike is locked and the panel removed, the motor is immobilised and can't be turned back on without it.
If the owner loses the panel, they will need to provide proof of purchase to get a new one. Deterring or preventing bike theft has become more important as bikes represent a bigger investment and become more central to people's lives.
Cargobikes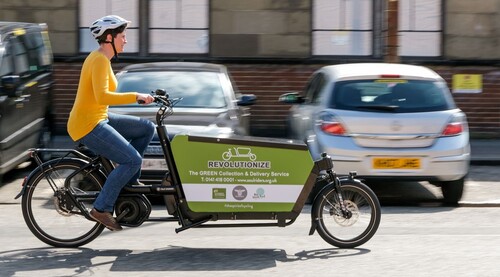 Performing the weekly shop is often cited as a reason not to replace the car with a bike.
The advent of Cargobikes, trikes and their e-versions in particular, make this assertion less compelling. A trip to the supermarket or the school run is not a problem for utility bikes with a bit of additional torque. The increasing popularity of e-cargobikes is illustrated by the numbers sold in the UK – 4,000 in 2020 according to the Bicycle Association and also by the diversity of models on offer.
Although the market in the UK lags behind that in Europe (in comparison, 78,000 cargobikes were sold in Germany in 2020), there is still increasing interest and Government funding for businesses and local authorities to help expand the numbers in use. This is particularly pressing as city centres try to improve air quality.
The European Cycle Logistics Federation estimates that 25% of all urban goods (and 50% of light goods) could be delivered by cargobike, providing a viable – and clean air zone-compliant – substitute for vans.
The bike future
In 2018 the Bicycle Association calculated that the bike industry as a whole contributed £5.4 billion to the UK economy. It has only grown from there, and sights could be set higher to create a green economic boom that pays environmental, health and economic dividends.
To this end, investment needs to be focused on infrastructure, and policy needs to facilitate bikes being the easy choice for commuters, tourists and businesses.
Lancaster at Enterprise says: "We'd really like to see changes in taxation. At the moment it's easier to get a company car than relief on sustainable transport.
The Department for Transport and the Treasury need to sit down and sort out how to create incentives in taxation to support sustainable travel. "We'd also like to see significant investment in infrastructure for shared mobility."
The good news is that, as bike lanes, bike parking and facilities are rolled out, and innovations support the use of bikes in all their forms, it will also boost the economy to create sustainable jobs and revenue that built environmental and social equity and wealth.
Case study: FedEx
FedEx has learnt that cargo-bikes can replace diesel vehicles in some use cases and can make an immediate impact on emissions and congestion in city centres. A spokesperson says: "FedEx recently launched its global goal to have carbon-neutral operations by 2040.
Identifying the best zero emissions delivery solutions, that work for the unique needs of each European city and operations, is a huge, but critical, component of getting there.
"Before implementing bicycles to our permanent operations, we conducted thorough analysis of not only our own operations but also the city infrastructure and viability of bikes as a zero emissions delivery solution within urban centres.
"The needs of each city are unique. So, in order to make a considered business case for bicycle use, we assess the volumes of packages that are physically suitable to be delivered by electric cargo bike, including which routes can benefit from a transition to bicycle in place of diesel vehicle."
The spokesperson adds: "Bicycles have great potential for both collection and delivery for parcels up to 20kg in weight (small- and medium-sized packs), but it remains critical to satisfy that bicycles can offer the same or improved efficiency, safety and security as vehicles.
Geographical factors and city infrastructure also inform how viable it is for us to make a switch from vehicle to bicycle – taking road safety and existing cycling culture into account, as well as the availability of locations for micro-hubs that bicycles can operate from."
FedEx successfully implemented 13 cargobikes working alongside vehicles at two London facilities, and went on to expand cargobike operations in other UK cities. A further 10 bikes are now in operation in Cambridge city centre, four bikes in Glasgow and three in Edinburgh.
"The implementation of cargobikes where assessments suggest they are an optimal solution, not only helps us deliver a much-needed impact on carbon emissions in the short term, but also promotes the liveability of our cities by reducing congestions and noise," FedEx concludes.
Peer reviews
Tim Anderson, Energy Saving Trust group head of transport

The pandemic has led to a cycling renaissance as highlighted by this article and the cycle industry has been booming with demand outstripping supply of new bikes as many turned to cycling as an alternative to travelling on public transport or using the car.
During the height of the pandemic cycling and walking became major leisure activities as we were confined to our homes and only allowed to engage in limited personal exercise.
Many hoped that the Covid-influenced pop-up cycling infrastructure was the start of a revolution in how we travel with a rapid acceleration of active travel infrastructure becoming the norm in the way towns and cities are planned.
As Beate Kubitz points out, though, we have slipped back into bad habits and the sales of bikes has slowed.
In Scotland, the e-bike loan which Energy Saving Trust administers to assist people and businesses buy e-bikes has seen a significant drop in take-up this year compared with last. The quiet roads of 2020 have been replaced with traffic levels even greater than those pre-pandemic.
The article rightly points out that we need to change our habits. Infrastructure is essential in building confidence and to change the relationship between bike and motorised road users.
In addition to cyclist injuries and fatalities, the frequency of road rage incidents between cyclists and motor vehicle drivers illustrates the challenge of sharing space, with a sense of entitlement often causing conflict on and off the road.
Separation and prioritisation are essential and the recent £5 billion promised in the Autumn Budget will help, but a system-wide approach to town planning also needs to happen to prioritise active travel and build confidence. New technology also provides hope.
To go from a car or van straight onto a pushbike will seem impossible to many, but e-bikes and e-cargobikes offer an opportunity to enjoy all the benefits of cycling with a helping hand for those tricky hills. Both e-bikes and e-cargobikes for individuals and businesses are growing in popularity.
The recently launched DfT e-cargobike grant fund was oversubscribed, and we have seen many great applications in recent weeks for innovative models for using e-cargobikes.
Energy Saving Trust is looking forward to sharing the fabulous case studies from this scheme to inspire other businesses to take this option for urban deliveries and service provision.
The weather here in northern Europe can be a hindrance. But look across the channel at the Netherlands and Germany where the weather is not exactly tropical.
Likewise, as the Kubitz points out, security is a challenge and, once again, both infrastructure through safe bike storage and technology in bike security will make stealing a bike more difficult. Active travel presents the most important opportunity for decarbonising short distance travel and last-mile deliveries.
This requires a change in mindset from individuals, businesses and other road users about how we move ourselves and our goods. Cycling should not be the preserve of fitness fans, but a normal and aspirational way of travel.
Challenging the status quo that "car is best" will overcome social barriers to bike adoption and make walking and cycling part of the fair transition, allowing everyone to travel in their city or town in a clean and safe way, while also improving local air quality and reducing carbon emissions. This may be the biggest challenge; making cycling a mode of travel that we all aspire to.
Spending on infrastructure will help, as will reducing access for cars and other motorised transport in urban areas. Energy Saving Trust is committed to supporting this transition.
Dr Lucy Mahoney Walking and cycling network manager, C40

The bold and decisive cycling action undertaken throughout this pandemic has been precisely the level of ambition and bravery needed to respond to the climate emergency.
As I wrote this review, COP26 was under way and the UN Secretary General has just proclaimed "enough of burning and drilling and mining our way deeper. We are digging our own graves".
Never before has there been a greater need for urgent action.
Deeds, not words, once again rings true. Politicians and decision-makers have been dragging their heels on climate and cycling action for decades.
This is not only due to pressure from fossil fuel lobby groups, influential party donors or a fear of losing the next election, but also due to continued misinformation regarding the green economy and green growth.
As is clear in this article, there is robust evidence that "the cycling industry is an engine for the jobs and revenue the sustainable economy requires" but that "the potential economic force of the bike industry is often overlooked".
However, despite this "the cycling industry now is bigger than it has ever been".
We know what we need to do when it comes to cycling action – more and better infrastructure.
The article compares the UK cycling market with that of Europe and specific European countries: cycling forecasts state that by 2030 the UK will see a more modest uplift in the cycle market than the overall uplift of 50% across Europe.
The CEO of Cycling Industries Europe states "take up of cycling is better in countries with better infrastructure… it's like having a handbrake on the industry", therefore we need to deliver the infrastructure to match the ambition and demand.
I agree that e-bikes and e-cargobikes have the power to help overcome the oft-repeated argument against bikes, that "you can't do your weekly shop on a bike". This is exposed as nonsense as e-cargobikes have become commonplace and more thoughtfully designed.
They also play a major role in breaking the addiction and enslavement cars hold over us.
However, I'm not sure I agree with Kevin Mayne's comment that e-bikes are "…about opening up cycling to the slower, older cyclists, and the people who want to wear their ordinary clothes'".
This is a rather outdated and unhelpful perspective. For me, e-bikes are about improving one's stamina and endurance as they enable the rider to cycle for longer, further distances or across different topographies. This means the same energy is expended even though the rider travels further and this has nothing to do with age, sex, fitness or wardrobe.
The discussion on the various offers the cycling industry provides consumers is particularly interesting, from bike share and bike rental to security and the diverse range for all needs and lifestyle – so great to see this acknowledged and the industry championed. It is also well-backed up by powerful statistics and case studies.
Finally, the article wraps up by touching upon 'the bike future' and I agree that changes in taxation would significantly contribute to supporting active and sustainable transport.
As I emphasised at the beginning of this review, we're in the midst of a climate crisis with the UK experiencing climate breakdown episodes on a monthly basis. The time has come for action. For bravery and for deeds, not words.