By Dan Simpson, senior policy and parliamentary officer, Sustrans
Hidden at the bottom of a written statement on 9 March, the Transport Secretary, the Rt Hon Mark Harper MP, announced that active travel funding for England in the current parliamentary term is being reduced from £3.8 billion to £3 billion.
These devastating cuts include a two-thirds reduction to promised capital investment in infrastructure for walking, wheeling, and cycling, from £308 million to only £100 million for the next two years.
This is despite active travel becoming increasingly popular with the public.
In 2021, Sustrans' Walking and Cycling Index found that more people wanted investment in walking (56%) and cycling (53%), than driving (32%).
But walking and cycling continues to receive the least funding with active travel infrastructure receiving just 0.08% of transport budgets in England.
This means that England will lag embarrassingly far behind other UK nations and London, where investment per person for active travel is as much as 50 times higher.
And these cuts call into question the Government's commitment to Net Zero. Active travel isn't a 'nice to have', it must be at the heart of the UK's transport decarbonisation plan.
The path to transport decarbonisation isn't about any one mode of travel, but about fair funding to create an integrated system of sustainable transport including buses, trains, walking, wheeling and cycling, and cars.
Not investing in sustainable transport choices has a cyclical effect. With these diminishing funds, people will have fewer alternatives to driving. This will increase congestion and make it less pleasant for those who can walk, wheel or cycle their journeys, further discouraging active travel. This flies in the face of the Government's target that 50% of journeys in towns and cities will be walked or cycled by 2030.
Even if 100% of new car sales were Ultra Low Emissions Vehicles (ULEVs) by 2030, as set out by the Government in their Net Zero Strategy, the miles we drive would need to be reduced by between 10-20% if we're to meet the Paris Agreement by limiting global temperature rises to below 1.5 °C.
The Government must make it easier for people to walk, wheel and cycle through safe infrastructure, convenient routes, and increased awareness of impact.
Until they do so, reaching their own commitment to be Net Zero by 2050 will be impossible.
And it's not just the environment that will suffer from these swingeing cuts.
Meeting Government targets for increased cycling and walking would improve air quality drastically. Modelling from Sustrans and Eunomia showed that improved air quality would prevent 8,300 premature deaths over 10 years while saving the economy £5.67 billion.
Meanwhile, current levels of walking, wheeling and cycling prevented 138,000 serious long-term health conditions and more than 29,000 early deaths in 2021.
Transport for London also found that people who walk, wheel or cycle, rather than drive, spend an average of 40% more on their local high streets, while the charity Living Streets found that improving walking and cycling routes increased local retail spend by 30%. All in all, Sustrans found that walking, wheeling and cycling contributes £36.5 billion to the economy each year.
We cannot afford to have active travel as a 'bolt on' to transport plans. Active travel boosts the private sector, saves the NHS money and gives people on low incomes, who are less likely to own a car, a cheap way to get around. They will all suffer when these cuts start to bite.
If we keep going down this route, net zero carbon emissions, a flourishing economy, and a healthy society are going to get considerably harder to achieve.
About the author: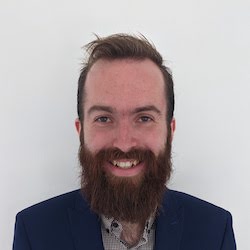 Dan Simpson is senior policy and parliamentary officer at Sustrans, the charity making it easier for everyone to walk, wheel and cycle. He works with politicians to campaign for spaces where everyone can move around safely and give people the tools and confidence to get out of their cars.
Before joining Sustrans, he worked on policy at Alzheimer's Society and the Archbishop of Canterbury's Housing Commission, and he's been involved in campaigning for nicer streets where he lives in East London for about five years.