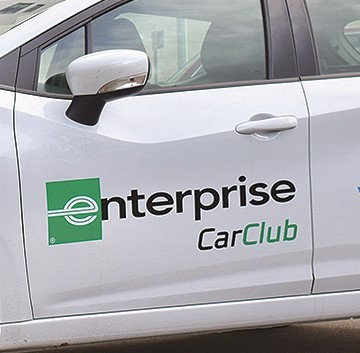 Manchester Metropolitan University is using a telematics-based car club system to book pool cars.
The telematics, booking and back office system are provided by Enterprise Car Club.
Staff can book the vehicle they need online and open it with an Enterprise RFID card, contactless bank card or by using the Enterprise Car Club app.
This has changed working practices considerably.
Before the pool car scheme was implemented, 550 staff used their own cars in the course of work in a year.
This grey fleet usage had considerable implications as the university had to ensure all staff vehicles were fit for purpose as part of their duty of care.
Providing centrally-managed pool vehicles reduces the overall risks, as well as the associated workload and the administration of expenses.
The efficiency of the pool vehicle system enables the university – a large organisation with more than 4,000 staff – to operate with a very streamlined fleet of 25 vehicles to service its needs, keeping costs to a minimum.
In addition, the pool vehicles reduce parking requirements as staff who need to drive during the day do not need to bring their own cars to work.
These factors have combined to enable the introduction of a high proportion of electric vehicles.
Reducing the overall number of vehicles has, unsurprisingly, reduced the fleet's capital requirements and the low running costs of the 10 electric vehicles bought has provided long-term cost savings.