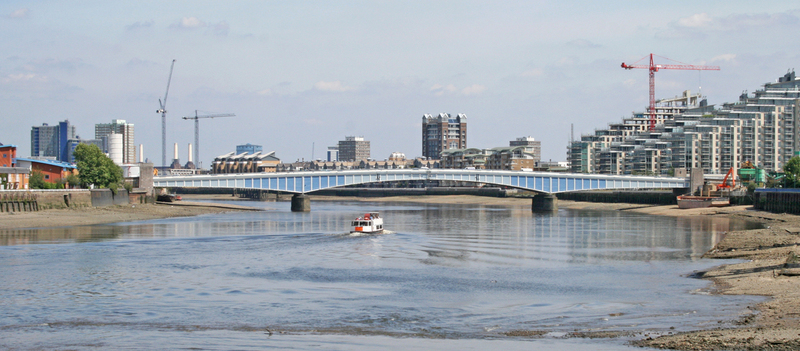 London river crossing at Wandsworth Bridge. Picture: iStock – ChrisSteer
When is a low-traffic neighbourhood (LTN) not an LTN? The South Fulham Traffic, Congestion and Pollution Reduction (TCPR) scheme has similar congestion and pollution reduction objectives to the LTNs currently generating controversial headlines in many London boroughs, but it has some important differences in scope and execution.
Astonishingly, the scheme has gone from being opposed by 87% of area residents consulted, to being supported by 91%, in the space of just a year.
While it's not uncommon for contentious traffic reduction schemes to gain acceptance over a longer period of time, as has happened in boroughs such as Waltham Forest, South Fulham stands out as an example of a scheme which has changed perceptions in an unusually short timescale.
Anatomy of a TCPR
The TCPR scheme covers an area of around 0.3 miles adjoining Wandsworth Bridge Road (see map). The bridge is a key river crossing into central London used by commuters from Surrey and Hampshire as well as locals.
The closure of other nearby bridges and growing use of sat-navs and route planning apps increased traffic on residential streets and congestion on the high street. It prompted the London Borough of Hammersmith and Fulham to make an experimental traffic order in July 2020, prohibiting non-local traffic from crossing a number of "virtual gates" on most residential streets to the east of Wandsworth Bridge Road.
In contrast to the bollards and wooden planters that have come to typify residential low-traffic neighbourhoods, the South Fulham TCPR is enforced by eight cameras with automatic numberplate recognition technology. A fine of £65 is issued to any vehicle passing a camera if it is not registered to an address in the borough.
In addition to residents' vehicles, emergency services, black taxicabs, council vehicles and some service providers are excluded from the controls.
The scheme is designed so delivery and trade vehicles can access streets without crossing the cameras, albeit less directly. Residents are also able to obtain daily permits for visitors, using parking app RingGo.
The total cost of implementing the scheme was £24,000.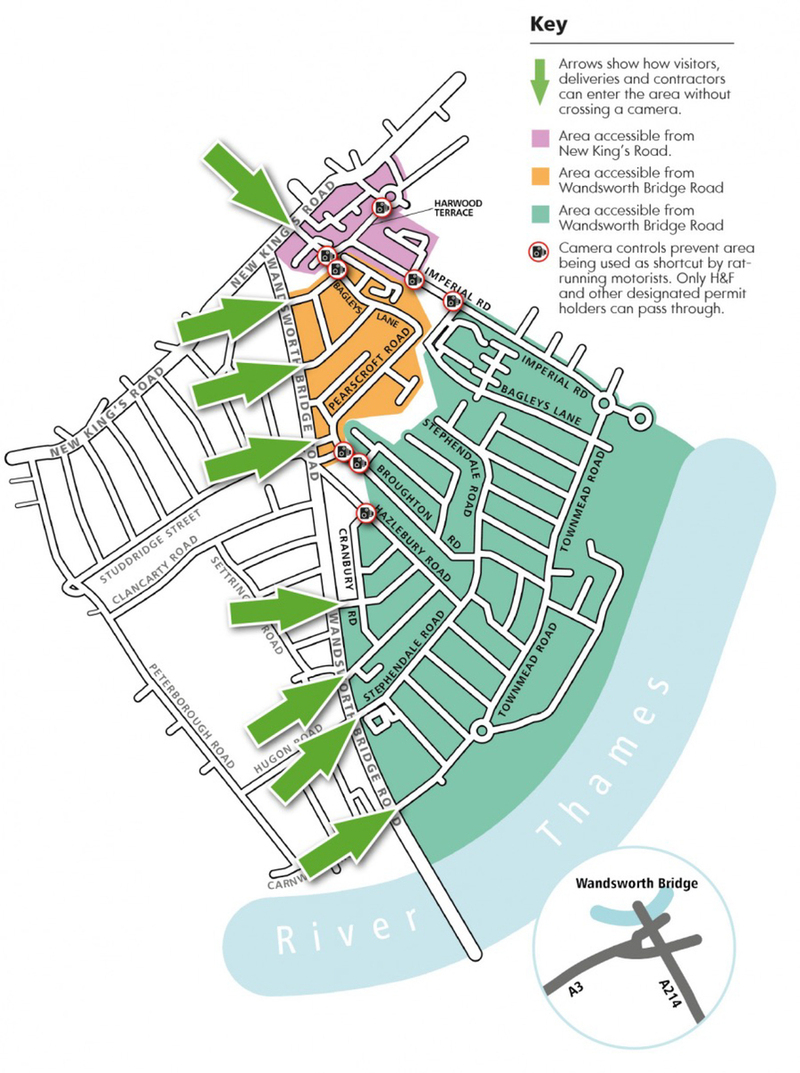 Backlash, then...
Initial public response to the scheme was strongly negative, fuelled by a perception that congestion had increased and concerns that signage relating to the cameras was easily missed and difficult to interpret.
One national newspaper headline read:
"Hammersmith and Fulham chiefs expand spy camera scheme to snare 'outsider' motorists in latest war on cars in the capital".
The area's MP branded the scheme "disastrous" and organised a petition calling for its removal which received more than 5,000 signatures.
It also transpired that Uber drivers were refusing to drop off passengers in the area covered by the scheme for fear of incurring a fine, prompting concerns over the safety of women travelling home at night.
Consultation, then acceptance
After carrying out a consultation exercise via web platform Commonplace and leaflet drops, the council created three focus groups of 20-30 residents and business owners, covering the area west of the main road not included in the scheme, the main road, and the TCPR area to the east.
A number of engagement events were also held with residents' groups, and there were separate attempts to address the issues raised by Uber customers with the ride-hire company directly.
The council's messaging stressed the differences between a TCPR and an LTN, particularly the low impact on emergency services vehicles and local residents. Also, it took a relaxed attitude to initial breaches of the TCPR area, refunding many of the fines received by drivers.
A key moment in the public perception of the scheme occurred in summer 2021, when the most high-profile local residents' group shifted from opposing the scheme to supporting it. Subsequently, a joint letter supporting an extension of the scheme to more streets in the area was co-signed by five local residents' groups. These groups have also begun campaigning for enhancements to the pedestrian and cycling environment on the main road in the area, and encouraging local residents to come forward with their own ideas for reducing traffic.
Encouraging results
Traffic monitoring was undertaken throughout the scheme and a network of additional air quality sensors was installed across the area.
The results showed that traffic reduced by an average of 75% on residential streets in the scheme and 12% on the main road.
An average of 8,000 fewer vehicles per day crossed Wandsworth Bridge and there was an improvement in air quality across the borough. Compliance with the TCPR zone also increased to 99% from an initial level of 50%.
As yet, there is no independent analysis of the scheme. Unlike most LTNs or 'school streets' initiatives, the TCPR does not aim to encourage mode shift to walking and cycling within the local population and no statistics on this have been shared.
There have also been concerns expressed that the monitoring and evaluation is inaccurate due to the effects of Covid-19 restrictions, although adjustments have been applied for this.
As well as making the temporary aspects of the scheme permanent and expanding it to more residential streets, there are plans to enhance the environment on the area's main road for walking and cycling.
Among the many traffic schemes introduced during the pandemic, the Hammersmith & South Fulham TCPR stands out as an example of one that rapidly gained traction and acceptance, thanks to a comprehensive programme of consultation and stakeholder engagement, a light touch approach and rapid, tangible benefits for local residents. The transferability of the scheme to other areas may be uncertain, but for a residential area suffering from large volumes of rat-running traffic, it could serve as useful inspiration.